(Kitco News) – News that North Korea fired a ballistic missile over Japan has rattled world markets. Global stock indexes are lower and safe-haven assets like gold and U.S. Treasuries are higher. U.S. stock indexes are pointed toward lower openings when the New York day session begins.
Gold prices hit an 11-month high overnight, as a combination of safe-haven demand and technical buying are boosting the yellow metal.
The Euro currency hit another 2.5-year high overnight, while the Japanese yen also surged on safe-haven demand from Asian traders and investors. The U.S. dollar index dropped to another 15-month low. The greenback is being further hobbled by the hurricane damage in Texas, which is likely to reduce U.S. GDP in the third quarter.
It now appears the ball is in the Trump administration's court after North Korea's latest provocation. North Korea is seemingly daring the U.S. to make a military move, after recent tough talk that has come from the U.S.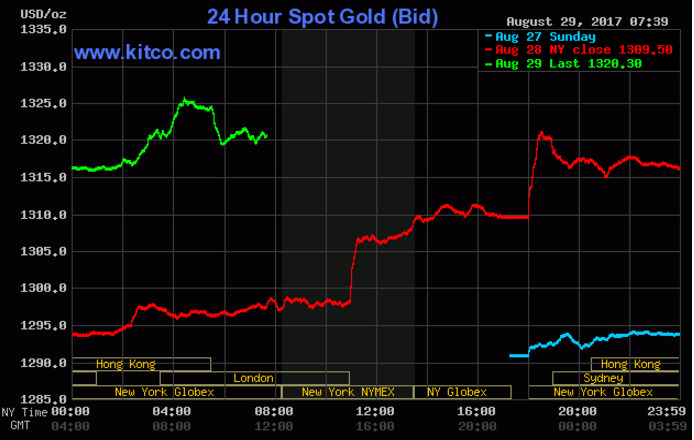 The other outside market finds Nymex crude oil futures slightly lower Tuesday. The hurricane and ensuing torrential rains have flooded the Houston, Texas region, including major gasoline refineries. This will reduce supplies of U.S. gasoline, but also demand for crude oil, in the coming weeks, or longer. That's bearish for crude and bullish for gasoline futures.
U.S. economic data due for release Tuesday includes the weekly Johnson Redbook and Goldman Sachs retail sales reports, the S&P/Case-Shiller home price index, and the consumer confidence index. The major U.S. data point of the week is Friday's employment situation report from the Labor Department.
By Jim Wyckoff, contributing to Kitco News; jwyckoff@kitco.com
Follow Jim Wyckoff @jimwyckoff for breaking news.