(Kitco News) – World stock markets were mostly firmer overnight, on corrective bounces from selling pressure seen Tuesday. U.S. stock indexes are pointed toward slightly higher openings when the New York day session begins. As has been the case recently, North Korea's latest provocation to the U.S. by launching a missile over Japan Tuesday has not had a lasting impact on trader and investor risk aversion.
Gold prices are slightly lower on some mild profit taking from recent gains that pushed the yellow metal to an 11-month high on Tuesday.
In overnight news, the Euro zone's economic sentiment indicator reached its highest reading in over 10 years in August. The number came in at 111.9 compared to 111.2 in July. This report falls into the camp of the Euro zone monetary policy hawks, who want the European Central Bank to wind down its bond-buying (quantitative easing) program that has been in place for years.
The key outside markets on Wednesday see the U.S. dollar index higher on a corrective bounce after hitting a 15-month low Tuesday. Meantime, Nymex crude oil futures are slightly lower. The hurricane and ensuing torrential rains that have flooded the Houston, Texas region, including major gasoline refineries, will reduce supplies of U.S. gasoline, but also reduce demand for crude oil, in the coming weeks, or longer.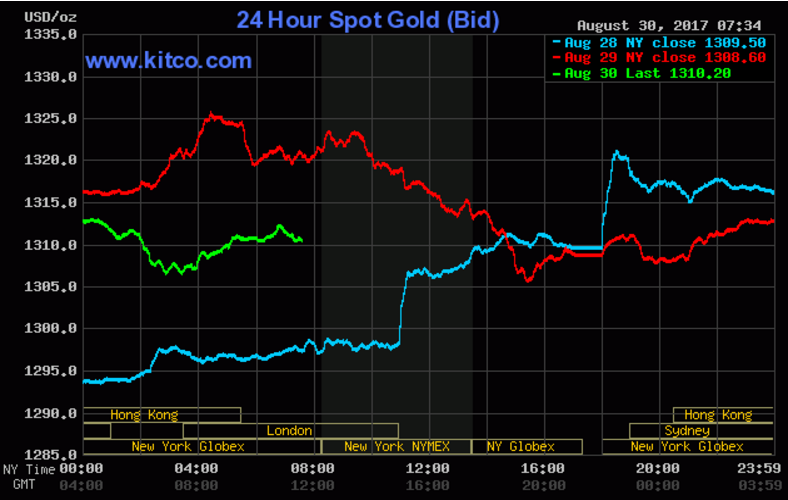 U.S. economic data due for release Wednesday includes the weekly MBA mortgage applications survey, the ADP national employment report, second-quarter gross domestic product, preliminary corporate profits, and the weekly DOE liquid energy stocks report.
The major U.S. data point of the week is Friday's employment situation report for August from the Labor Department. The key non-farm jobs number is forecast to come in at up around 180,000.
By Jim Wyckoff, contributing to Kitco News; jwyckoff@kitco.com
Follow Jim Wyckoff @jimwyckoff for breaking news.