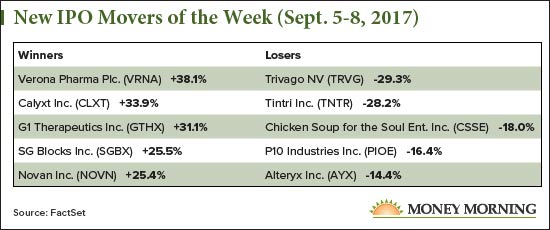 Our latest list of new IPO* movers of the week includes companies from pharmaceuticals and agriculture, plus those providing hotel search and cloud services.
Verona Pharma Plc. (Nasdaq: VRNA) jumped 38.1% for the week after announcing positive results for one of its drug candidates. The treatment was being tested as a complement to an existing drug frequently used for chronic obstructive pulmonary disease (COPD). The phase 2a trial showed significant improvement in lung function for patients with moderate-to-severe cases of COPD. Verona held its IPO in April at a share price of $13.50. The stock closed the week at $17.
Calyxt Inc. (Nasdaq: CLXT) rose steadily throughout the week, closing each day higher than the last. The specialty food ingredient developer beat expectations by a wide margin in its Aug. 30 earnings report, though earnings per share (EPS) were still negative at -$0.12. Analysts were expecting EPS at -$0.32. CLXT has been on the rise ever since its July IPO, when shares were offered at $8. The stock closed the week at $23.35.
BREAKING: New Legislation Could Turn Tiny Pot Stocks into Millions. Click Here...
Trivago NV (Nasdaq: TRVG) led the losers with a 29.3% drop last week. On Wednesday, the hotel search platform lowered its guidance for the remainder of fiscal year 2017. The stock fell 22% that day, then slipped slower over the remainder of the week. After going public at $11 in December, TRVG peaked at $24.07 on July 19. But it has declined sharply since then. Shares closed the week at $10.96.
Tintri Inc. (Nasdaq: TNTR) was close behind, with a 28.2% plunge. On Thursday, the cloud services provider reported EPS for the quarter ending in July of -$0.91. That beat estimates of -$0.98, but its revenue, at $39.4 million, missed by $0.78 million. The stock fell more than 30% the next day. At least four law firms subsequently announced investigations of Tintri over possible securities fraud. The company held its IPO in late June at a share price of $7, after initially expecting to fetch between $10.50 to $12.50. TNTR closed the week at $4.55.
*Stocks are listed on a U.S. exchange with an initial public offering in the last year. Data and analytics provided by FactSet.
Up Next: One gallon of this new "crystal fuel" could get you from New York to L.A. and back... seven times! Being hailed by many experts as energy's "Holy Grail," it's 1,693 times more powerful than the gasoline that runs your car. The mainstream investment media isn't even talking about it yet. Read more...
Follow Money Morning on Twitter @moneymorning, Facebook, and LinkedIn.
Join the conversation. Click here to jump to comments…
About the Author
Stephen Mack has been writing about economics and finance since 2011. He contributed material for the best-selling books Aftershock and The Aftershock Investor. He lives in Baltimore, Maryland.