The top marijuana penny stock of September 2017 so far is Novo Integrated Sciences Inc. (OTCMKTS: NVOS). The stock is up from $0.28 at the Aug. 31 close to $0.85 today (Sept. 20). That's a 203.6% profit in just 14 trading sessions.
That's not the only marijuana penny stock posting huge gains this month. Here are the rest of the top 10 marijuana penny stocks of the month by share price gain...
Marijuana Penny Stock
Current Share Price
September 2017 Price Gain
Novo Integrated Sciences Inc.

(OTCMKTS: NVOS)

$0.85
+203.6%
Vapir Enterprises Inc.

(OTCMKTS: VAPI)

$0.03
+200%
Evergreen-Agra Inc.

(OTCMKTS: EGRN)

$5.00
+81.8%
Two Rivers Water & Farming Co.

(OTCMKTS: TURV)

$0.68
+61.9%
BioCube Inc.

(OTCMKTS: BICB)

$0.03
+50%
Cannabis Wheaton Income Corp.

(OTCMKTS: KWFLF)

$0.84
+44.8%
22nd Century Group Inc.

Sign up for SMS so you never miss special events, exclusive offers, and weekly bonus trades.

(NYSE MKT: XXII)

$3.11
+41.4%
WEED Inc.

(OTCMKTS: BUDZ)

$1.18
+29.7%
India Globalization Capital Inc.

(NYSE MKT: IGC)

$0.40
+29%
UMF Group Inc.

(OTCMKTS: UMFG)

$0.09
+28.6%
The Best Pot Stocks: After months of research, we've found the most lucrative and fastest-growing legal pot stocks in America. And for a limited time, you can get all the details for free. Learn more...
Although it used to be a clean air tech company, Novo Integrated Sciences now develops marijuana-based treatments for chronic pain. This change in direction came in July, after Novo acquired Canadian marijuana firm Novo Healthnet Ltd. and made it a wholly owned subsidiary.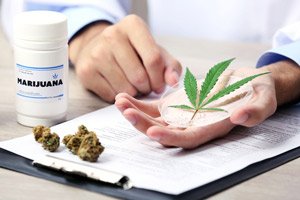 While no big news has fueled NVOS stock's 203.6% rally this month, there was a three-day period that saw major spikes in trading volume. Total volumes from Sept. 12 to 14 reached 17,250, 16,500, and 40,795, respectively. Those were all more than double NVOS's average two-month (65-day) volume of 7,900 shares.
These spikes in volume - and therefore share price - are often associated with cannabis stocks like NVOS, since they trade on over-the-counter (OTC) exchanges. These exchanges aren't as heavily monitored as the NYSE and Nasdaq, which are regulated by the U.S. Securities and Exchange Commission (SEC).
While the above gains are tempting, we don't advise investing in any of the top marijuana stocks on this list. They've already seen gains as high as 203.6%, and our Money Morning experts like to position you for future gains so you can make the most from your investment.
That's why Money Morning Director of Technology & Venture Capital Research - and marijuana investing expert - Michael A. Robinson is looking ahead to a marijuana "bombshell" set to hit Canada in 2018...
In his new interview, Michael shares some important news about Canada's pot legalization - and how investors who can afford a bit of risk can set themselves up to profit.
His interview details five tiny cannabis stocks he's watching that could transform a tiny investment into $100,000.
This is how you can get in on this marijuana investment opportunity...
Here's How You'll Make Money from Marijuana Stocks