(Kitco News) – World stock markets  were mostly firmer overnight, on hopes that a U.S. corporate tax-reform plan will boost economic growth not only in the U.S. but around the globe. U.S. stock indexes are pointed toward slightly lower openings when the New York day session begins.
Gold prices are slightly lower and hit a six-week low overnight. Better risk appetite in the marketplace this week, as well as a rallying U.S. dollar index, are bearish for the safe-haven metal.
World bond market yields are on the rise this week, on ideas that better world economic growth will prompt the major central banks to become less accommodative on their monetary policies. Odds are rising (now about 75%) that the Federal Reserve will raise U.S. interest rates in December.
In overnight news, the Euro zone economic sentiment indicator rose to 113.0 in September from 111.9 in August. The September reading was the highest in over 10 years. This report falls into the camp of the Euro zone monetary policy hawks. European Central Bank President Mario Draghi said Thursday the ECB will decide later this year specifically when to start winding down its quantitative easing of monetary policy (bond buying).
The U.S. dollar index is slightly higher and hit another five-week high overnight. A bullish head-and-shoulders bottom reversal pattern has formed on the daily bar chart for the USDX, which is a technical clue that a market bottom is in place. Meantime, the Euro currency hit another five-week low against the U.S. dollar overnight. There are chart clues the Euro has put in a near-term market top.
The other key outside market on Thursday morning sees Nymex crude oil futures higher and hit a five-month high overnight. The oil bulls have the firm near-term technical advantage and still have upside momentum. However, there are stiff chart resistance levels just overhead in the crude oil market.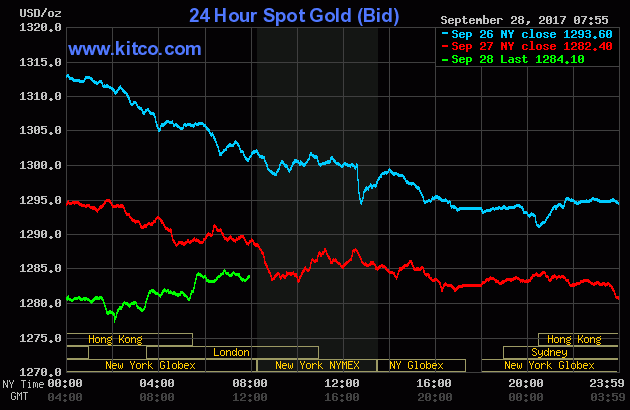 U.S. economic data due for release Thursday includes the weekly jobless claims report, advance economic indicators, the second-quarter GDP report, third estimate, and the Kansas City Fed manufacturing survey.
By Jim Wyckoff, contributing to Kitco News; jwyckoff@kitco.com