(Kitco News) – World stock markets  were mostly firmer in quieter trading overnight. A lack of major news developments in the marketplace late this week is keeping equities subdued. U.S. stock indexes are pointed toward narrowly mixed openings when the New York day session begins.
Gold prices are firmer today on short covering in the futures market and bargain hunting in the cash market, following this week's selling pressure.
Friday is the last trading day of the month and of the quarter, which makes it an extra special day from a charting perspective. Monthly (or quarterly) high or low closes on the last trading day of the month (or quarter) are very technically significant.
In overnight news, the Euro zone consumer prices were up 1.5% in September, year-on-year. That rate was unchanged from August and was just below market expectations. The European Central Bank wants to see an annual inflation rate of close to 2.0%.
The U.S. dollar index is slightly higher in early U.S trading Friday. Greenback bulls have had a good week. A bullish head-and-shoulders bottom reversal pattern has formed on the daily bar chart for the USDX, which is a technical clue that a market bottom is in place. Meantime, the
The other key outside market on Friday morning sees Nymex crude oil futures slightly higher. Prices Thursday hit a five-month high. The oil bulls have the near-term technical advantage. However, there are stiff chart resistance levels just overhead in the crude oil market.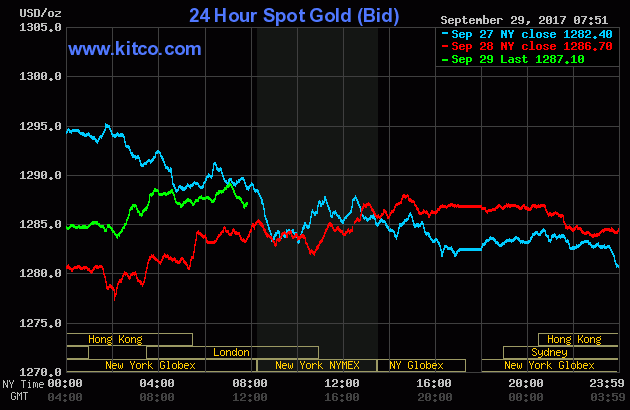 U.S. economic data due for release Friday includes personal income and outlays, the ISM Chicago business survey, and the University of Michigan consumer sentiment survey.
By Jim Wyckoff, contributing to Kitco News; jwyckoff@kitco.com