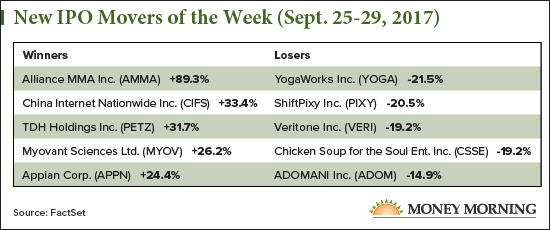 Our latest list of new IPO* movers of the week includes some new faces on the winners list, but a slew of returning losers.
Alliance MMA Inc. (Nasdaq: AMMA) led the winners by far, soaring 89.3% for the week. The big gain comes as the mixed martial arts company agreed to acquire Victory Fighting Championship, the leading MMA company in the American Midwest. Alliance MMA now produces events in nearly half of Nielsen's top 30 market areas. In spite of the surge, AMMA is still trading at less than half its $4.50 IPO price from late last year. Shares closed the week at $2.20.
China Internet Nationwide Financial Services Inc. (Nasdaq: CIFS) rose 33.4% for the week. On Sept. 25, the company released unaudited financial results for the first six months of 2017. Revenue was up 15% from a year earlier, while earnings per share (EPS) were up 46%. CIFS debuted at $10 per share in August, and has been on a steady rise since early September. Shares closed the week at $19.96.
BREAKING: New Legislation Could Turn Tiny Pot Stocks into Millions. Click Here...
YogaWorks Inc. (Nasdaq: YOGA) dropped 21.5% for the week after a disappointing quarterly filing on Sept. 21. EPS came in at -$0.35, compared to an expected -$0.25. Other than a brief surge in early September, YogaWorks stock has had nothing but trouble since its July IPO. The company had to slash its price expectations from between $12 and $14 to $5.50, and it is now trading at barely half that. Shares closed the week at $2.77.
ShiftPixy Inc. (Nasdaq: PIXY) returns to the losers list with a 20.5% fall. The stock surged in its first two weeks after debuting in late June at $6 per share. It climbed as high as $10.32 on July 13, but has fallen dramatically since then. The part-time staffing solutions provider joins a long list of disappointing IPOs in 2017. Shares closed the week at $2.95.
*Stocks are listed on a U.S. exchange with an initial public offering in the last year. Data and analytics provided by FactSet.
Up Next: One gallon of this new "crystal fuel" could get you from New York to L.A. and back... seven times! Being hailed by many experts as energy's "Holy Grail," it's 1,693 times more powerful than the gasoline that runs your car. The mainstream investment media isn't even talking about it yet. Read more...
Follow Money Morning on Twitter @moneymorning, Facebook, and LinkedIn.
Join the conversation. Click here to jump to comments…
About the Author
Stephen Mack has been writing about economics and finance since 2011. He contributed material for the best-selling books Aftershock and The Aftershock Investor. He lives in Baltimore, Maryland.