(Kitco News) – World stock markets were mixed in quieter overnight trading. U.S. stock indexes are pointed toward near steady openings when the New York day session begins.
Gold prices are firmer in pre-U.S.-session trading, on more short covering and perceived bargain hunting following recent selling pressure.
Traders and investors are looking ahead to Friday's U.S. employment report for September from the Labor Department. The key non-farm payrolls number is expected to come in at up only 80,000, according to a Dow Jones Newswires survey. The unusually low non-farm jobs growth estimate is due to two major hurricanes that hit the U.S. mainland in September.
The U.S. dollar index is slightly higher in early U.S. trading. The greenback bulls have been working the dollar index sideways to higher for the past few weeks. Meantime, the Euro currency has been suffering during that same time.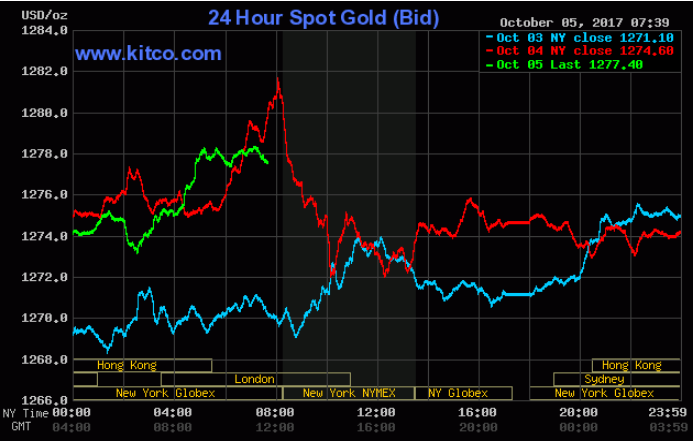 The other key outside market on Thursday morning sees Nymex crude oil futures also slightly higher. Oil gains have been capped this week by notions of rising U.S. crude oil production that is approaching 10 million barrels a day.
U.S. economic data due for release Thursday includes the weekly jobless claims report, the Challenger job-cuts report, the international trade report, manufacturers' shipments and inventories, and monthly chain store sales reports.
By Jim Wyckoff, contributing to Kitco News; jwyckoff@kitco.com
Follow Jim Wyckoff @jimwyckoff for breaking news.