(Kitco News) – Global markets were mostly higher in overnight trading. There were some significant geopolitical events occurring over the weekend, but the world marketplace has so far Monday shrugged them off as mostly nothing new. U.S. stock indexes are also pointed toward firmer openings when the New York day session begins. The U.S. stock indexes are at or near record highs.
Gold prices are solidly higher in pre-U.S.-session trading Monday. Short covering and bargain hunting are featured following recent selling pressure that drove gold and silver prices to a two-month low last week.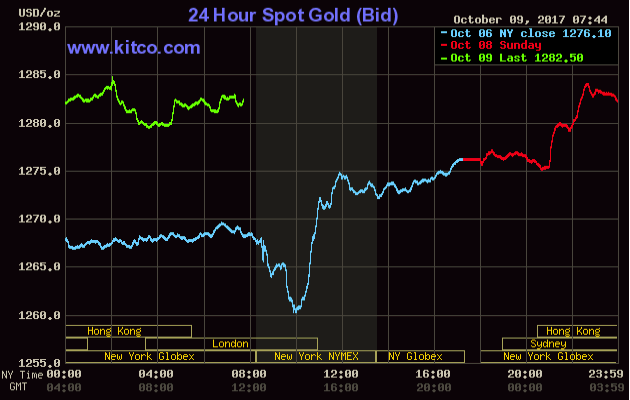 Thousands of Spaniards on Sunday protested any secession of Catalonia after that region voted to be independent recently. The U.S. and Turkey saw a diplomatic row escalate over the weekend when both countries put restrictions on visas for the other country. The Turkish lira dropped sharply Monday on the situation. And the U.S.-North Korea war of words continued during the weekend, with both sides spouting off.
The U.S. dollar index is weaker in early U.S. trading, on a normal corrective pullback after hitting a 2.5-month high on Friday. The other key outside market on Monday morning sees Nymex crude oil futures prices near steady. Oil bulls are fading. There are worries recent hurricanes that struck the U.S. will curtail petroleum refining capacity, which means less demand for crude until those refineries are 100% back on line.
The U.S. government is closed for the Columbus Day holiday Monday. However, most markets are open. U.S. economic data due for release Monday includes the employment trends index.
By Jim Wyckoff, contributing to Kitco News; jwyckoff@kitco.com
Follow Jim Wyckoff @jimwyckoff for breaking news.