(Kitco News) – World stock markets were mostly up overnight. U.S. stock indexes are pointed toward narrowly mixed openings when the New York day session begins. U.S. stock indexes are near this week's record highs. Japan's Nikkei stock index hit another 21-year high overnight. Stock market traders are not paying much attention to geopolitics at present, as their risk appetites remain strong.
Gold and silver prices are higher and hit two-week highs in pre-U.S.-session trading. The slumping U.S. dollar this week is a bullish element for the precious metals markets.
In overnight news, Euro zone industrial production in August was reported up 1.4% from July and up 3.8%, year-on-year. Those numbers were much stronger than expected and fall into the camp of the monetary policy hawks, who want the European Central Bank to start to tighten monetary policy.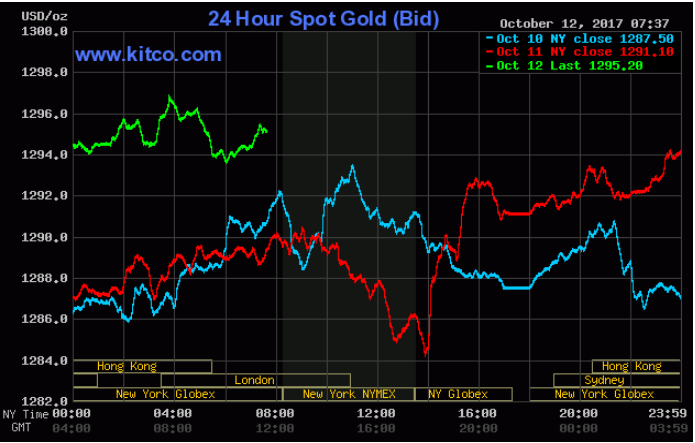 The U.S. dollar index is slightly higher in early U.S. trading Wednesday, but did hit a two-week low overnight. The greenback bears have gained downside momentum this week. The other key outside market sees Nymex crude oil futures prices lower and trading just below $51.00 a barrel.
U.S. economic data due for release Thursday includes the weekly jobless claims report, the producer price index, the weekly DOE liquid energy stock report, and the monthly Treasury budget statement. There are also several Federal Reserve officials set to deliver speeches today.
By Jim Wyckoff, contributing to Kitco News; jwyckoff@kitco.com
Follow Jim Wyckoff @jimwyckoff for breaking news.