(Kitco News) – World stock markets were mostly firmer overnight. Many world stock indexes are at or near record or multi-year highs. U.S. stock indexes are pointed toward slightly higher openings when the New York day session begins.
Stock market traders and investors are focusing on upbeat world economic growth prospects as a bullish tonic. However, they are paying little attention to geopolitics. If the stock market community does begin to pay more attention to geopolitics (which will likely be the case) then look for increased money flows out of equities and into hard assets like gold and other raw commodities.
New on the geopolitical front Friday morning are reports that President Trump is ready to decertify the U.S-Iran nuclear agreement from the Obama administration. Also, reports said Brexit talks between the U.K. and the European Union are not going well.
Gold prices are slightly down in pre-U.S.-session trading. Gold bulls have had a good week, overall, as prices are close to pushing above the key $1,300.00 level.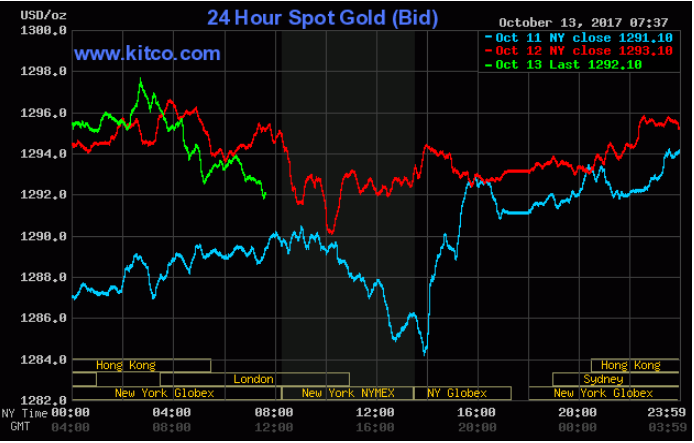 In overnight news, China's exports were up 8.1% in September, year-on-year, while its imports were up 18.7%. The exports figure was lower than expected and the imports number was higher than expected.
The U.S. stock index is near steady in early U.S. trading Friday. The greenback bears have gained downside momentum this week. The other key outside market sees Nymex crude oil futures prices higher and trading just below $52.00 a barrel. The oil bulls this week regained the near-term chart advantage.
It will be a busy day for U.S. economic data releases Friday, including the consumer price index, retail sales, real earnings, manufacturing and trade inventories, and the University of Michigan consumer sentiment survey. The consumer price index for September is the headline number of the day. The CPI is expected to come in at up 0.1% from August.
By Jim Wyckoff, contributing to Kitco News; jwyckoff@kitco.com
Follow Jim Wyckoff @jimwyckoff for breaking news.