(Kitco News) – World stock markets were mostly firmer overnight, but in quieter trading. U.S. stock indexes are pointed toward firmer openings when the New York day session begins. The U.S. stock indexes are at record highs this week. Hopes for tax cuts in the U.S. are helping to lift the U.S. stock market.
Gold prices are weaker again in pre-U.S.-day-session trading. The bears have gained some downside technical momentum this week. A higher U.S. dollar index this week is also working against the gold and silver bulls.
The geopolitical scene has been quieter the past couple weeks and that's allowed world trader/investor risk appetite to uptick, which is bullish for the stock markets and bearish for safe-haven gold.
China on Wednesday started its twice-a-decade Party Congress meetings, in which major economic and cultural planning initiatives are laid out for the next five years. Traders and investors will keep a close watch for any pronouncements coming out of those meetings. China's President Xi Jinping's opening speech contained no surprises to the markets. He urged the government to play a greater role in the Chinese economy. He also said he wanted China to become more open in world market dealings.
The key "outside markets" Wednesday morning see the U.S. dollar index higher, as the greenback is having a good week, so far. Meantime, Nymex crude oil futures prices are modestly up and trading just above $52.00 a barrel.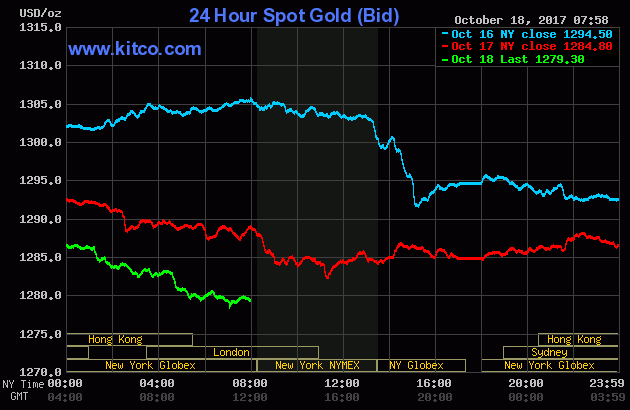 U.S. economic data due for release Wednesday includes the weekly MBA mortgage applications survey, new residential construction, the weekly DOE liquid energy stocks report, and the Federal Reserve's beige book.
By Jim Wyckoff, contributing to Kitco News; jwyckoff@kitco.com