North Korea has been noticeably quiet lately.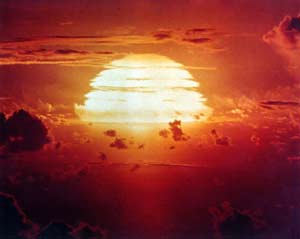 And while we could speculate as to the reason for the Hermit Regime's silence - UN sanctions, perhaps, or China's recently added pressure - we'd rather hone in on audible rustlings from East Asian countries nearby.
North Korea's neighbor countries are actively abustle right now with internal debates on whether they should build up their own nuclear weapons programs to counter Kim Jong Un's various threats.
South Korea and Japan are the loudest among those talking; they've arguably got more at stake than other East Asia nations - they're closer to Pyongyang, with tens of millions of lives to protect.
But other Pacific nations are talking about their own nuclear programs, too.
Here's who's lacing up for Asia's nuclear arms race - and what the threat of nuclear proliferation means for investors in the United States.
North Korea Worries Its Nearest Neighbors the Most
For Japan and South Korea, there is a clear obstacle in the way of their obtaining atomic weapons: The Nuclear Nonproliferation Treaty of 1968, which bars both countries from manufacturing and possessing nuclear bombs.
But that doesn't mean they couldn't do it anyway; they already have the means.
According to The New York Times on Oct. 28, both Tokyo and Seoul have the technological proficiency to produce thousands of missiles already.
And they could do so quickly.
In fact, South Korea has 24 nuclear reactors that have produced enough spent fuel for Seoul to manufacture more than 4,300 bombs, according to a 2015 paper by Charles D. Ferguson, president of the Federation of American Scientists.
For its part, Japan has 10 tons of plutonium stored domestically and another 37 tons overseas, according NYT on Saturday.
Must See: The Defense Industry Is a Gold Mine - You Can't Afford to Miss This $6 Company...
So, both countries are ostensibly capable of building their own nuclear weapons. But here's where the rubber meets the road...
For the first time, both countries want to.
Why South Korea and Japan Now Lean Toward Nuclear Armament
The idea of a nuclear-armed South Korea has gained steam in the country - chiefly because of North Korea's Sept. 3 nuclear test - its most powerful to date - but also because the watered-down UN sanctions passed on Sept. 11 didn't fulfill the measures requested by Seoul, Washington, and Tokyo.
The trio had asked that day for "a full crude-oil embargo, which would have crippled the North Korean economy," The Washington Post reported on Sept. 13, "but the UN resolution instead imposed a cap on oil imports to Pyongyang."
Just two days after North Korea's Sept. 3 nuclear test, South Korea's Defense Minister Song Young-Moo suggested it was worth reviewing "the redeployment of American tactical nuclear weapons to the Korean Peninsula to guard against the North," reported Bangkok Daily News.
And on Sept. 7, Gallup Korea reported that 60% of South Koreans "theoretically" support nuclear weapons for their country, according to Reuters. That majority percentage indicated a definitive shift in opinion for the North's closest neighbor; South Korea's population has historically opposed the manufacture of nukes, reported CNBC on Aug. 24.
Japan has also remained historically steadfast in its "antinuclear weapons sentiment" over the years. For five decades, the nation has upheld three non-nuclear principles that prohibit the possession, manufacture, and housing of nuclear weapons on its territory.
But even that paradigm is shifting...
On Sept. 6, a senior defense policymaker from Tokyo told Reuters on the condition of anonymity that "perhaps it's time for our three principles to become two" - suggesting that nuclear weapons be permitted into Japan.
Allowing nuclear weapons ashore now would not pose the same great political risk to Japanese President Shinzo Abe that it did even a week ago. That's because Abe called a snap election that took place on Oct. 22 in order to secure a two-thirds "super majority" in Parliament, which will help him achieve his goal of amending the constitution.
It was Abe's government, after all, that insisted in April 2016 the Japanese constitution does not explicitly prohibit nuclear weapons. Abe's policy has since evolved into an outright plan to overturn Japan's post-war antinuke constitution altogether.
There are other North Korean neighbor countries beside Japan and South Korea hoping to atomically arm themselves, as well...
Taiwan and Australia Want Nukes, Too
Taiwan has been harboring the idea of nuclear proliferation for some time now, in the face of tensions between itself and China.
Taiwan, like South Korea and Japan, has nuclear power capabilities, including six operating reactors - two under construction and one for research, according to a report from The University of Melbourne on Oct. 9. It used to have a nuclear weapons program, too - on the sly - until 1988, when it was caught building bombs.
And just this year, Taiwanese support for a nuke program has resurfaced.
For example, an unnamed Taiwanese current affairs commentator close to the nation's ruling Democratic Progressive Party recently stated on live TV that "the country was capable of making a nuclear bomb in 'as little as in seven days' and [China] should thus rethink its menacing of the island," reported Asia Times on Oct. 17.
What's more, Taiwan is in a distinct position in the Pacific Ocean to intervene with North Korea's illicit trade.
"Taiwan is well-positioned to play a more active role in disrupting such trade that falls under UN Security Council sanctions and seize those cargoes," Russell Hsiao, executive director of the Global Taiwan Institute, told USNI News on Aug. 14.
Of course, doing so could draw the ire and attention of the Hermit Dynasty, which the world already knows has missiles capable of reaching Taipei.
Drones Are Going to Be Big - $127-Billion-In-New-Wealth-For-Early-Investors Big. See The 7 Reasons This Drone Company's Stock Is Set to Explode.
It would also make sense for Taiwan to want to arm itself as other nations in the Pacific theater looks to do so.
Henry A. Kissinger, one of the few nuclear strategists from the early days of the Cold War, said as much to NYT this past weekend...
"If [South Korea and Japan] continue to have nuclear weapons, nuclear weapons must spread in the rest of Asia," he said. "It cannot be that North Korea is the only Korean country in the world that has nuclear weapons, without the South Koreans trying to match it. Nor can it be that Japan will sit there," he added. "So therefore we're talking about nuclear proliferation."
Australia is also looking to up its nuclear capabilities in the face of North Korean threats.
Australia has consistently refused to support or sign a nascent nuclear weapons-banning treaty - supported by 122 countries - on the basis that it relies on the United States' nuclear umbrella protection and therefore adheres to the nuclear nonproliferation treaty instead.
Recently, however, Stephan Fruehling, a defense scholar from the Australian National University, argued for Australia's actual break from the treaty so that it could upgrade its own program in the meantime. Fruehling pointed out that the U.S. nuclear umbrella has primarily served to stop American allies from seeking their own weapons programs. As a result, the treaty benefits America alone.
"As China in particular but also Russia in Europe starts to gain at least regional conventional superiority, I think the West and the U.S. will look more to nuclear weapons to counterbalance that," he said, according to the Sydney Morning Herald on Oct. 28.
"[That's] essentially what we did in the Cold War," Fruehling added.
These varied pushes for nuclear armament in the Pacific indicate that uncertainty and fear are at an all-time high, and a lot of America's allies no longer feel comfortable under its "nuclear umbrella."
And they aren't wrong to feel that way. After all, the evidence suggests that America's nuclear arsenal is a lot more bark than bite nowadays.
Money Morning Executive Editor Bill Patalon has written extensively about the United States' nuclear capabilities nowadays - or lack thereof.
"We've fallen behind in nukes, cyberwarfare, and space as a 'high ground' spot in the battlefields of the future," he wrote on July 31.
Indeed, the Pentagon's lagging modernization efforts have opened the United States to risks posed by the world's newest nuclear trifecta - Russia, China, and North Korea.
The advancements made by that trio, coupled with the Pentagon's long history of denying the fact that they're even threats in the first place, led Bill to warn, "we've got a lot of catching up to do."
Fortunately, that catching up is beginning to happen...
And the company responsible is poised to make investors rich.
The United States Is Counting on This Company to Protect Its Citizens
On Oct. 5, multinational aerospace company Boeing Co. (NYSE: BA) announced that it bought Aurora Flight Sciences Corp. - a Manassas, Va.-based firm dedicated to developing autonomous systems for military and commercial aircraft to be flown remotely.
In short, drones.
Bill notes that "the UAV (unmanned aerial vehicle) market is growing fast - and is destined to reach 'huge' status" - particularly as East Asian nations look to build up their own weapons programs at breakneck speed.
UAVs can swoop in to assess what's happening on enemy territory without detection and without risking human lives to boot.
Bill points to a particular Aurora-Boeing test in May as proof that Boeing's acquisition of Aurora will indeed drive the U.S. military's weapons arsenal upgrade.
That's when the two defense tech companies successfully piloted an automated system on a Boeing jet.
DARPA had sponsored this project, which means that the defense agency has definite military intentions for its further use.
In fact, Bill's original prescient "call" to buy the world's jetliner pioneer was based on the fact that he knew its innovative prowess would continue to pique DARPA's interests for decades to come.
And sure enough, Boeing was awarded a contract to upgrade the military's Minutemen II missiles in August.
That project will last until 2030, at least.
And now, Boeing is the looking to be named the military's top drone developer to boot.
When Bill first recommended BA, shares were trading at just $61.92 each and were paying a dividend of $1.68 a share.
Today, Boeing is trading at about $259 a share. And it's paying a dividend of $5.68.
In short, folks who acted on Bill's "buy" recommendation are sitting on a 232% profit and have reaped a total return (with dividends) of about 260%.
Boeing will play a leading role in the drone market's $6.1 trillion future, which will doubtless be profitable for investors.
But now, Bill is showing readers another opportunity in the drone industry that has profit potential beyond anything Bill has seen before...
Financial Guru Bill Patalon Just Uncovered Your Next Profit Opportunity
[mmpazkzone name="in-story" network="9794" site="307044" id="137008" type="4"]
Before Bill moved into the investment-research business in December 2005, he spent 22 years as a journalist, most of it covering financial news as a reporter, columnist, and editor for outlets such as Gannett Co. Inc. and The Baltimore Sun.
He has covered finance and investing, economics, manufacturing, the defense sector, biotechnology, and telecommunications. The companies he's covered include Eastman Kodak Co., Xerox Corp., Harley-Davidson Inc., Caterpillar Inc., Westinghouse Electric Co. LLC, Verizon Communications Inc., MedImmune LLC, and Black & Decker Inc.
His most memorable interviews include former U.S. President Richard M. Nixon, General Electric CEO John F. "Jack" Welch, Forbes magazine publisher and former presidential candidate Steve Forbes, and business-turnaround specialist and helicopter industry pioneer Stanley Hiller, Jr.
It was Bill's work covering Eastman Kodak Co. during the latter half of the 1990s that solidified his reputation as one of the nation's top analytical business journalists. With his award-winning reports on Kodak's competitive travails, he consistently scooped his competitors in the national business media. His chronicles of Kodak's turnaround efforts took him to China, Japan, Silicon Valley, New York, Washington, D.C., and even Hollywood.
Along the way, he earned the esteem of heavyweights like Anthony Gallea, senior portfolio management director at Morgan Stanley, who collaborated on Bill's groundbreaking 1999 book "Contrarian Investing."
Bill's ideas so impressed Jim Rogers that the hedge fund genius eagerly wrote a glowing, six-page introduction to the book.
A winner of approximately two-dozen journalism awards - including top honors from the Associated Press and the prestigious Society of American Business Editors and Writers (SABEW) - Bill has had his work featured in Kiplinger's personal finance magazine, USA Today, and The South China Morning Post, among other publications.
Before taking over Money Morning, he served as the editor of The Rebound Report, an investment newsletter focused on turnaround stocks.
Bill has a Bachelor's in Print Journalism from Penn State University and an MBA in finance from the Rochester Institute of Technology.
Yes, he's uncovered a lot of investment stories. And he's even been nominated for two Pulitzer Prizes.
But he's never seen a story as potentially lucrative as this one...
The Next $127 Billion Profit Opportunity
In the barren, hostile plains of the New Mexico desert, not far from the Mexican border, they're building a city like no other.
A city with high rises, avenues, parks, a big-box store, churches, and gas stations for a population of 35,000, all at a ground-up cost exceeding $1 billion...
It's made to look like so many other cities in America, except for one thing: people. There are none. It's a ghost town, and it always will be.
Here's what Bill learned about this ghost town and what he believes is really going on.
Its location in New Mexico is the first key: The state scoops up tons of government research dollars straight from Washington.
And indeed, located in hardened shelters far beneath this empty city will be teams of top-secret scientists and federal contractors hard at work...
Driven by what they call "mother's milk" - the hope of seeing billions of dollars in government funding coming their way. Not to mention the many billions more in new wealth that they hope to create.
Bill has identified the main group of scientists and researchers behind this project.
They are quite clearly inventing a big future, with new technologies that stretch the imagination - new technologies that are about to be everywhere.
They call their ghost town "Project CITE."
It's the brainchild of the government contractor Marble Arch.
And when you learn how tight Marble Arch is with the Pentagon and how many massive government contracts Marble Arch has scooped up over the years, you know something big is happening here.
"Big," as in "$127-billion-in-new-wealth-for-early-investors Big," Bill's findings suggest.
Marble Arch is run by Bob Brumley, who was U.S. President Ronald Reagan's point man for privatizing commercial space transportation. He's definitely a big thinker - like an Elon Musk with a direct line to government funding!
And this new venture of his is every bit as ambitious as space travel, with an even bigger impact, because it's happening right before our eyes.
Now, as we mentioned, the specific details of this venture are not public. But after Bill's investigation, he's incredibly confident it will involve the next big thing in tech, security, and investing.
He's talking about unmanned flying machines.
Yes, drones.
But not the drones you're probably thinking of. Not the kind the military uses to hunt down and kill enemy terrorists. Not any kind you've ever heard of before.
These are what Bill calls "AI Drones" - a brand-new breed of amazingly intelligent, super-capable drones unlike anything Bill's ever witnessed; drones that can use artificial intelligence to benefit more people, businesses, and countries than you could have ever imagined possible.
But there's another reason why these new drones will soon be everywhere.
We're talking about a big event that just happened...
An event that's blowing the lid off the drone market not two years from now... not a year from now... not even six months from now...
IMMEDIATELY.
It's happening as we speak.
And Bill has uncovered one tiny company sitting at the center of it all. You may never have a better shot at getting in on the ground floor of such a massive new market.
By getting in early, you could profit from the potential 4,636% gain that Bill's projecting. A gain like this would be the equivalent of turning...
Every $50 you invest into $2,318...
Every $2,500 into $115,900...
And every $10,000 into $463,600.
As you know, these kind of quadruple-digit returns are exceptional and don't happen every day. But think about it - even a fraction of these gains could make you a fortune.
Plus, this kind of spike makes perfect sense when you think about it. This is investing in the next frontier in aviation - the next great leap forward.
Bill sees dollar signs, pure and simple, which is why he put a briefing together for you, including this investment recommendation, as well...
Now, because this is a small stock, there will be volatility. So he'll also recommend a tight buying strategy. The last thing any investor wants to do is blindly chase a small stock upward with no plan in mind. And, as always, never investing more than one can afford to lose is good advice.
Here's everything you need to know about how you could pocket $115,900 from the next frontier in flight.
Follow Money Morning on Twitter @moneymorning, Facebook, and LinkedIn.
Related Articles: