Money Morning's options trading specialist, Tom Gentile, has developed a way for anyone to retire with millions.
With his new system, you could retire with just $12,000 and make up to $162,000 a year – for life.
We're not joking.
In fact, it's easy – but only if you know what you're doing.
Tom Gentile isn't known as America's No. 1 pattern trader for no good reason.
He's one of the world's foremost authorities on stocks, futures, and options trading. He's an author and co-author of over a half dozen books, including "The Options Course," "The Volatility Course," "The Index Course," and "The Stock Market Course."
Tom's style of trading systems and strategies is designed to help individuals learn how to propel themselves past 99% of the trading crowd, into the one percent of highly successful investors. And his trading expertise has landed him regular appearances on CNBC U.S., Europe, and Asia, Squawk Box, Bloomberg, Reuters, and Fox Business Network's "Cavuto: Coast to Coast," and he is a contributing columnist to Stocks and Commodities Magazine.
Since 2009, Tom has taught more than 300,000 traders the specific secrets of spotting high-probability and low-risk trade opportunities, and now he uses his years of experiences to pick winners to share with his subscribers.
And not just average winners, either. We're talking about mind-boggling, wealth-building gains on a consistent basis.
Tom has recommended a record-breaking 73 money-doubling trades so far this year across the board – and counting.
That's an average of six triple-digit winners a month.
All 43 straight trades that he recommended between May 1 and Oct. 10, including every single winner and loser, have generated a mind-boggling 1,958% in total gains.
That's an average weekly gain of 78.1%.
That's like doubling your money every single week from trades that included…
151.0% profit in 36 days on SPDR Gold Shares ETF…
73.2% profit in seven days on Power Shares ETF QQQ…
104.5% profit in 20 days on Aetna, and…
113.0% profit in 11 days on Nucor Corp.
You're probably wondering how he's able to identify such lucrative trades over and over again.
The answer is simple: loops.
After years of exhaustive research, Tom has figured out a way to combine extraordinary and super-fast trades into what can be a never-ending loop.
It allows you to cash in on a regular "payday" every two weeks by simply reinvesting your initial stake about every 15 days – right after you collect your profits. This way, income keeps rolling in without you having to tie up one extra dime of your hard-earned money.
For example, in the last few months, you could have "recycled" a single, $4,000 investment and generated super-fast paydays that included…
$4,892 in five days on Navistar International…
$4,580 in eight days on Nasdaq Bioshares ETF…
$7,900 in 10 days on Alphabet, and…
$4,068 in 13 days on Treasury Bond ETF TLT
And the best part is, since you only need a small stake invested at any one time, your investment dollars are freed up fast. You simply put the same money back to work over and over.
Tom's calling this the "Ultimate Retirement Plan," and what it could mean for your financial future is incredible. And you'll never have a penny more than your initial investment invested at one time.
The Ultimate Retirement Plan works by harnessing cutting-edge technology that makes generating extraordinary income fast and easy.
In fact, it only takes about 10 minutes to follow Tom's simple, once-a-week recommendations. At the rate it's been going, it's spitting out average profits of $3,115 every single week. And if it keeps going at this rate, like we fully expect, that's…
$13,500 a month…
And $162,000 a year…
For life.
Here's how it works…
It's Like Having Your Own "Retirement Money Machine"
Tom's system works by identifying specific patterns.
For example, if one particular guest was late to your dinner party every year for the past 10 years…
Would you have made sure to tell them the party was a half hour earlier this year?
Of course you would!
If something happens every year, at the same time, for the past nine or 10 years…
Chances are it's going to happen at the same time again this year!
Well, Tom's system works just like that.
Let's look at a real-life example.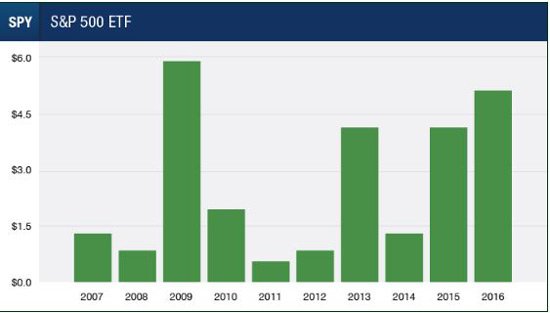 This chart shows that shares of the S&P 500 ETF (SPY) have increased by an average of $2.68 per share precisely between July 10 and July 21 every single year for the last 10 years.
And below, you can see that SPY followed the same pattern again this year.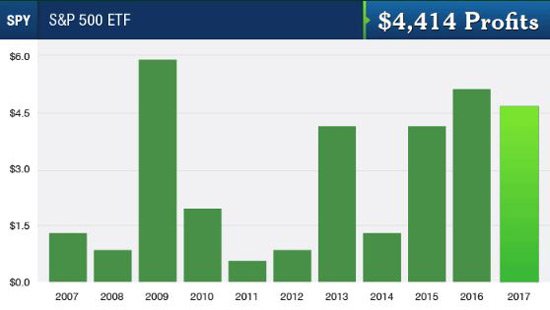 But this time, it increased by $4.60 per share.
Tom recommended a trade to his subscribers on July 10 based on this exact pattern. By July 19, readers had the chance to more than double a $4,000 investment into $8,414.
That's a serious payday. $4,414 cash profit in just NINE days!
It's easy to recognize these patterns. But what's tricky is finding the hidden, microscopic stock patterns that are so obscure virtually nobody else knows they exist.
They're often buried within billions of data points… involving decades of transactions… on millions of trades.
But Tom's patent-pending investing tool finds these obscure, decade-long patterns that have repeated with 90% to 100% consistency for you. He calls it the "Money Calendar" – and it's your secret to the wealthy retirement of your dreams.
The Money Calendar micro-analyzes over 10 years of daily transactions on the best stocks and exchange-traded funds you can trade, with only one goal: to find the common-sense, moneymaking patterns that nobody else could possibly see.
By using the Money Calendar strategy, you directly benefit from the tools to help you minimize risk and maximize gains that Tom has been perfecting for years.
It's like having Tom stand right next to you, walking you through real moneymaking trades. Add that to the moneymaking power of the Ultimate Retirement Plan behind each trade recommendation, and you're in the perfect position to profit.
Why wait one more minute when you could be seeing opportunities to triple your money right now, before the year ends?
Tom's got three plays lined up that could hand you a quick $3,000, $6,000, or even $12,000 by New Year's Eve.
Tom's readers are already getting the chance to make this much money right now because of these simple "loops," and we don't want you to miss out.
Follow Money Morning on Twitter @moneymorning, Facebook, and LinkedIn.