Pie-in-the-sky gold predictions are a dime a dozen at this time of year - calls for gold to hit $3,000... $6,500... $10,000 or even more.
Granted, most of these targets require at least the partial collapse of human civilization to work, although I have seen one or two loosely rooted in esoteric concepts like "economics," "monetary policy," and "central banking."
Now... I'd be the first one to line up and sell an ounce of my gold holdings for $10,000 (provided the apocalypse hasn't happened), but we can't very well dream our way into profits; we've got to be realistic.
Here in the real world, gold is pushing against some stiffening headwinds, although you'll see they're hardly insurmountable.
After all, we've reaped tidy gold gains of 11% this year. I've got some great, historical charts you need to see that will prove my forecast is honest.
Because, as it turns out, the yellow metal's future looks great from here...
Why You've Got to Look at the Great Secular Gold Bulls
When I was asked to put together my forecast for gold prices in 2018, the charts reminded me of gold's previous secular bull performance.
In my view, the gold bull market started back in April 2001, when gold hit a multi-decade low near $260.
10 years later, gold hit a peak price of $1,900.
SPOTTED: The "Halley's Comet of gold investing" pattern that's only appeared twice in 20 years. Click here for details...
Then it entered a multi-year correction/consolidation phase, which eventually brought us to where we are today.
The naysayers will tell you that gold is finished; kaput. Gold bears believe we've seen the peak, and it's only downwards from there.
But history tells us something very different.
[mmpazkzone name="in-story" network="9794" site="307044" id="137008" type="4"]
A look even further back, at the classic 1970s gold bull, shows a mid-bull cyclical correction that, once ended, helped launch a massive return to bullish action and much higher prices.
That was a run for the record books.
And you'll see, it's gold's past that helps us lay the groundwork for a reasonable forecast of what it might do in the next year.
When Gold Delivered a Decade of Steady Gains
Between September 2001 and September 2011, gold managed to produce a compound annual gain of 21.46%.
That's what a gain from $272 to $1,900 will do.
That's a terrific performance, but gold had pulled off another impressive achievement: During that decade, the highly prized metal managed a positive return every single calendar year.
To my knowledge, no other asset has ever accomplished such a feat.
But from the 2011, $1,900 peak to the December 2015 low of $1,050, it was nearly a 45% drop. That mirrors very closely the 1974-1976 correction that cut gold's price roughly in half, from $200 to $100.
From there, gold rose by a phenomenal 800%, peaking at $800, over a span of about three-and-a-half years.
At its current level, near $1,300, gold has already gained almost 24% in the nearly two years since bottoming.
In my view, we've just recently exited the mid-seventies-style mid-bull correction phase.
And that means, at the cusp of 2018, we're just getting started on the second half of an epic bull market.
And here's the proof...
Everywhere You Look, There's a Bullish Signal
I recently told you that a rising gold price in multiple major currencies was a strong signal that gold was in a bull market.
Here's what that looks like over the past decade.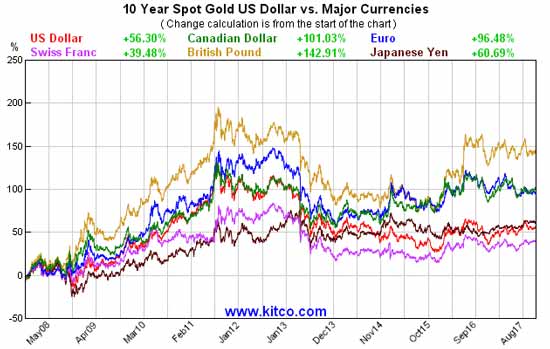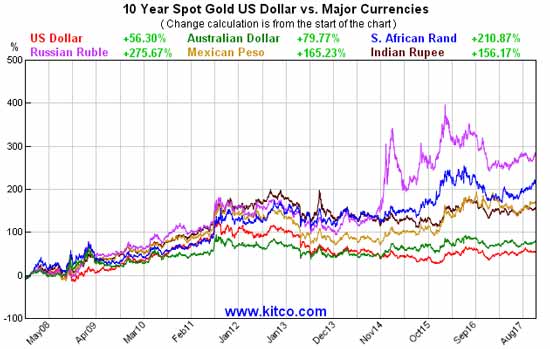 Suffice it to say gold is up over the last 10 years, and in some currencies, it's dramatically higher. And that includes the cyclical bear market of 2011-2015.
So I fully expect this bull market to power ahead.
Another powerful technical indicator that gold is heading higher is its price chart action.
You see, the gold price has been forming a large wedge since 2008.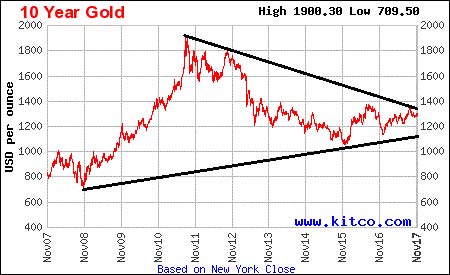 This past September, gold rose above the wedge, reaching $1,350 before pulling back. But it has managed to stay above that line since, and that's bullish.
A clear and sustained push above $1,300 should help kick off a new rally to $1,400.
That's good news for the folks who own gold... and the folks who get it out of the ground.
Buying Gold Stocks Look Great, Too
Gold stocks relative to the gold price are cheap. Here's proof.
The gold-stocks-to-gold ratio reached a dramatic low of 0.15 back in the late 90s, when this sector was bottoming.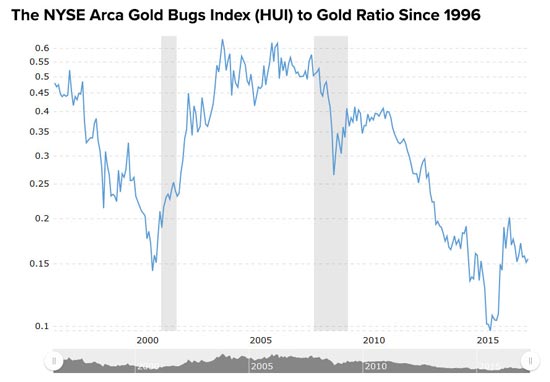 Yet, in late 2015, the ratio dropped even lower, to 0.1, before dramatically reversing and rapidly spiking to 0.2. It has since pulled back to 0.15, making gold stocks a tremendous bargain.
But equally significant is how gold stocks have outperformed gold since both bottomed in late 2015/early 2016.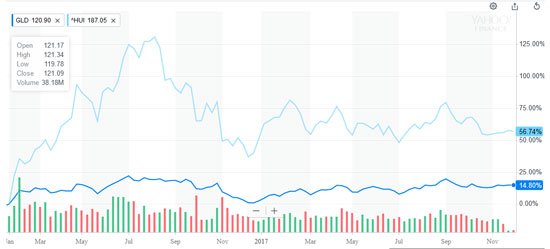 Since late January 2016, gold is up a respectable 15%, but gold stocks have radically outpaced, with a 57% gain.
That's a hugely positive sign: When gold stocks rise faster than gold, it typically portends higher gold prices in the future.
Look for More Double-Digit Gold Profits from Here
So, what does all this mean for the gold price in 2018?
With nearly two years behind us since gold hit a low of $1,050 in December 2015, I'm convinced that we've entered the second half of this secular gold bull market.
After impressive gains in 2016 but more a more modest advance so far in 2017, I think gold could regain traction next year, once the dollar resumes its downward trend and a long-overdue market correction rears its head.
In the first half of 2018, I think we can see gold test $1,400, which is just 7.7% higher from its current level.
By the end of 2018, I think gold could be closer to $1,475-$1,500. That's about 14% higher from here.
Up Next: Rare, Perfect "Gold Anomaly" Could Go Big
Conditions are ideal right now to learn how to make this precious metal play that could bring "windfall-style" potential gains. Read on...
Follow Money Morning on Twitter @moneymorning, Facebook, and LinkedIn.