In 2018, President Donald Trump will have no choice but to engage in more aggressive military intervention in the ongoing South China Sea dispute.
Beijing claims sovereignty over nearly all of the contested waters and the land therein, disregarding the aquatic borders of six different countries.
In fact, an international tribunal ruled against China's assertions in 2016, but Beijing largely ignored the ruling. The Philippines, which had brought the case against the Red Dragon, has stopped resisting entirely.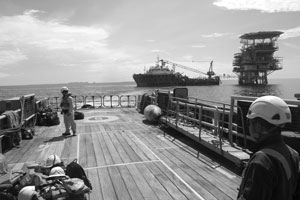 And because U.S. focus has been, throughout 2017, directed elsewhere - namely toward North Korea - the Red Dragon's developments in the region have progressed largely unchecked. China even managed to construct and build upon artificial islands within an area of 290,000 square miles last year. The Asian superpower also installed airplane hangars, missile shelters, and large radar and sensor arrays, according to satellite images reviewed by the Asia Maritime Transparency Initiative, a U.S. think tank, on Nov 8.
But Beijing's free reign won't last much longer.
That's because President Donald Trump will have to put a stop to China's military development in order to keep the South China Sea open for the $3 trillion dollars' worth of trade that passes through it each year.
Here's what military experts expect President Trump to do in 2018...
Half-Measures Won't Cut It in the South China Sea This Year
The Pentagon will likely pressure President Trump to take a tougher line with Beijing over the South China Sea this year.
"We know that the Pentagon, unlike the Trump administration, is very much worried about the South China Sea," Dr. Richard Javad Heydarian, a Manila-based security analyst, told The Washington Post today (Jan. 3). "The Pentagon is looking at options to bring the fight to the Chinese and up the ante there."
Drones Are Going to Be Big - "$127-Billion-In-New-Wealth-for-Early-Investors" Big. See the Seven Reasons This Drone Company's Stock Is Set to Explode.
The Pentagon's worry is well-placed; the current FONOPs (freedom of navigation operations) being carried out in the South China Sea have done little to stall China.
FONOPs are U.S. Navy maneuvers that involve sailing ships through the South China Sea to challenge Beijing's overzealous maritime claims. The U.S. naval fleet sails close to the islands China controls, often triggering heated warnings from the nation's coastal patrols.
It seems like more of an antagonistic tactic than a practical one. In fact, there was a nearly eight-month gap between the last FONOP under former President Barack Obama in October 2016 and the first under Trump in May 2017, which resulted in speculation that Trump had backed off on FONOPs in the hope that China would help to restrain North Korea.
Don't miss a single update on the South China Sea as Beijing steps up its aggressive campaign to take over the disputed waters. Get real-time alerts sent to your inbox, completely free, here.
Still, while Beijing was displeased when Trump reinitiated the FONOPs, it didn't slow down its development in the disputed maritime region.
Trump could increase FONOPs frequency in the months ahead. But one expert says that FONOPs alone aren't enough to dissuade China's progress.
"FONOPs are not a full strategy," Bonnie Glaser, a senior advisor for Asia at the Center for Strategic and International Studies in Washington, told The Straits Times today. "It was not enough in the Obama era and it's not enough under Trump."
What is enough remains unknown.
Whatever move America makes next will have to involve the United States rethinking the "status quo" and taking its South China Sea strategy off "auto-pilot," said Glaser. "There is not enough thinking about what the U.S. will do to deter or respond to what will be the next Chinese actions in 2018."
Some analysts believe that President Trump could be more diplomatic with his South China Sea approach moving forward.
But if Trump would like to bring China to the negotiating table over the contested waters, then he'll have to make this one move he should've made long ago...