The U.S. government has spent too much money on immigration reform for it to fail this badly.
Yet, over the years, government efforts have done just that - they've bombed.
Since the last major overhaul of the U.S. immigration system in 1986, Uncle Sam has spent an estimated $263 billion on immigration control, according to a 2017 estimate from bipartisan think tank The American Immigration Council (AIC).
But what did this spending actually pay for?
It certainly didn't make legal immigration any more accessible.
Rather, it paid for billions of dollars' worth of projects that ultimately failed and, in one instance, actually allowed 40 known terrorists into the United States.
Here's a look at Uncle Sam's failed immigration control projects, plus a way for investors to make the money back that the U.S. government has wasted...
Unfortunately, quite a bit of that money was spent on projects doomed to fail, or on additional agents who didn't properly do their jobs.
Here are just a few examples...
The United States Has Already Failed to Build Two Different Walls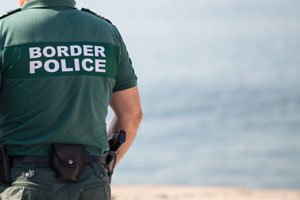 Former U.S. President George W. Bush's "virtual fence" wasted a billion dollars of taxpayer money.
In 2005, officials in Bush's administration touted the Secure Border Initiative (SBInet) as a new, high-tech approach to immigration control - one that would use video cameras, radar, sensors, and other technologies for monitoring purposes and would allegedly cost less than $750 million to cover the remaining 323 miles of Arizona's border not protected by the 650-mile-long wall already in place.
However, the virtual fence covered just 53 miles in two regions of The Grand Canyon State. And the high-tech equipment kept failing, which required the Department of Homeland Security (DHS) to set aside more taxpayer funds for repairs and replacements.
By the time the project was scrapped in 2011, the virtual fence cost U.S. taxpayers nearly $1 billion, reported The New York Times on Jan. 14, 2011 - and served no purpose at all.
The U.S. government has wasted taxpayer money on a physical fence, as well.
In 2006, the Secure Fence Act was passed - a bill requiring the construction of about 850 miles of double-layer fencing along five segments of the border.
Drones Are Going to Be Big - "$127-Billion-In-New-Wealth-For-Early-Investors" Big. See The Seven Reasons This Drone Company's Stock Is Set to Explode
A few years after its passage, Congress determined that 850 miles of additional border fencing was not feasible or necessary. In 2008, the Consolidated Appropriations Act of 2008 amended the 2006 law to reduce the required mileage of reinforced fencing to "not less than 700 miles of the southwest border."
Despite this addendum, the finished wall wound up straddling just 650 miles of the border. In 2009, it was estimated to have cost taxpayers roughly $2.8 million per mile in 2007, according to a report from the Government Accountability Office (GAO). It had been primarily constructed by the U.S. Army Corps of Engineers and the National Guard at the time.
The 2009 GAO report also found that fencing constructed in fiscal year 2008, which mostly used private contractors, cost taxpayers about $3.9 million per mile.
That puts the entire construction of the fence at $2 billion, at a minimum.
Despite its extravagant cost, much of the current fence could be easily mounted with a ladder or from the top of a vehicle. In some cases, border crossers scaled the fence without any additional equipment, reported Reason.com on March 31, 2017.
"Smugglers can even drive over the fence using ramps, a fact that was discovered only when a couple of foolish drug entrepreneurs managed to get their SUV stuck on top. (They took the dope and split.)," the media outlet stated. And while incoming, undocumented migrant numbers did begin to drop in subsequent years - from 12.2 million in 2007 to 11.3 million in 2016 - many analysts have said the decline wasn't due to increased border patrol and fencing, but rather to the economic recession experienced in the United States.
Increased Man Power Has Not Increased Security
Just to keep operations at a functioning level, immigration departments have rapidly increased funding and logged record numbers of new hires each year.
The annual budget for U.S. Customs and Border Protection (CBP) - think customs agents and border patrol officers - has grown from $3.3 billion in 2003 to $6.1 billion in 2016, according to AIC.
The annual budget of the U.S. Immigration and Customs Enforcement (ICE) - whose job it is to apprehend noncitizens in the interior of the country - surged from $5.9 billion in 2003 to $13.2 billion in 2016.
Since 1993, the number of U.S. Border Patrol agents nearly doubled, from 10,717 to a congressionally mandated 21,370 in 2016. The number of ICE agents increased during that same span of time from 2,710 to 7,995. During that last year, the average BPS agent salary was $54k/year, reports payscale.com. For ICE agents, it was $61k.
Yet, during the years 2013 to 2015, under former U.S. President Barack Obama's administration, ICE agents purportedly did not follow procedure, whether they were paid well or not.
Get the latest out of D.C. - plus how to stay one step ahead of the politicians - the second it's released with our free Profit Alerts. Learn more here.
The Office of Inspector General (OIG) Michael E. Horowitz reported on Jan. 5, 2018, that, specifically, ICE personnel failed to identify 40 individuals "known to have terrorist ties" who entered the United States illegally between 2013 and 2015.
"All 40 files had at least one instance of noncompliance with KSTEP [Known or Suspected Terrorist Encounter Protocol] policy, generating greater concerns regarding the population of aliens screened and determined to have no connections to terrorism," Horowitz said.
In addition to not following security protocols, the majority of ICE field offices did not have access to the DHS' classified networks, the OIG found, which would have allowed the agents access to information about suspected terrorists or terrorist associates.
"As a result," Horowitz added, "[Enforcement and Removal Operations] may be missing opportunities to identify, take into custody, communicate status of, and make decisions on those aliens who pose the highest risk to national security and public safety."
Indeed, of the 40 cases reviewed under the audit, nearly half were missing required background checks while the undocumented migrant in question was detained.
Unfortunately, all this is to say that just three instances of failed efforts on DHS' part over the years has cost taxpayers billions of dollars and, more importantly, their safety.
That's money Uncle Sam could've handily spent elsewhere, though it's not our job to comment on where specifically.
Our job is to show you how to make money.
And we've got just the answer for those looking to recoup the funds that our government has wasted - and then some...
Free Book for Money Morning Readers - Claim Yours Here
With the secrets you'll find in this book, we've produced 89 chances to double, triple, and even quadruple your money in the past two-and-a-half years - 42 chances this year alone!
Fun fact: You only have to double $500 11 times to turn it into $1 million.
Click here to learn how you can claim your free copy today.
Follow Money Morning on Twitter @moneymorning, Facebook, and LinkedIn.
[mmpazkzone name="end-story-hostage" network="9794" site="307044" id="138536" type="4"]