Although Wall Street and the mass media are obsessed with the technology sector, the biggest profits are in the biotechnology industry.
Over the last 12 months, the S&P Biotechnology Select Industry Index (SPSIBI) climbed an impressive 41.31%.
Meanwhile, over the same period, the S&P 500 Technology Sector SPDR ETF (NYSE: XLK) has returned 34.28%.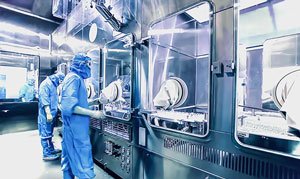 That's why today we'll reveal our three best biotech penny stocks to buy.
All three have upcoming February clinical trial results that could send their share prices soaring 300%-plus. One even has profit potential of more than 500%.
If a biotech stock's clinical trial results are positive, or receives a nod of approval from the FDA, then the stock can soar. For example, last year Dynavax Technologies Corp. (Nasdaq: DVAX) shares more than quadrupled between May 31 and Oct. 5, when it climbed 337.6%, from $5.50 to $24.07.
This jump came in July 2017 after the company reported that an FDA advisory committee voted in favor of the company's lead product candidate, Heplisav-B - an experimental hepatitis B vaccine.
While these stocks have huge profit potentials, you must keep in mind that penny stocks are very speculative investments. They often see big pullbacks after making large gains.
That's why Money Morning recommends that no more than 2% of your stock portfolio consist of such risky investments.
But if you're willing to take the risk, some of these stocks could bring you profits of over 300% next year.
FREE PROFIT ALERTS: Get real-time recommendations on the best penny stock opportunities the moment we release them. Just sign up here, it's completely free...
Now, the first biotech penny stock has its sights set on treating a large demographic of men over the age of 40 ...
Biotech Penny Stocks to Buy, No. 3: Apricus Biosciences Inc.
California-based Apricus Biosciences Inc. (Nasdaq: APRI) develops treatments in the areas of urology and rheumatology. Its lead product, Vitaros, is a topically applied cream for the treatment of erectile dysfunction (ED).
ED affects 52% of men and 40% of men above the age of 40, according to the Massachusetts Male Aging Study.
Currently trading at $2.35, APRI shares are covered by two firms, with an average price target of $3.50 and a high target of $4.50. Those targets represent upside of 49% and 91.5%, respectively.
Although APRI shares don't currently have 500%-plus potential price target, the fact that ED eventually affects the majority of males in the United States means that this drug will be in high demand if approved.
The company submitted its New Drug Application (NDA) to the FDA back in August, with a PDUFA date of Feb. 17.
A PDUFA date is the FDA's deadline to approve or reject an NDA, typically six months after the NDA.
Up next is a stock whose lead drug candidate is already approved in Europe and another stock with 500%-plus potential ...
[mmpazkzone name="in-story" network="9794" site="307044" id="137008" type="4"]
Biotech Penny Stocks to Buy, No. 2: AVEO Pharmaceuticals Inc.
AVEO Pharmaceuticals Inc. (Nasdaq: AVEO) is a Massachusetts-based company developing treatments for cancer. AVEO shares currently trade at $3.02.
The company's lead drug candidate, Tivozanib, is used to treat advanced renal cell carcinoma - the fastest-growing type of kidney cancer. The drug is already approved in Europe.
During the 2018 Genitourinary Cancers Symposium taking place Feb. 8 to 10, AVEO will reveal additional results of Tivozanib's phase 1 trials and the initial results of phase 2 trials.
Since the drug has already been approved in Europe, there's a good chance it will also receive approval in the United States.
There are currently three firms covering AVEO shares, with an average price target of $5.67 and a high target of $7. These levels represent upside of 87.75% and 131.8%, respectively, which is excellent considering the success its lead drug candidate has already seen.
Now, as promised, here's a stock with 500%-plus potential...
Biotech Penny Stocks to Buy, No. 1: Immune Pharmaceuticals Inc.
Immune Pharmaceuticals Inc. (Nasdaq: IMNP) is a New Jersey-based company developing treatments in the fields of immuno-inflammation and dermatology. IMNP shares currently trade at $0.48.
Right off the bat, the company's broad focus increases the chances that one of its treatments in development will ultimately attain FDA approval.
IMNP's lead product candidate, Bertilimumab, is in phase 2 clinical trials for the treatment of bullous pemphigoid, Crohn's disease, and ulcerative colitis diseases.
Bullous pemphigoid is a rare skin condition causing large, fluid-filled blisters, while the other two diseases are chronic inflammations of the digestive tract.
On Feb. 17, the company will announce positive interim results from the clinical trials of Bertilimumab for the treatment of bullous pemphigoid.
According to S&P Capital IQ, the stock is covered by the Maxim Group with a price target of $3. That would represent upside of 525%.
If You're Looking to End 2018 with $1 Million in Your Account, Start Right Here... Because it only takes 10 minutes to set yourself up to make more money from the markets than you've ever seen in your life. I've never seen a simpler method for scoring fast, consistent money-doubling opportunities. A year from now, you could be looking back at this moment as the defining event of your financial future. The first step on your road to millions starts right here.
Follow Money Morning on Twitter @moneymorning, Facebook, and LinkedIn.