Market correction aside, stocks are up. Way up.
In fact, since Trump won the election, the S&P 500 was up 17.7% until the latest pullback. It's an impressive run he's eager to take credit for.
The dollar, however, is another story entirely.
After peaking in January 2017, the U.S. Dollar Index has been in a tailspin, losing a shocking 12.6%.
Last year, the greenback was the second-worst major currency, down the most in a decade.
Despite slamming other nations (think mainly China) for intentionally weakening their currencies, Trump has repeatedly touted the advantages of a weaker dollar.
But if you rely on his recent comments and some other rhetoric coming out of the administration, you may be tricked into thinking otherwise.
I'm here to tell you it's nothing more than an illusion - one you'd do well to recognize.
Because once you catch it, you can get your money out of the way... and make this play instead...
[mmpazkzone name="in-story" network="9794" site="307044" id="137008" type="4"]
Here's the Fake-Out - Spot It
On Feb. 22, 2017, Treasury Secretary Mnuchin said a strong dollar was a "good thing."
The very next day, as Trump was meeting with manufacturing executives at the White House, he intimated that he wanted a lower dollar to help American companies who export.
Then, on April 12, the dollar tanked after Trump told The Wall Street Journal the dollar was "getting too strong."
The Great Stock Market Bubble Is Ending - That's Great News for This Type of Investment. Click Here...
Last month, at the World Economic Forum in Davos, Switzerland, Mnuchin told reporters, "Obviously, a weaker dollar is good for us as it relates to trade and opportunities." He explained that the currency's short-term value is "not a concern of ours at all."
But wait - he then went on to say, "Longer term, the strength of the dollar is a reflection of the strength of the U.S. economy and the fact that it is and will continue to be the primary currency in terms of the reserve currency."
The very next day, still at Davos, Trump countered in a CNBC interview, saying "The dollar is going to get stronger and stronger and ultimately I want to see a strong dollar," adding that Mnuchin's comments had been "misunderstood."
That's the red herring right there.
While Trump says he wants a strong dollar - sometimes - just look at what's actually been happening to the greenback, and you'll know the truth.
A Closer Look at the U.S. Dollar Index Tells the Truth
Okay, let's start with a simple chart of the U.S. Dollar Index (DXY).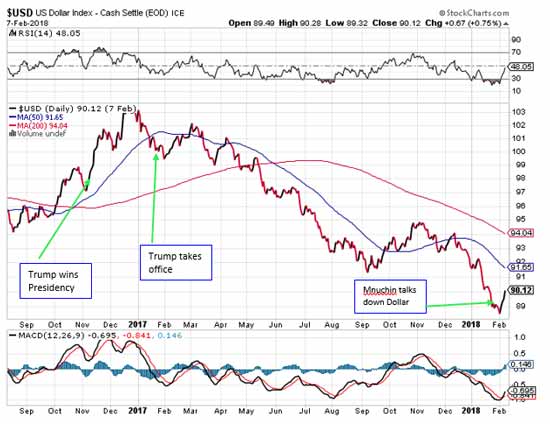 In November 2016, when Trump won the presidential election, the DXY was at 98.
At the very start of 2017, the DXY was at 103. By late January, when Trump took office, the DXY was back to 100.
Since then, it's been a virtual one-way trend for the greenback.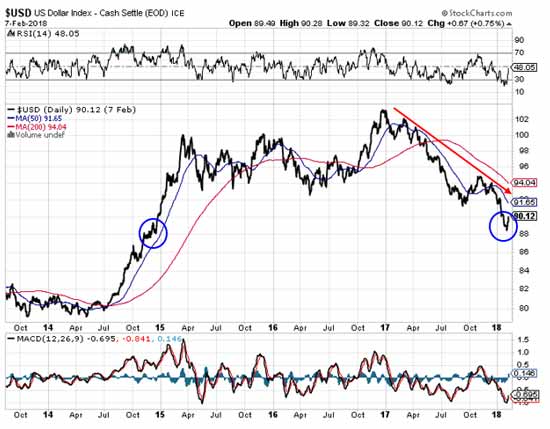 The DXY plunged below three-year lows in early February, a level last seen in December 2014.
But in all likeliness, the dollar's woes aren't over.
The Greenback Is Only Going to Weaken Further
Jeffrey Gundlach is CEO of DoubleLine Capital, a West Coast fund management firm with over $109 billion in assets.
Thanks to a series of prescient market calls, initially in the bond market, Gundlach has earned the exalted nickname of "Bond God."
Stocks Are Going from Bull to Bear - How to Avoid Heavy Losses with This One Type of Investment. Click Here to Find Out More...
But in recent years, he's had his finger on the pulse of stocks, interest rates, and even the last federal election.
One of his latest calls is on the dollar. And - you guessed it - he thinks it's going to weaken further.
In December, Gundlach said in a DoubleLine webcast that he expects the DXY's next big move would likely be to the downside, citing a challenging environment for the U.S. Federal Reserve to hike rates as quickly as intended.
Since then, the DXY was off 5% before a recent dead cat bounce.
Gundlach also noted in a recent webcast, "Dollar cycles are persistent and fairly predictable... We had a big down year in 2017, which was against all consensus forecast. And in 2018, the dollar is off to a bad start. And usually when you have a bad year, it is followed by one or two more bad years."
I'm of the same view.
What's more, I also think the recent rise in bond yields is the markets telling us that inflation is lurking. That's going to make the dollar even less attractive.
So here's an easy way you can play the lower dollar trend going forward.
How to Play the Lower Dollar Trend for Steady Profits
The PowerShares DB U.S. Dollar Bearish ETF (NYSE: UDN) is an inverse (short) U.S. dollar investment vehicle meant to provide the opposite daily return on the DXY.
Now, it's important to mention some inverse funds have been in the news during the correction because of the implosion of inverse funds tied to volatility on the S&P 500 futures market.
This isn't the same thing at all. Those products were crowded, leveraged in some cases, and subject to huge downward moves when volatility spiked.
UDN should provide slow, steady returns, and it holds the prospect of bigger gains with steeper drops in the dollar, and we should get plenty of warning should the DXY increase. What's more, a 25% trailing stop should help protect your principal and your profits.
Essentially, if the U.S. dollar continues to lose value against the basket of other currencies - the euro, Japanese yen, UK pound sterling, Canadian dollar, Swedish krona, and Swiss franc - then this ETF should benefit. Which in turn means you should be able to benefit if you make the right play.
UDN has $42 million in assets and trades about 72,000 shares daily. It's up about 3.3% so far in 2018 and has gained roughly 11% over the past year.
I think there's plenty of gas left in the "short dollar" tank. With a president who's called for a weaker currency numerous times, a Fed likely unable to hike as planned, and a clear trend already in motion, the dollar's looking destined for lower levels.
But that doesn't mean you can't benefit. And it certainly doesn't mean you have to be a victim. As long as you ride the low trend and make moves on the right plays, you'll be making gains regardless.
$4 Trillion Wiped Out in Just Eight Trading Days - Hedge Your Bets and Enhance Your Returns Thanks to This Safe Haven?
Experts speculate that we're near the end of the great stock market bubble. But don't panic. There's a way to salvage, protect, even grow your wealth in spite of these trying times. Click here to hear about what millionaire gold investor Rick Rule believes could make his next million. Pay close attention though, as he'll discuss the kind of companies that he's used to build his massive wealth... and learn more about our favorites of the ones he's getting into right now...
Follow Money Morning on Twitter @moneymorning, Facebook, and LinkedIn.