With uncertainty around tariffs and trade wars sending some industrial stocks into a nosedive, it's time for what Money Morning Defense and Tech Specialist Michael Robinson calls "separating the signal from the noise."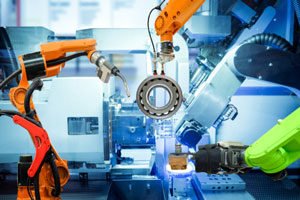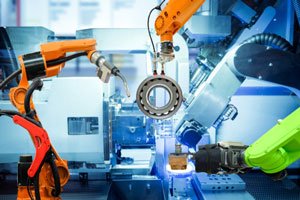 We've got three picks today that supply the industrial world that have fallen from their recent highs. That's in spite of the fact that tariffs are not going to slow any of them down.
With these three stocks, Wall Street's mistake is your gain.
One of them is on pace to double in price in less than two years.
Another is set for a 125% pop just to reach fair market value.
And a third is growing earnings at more than 100% per year.
It remains to be seen how much effect the tariffs will have on the economy, especially when leaders have been highly selective about how to implement them – sometimes carving out exemptions and backing off their initial threats.
For the picks we have today, there's little reason to worry. They serve a whole array of industries, and specialize in making those industries more efficient and competitive.
NINE LITTLE WORDS that could make you up to $1 million richer this election year. Click here...
In an uncertain trade environment, that's an absolute necessity.
So take a look at what these three picks can bring to your portfolio...
Undervalued Industrial Stock to Buy Now, No. 3
[mmpazkzone name="in-story" network="9794" site="307044" id="137008" type="4"]
MSC Industrial Direct Co. Inc. (NYSE: MSM) is one of the biggest industrial equipment distributors in the world. It started in New York's Little Italy in 1941 and has grown to 85 branch offices around the United States.
MSC is probably best known for its gigantic "Blue Book," a catalog it sends out containing over 1 million products its customers can order.
But this is much more than just a retail company for the industrial world. It's a problem-solving company.
For more than 75 years, the experts at MSC have been conducting thorough evaluations of their clients' operations – sometimes conducting weeks-long studies – and recommending specific products to boost productivity.
Case in point: MSC had a heavy-truck manufacturer for a client that was burning through cordless drills at a staggering pace. Many of drills wouldn't last a month before they had to be replaced. After running some tests, MSC made a recommendation for a different set of drills, and accurately predicted they'd last three to 10 times as long as the old ones.
Over the course of the next year, those replacements saved the truck manufacturer $1 million.
This kind of problem-solving is routine at MSC. They helped an industrial vehicle dealer boost productivity by 75% just by swapping in a different impact wrench than the dealer had been using previously. MSC also saved an aircraft component manufacturer $1.5 million a year by installing sophisticated vending machines and inventory management to keep track of the tools in its facilities.
The stock has retreated from $98.73 in January to around $85 right now. But our Money Morning Stock VQScore™ system flagged MSC as undervalued and ready to rise, giving it a top score.
Looking at the numbers, it's not hard to see why.
According to FactSet, MSC is on pace to grow its earnings per share (EPS) in 2018 by 27.4% from last year. Based on that rate, we can expect this stock to double in less than three years.
Better yet, the stock's price-to-earnings (PE) ratio over the last 12 months is just 68% of the industry average. That means we could see a 47% rise just to account for its past performance, before factoring in its future growth.
The stock's pullback has also pushed up the dividend yield to 2.7%, which beats the industry average by 30%. Combined with all the other factors in its favor, this makes MSC Industrial Direct a prime stock to grab right now. Watch for its earnings call coming up on July 11.
Undervalued Industrial Stock to Buy Now, No. 2
NN Inc. (Nasdaq: NNBR) started as a ball-and-roller factory serving the oil and gas industry. After 35 years of expansion and acquisitions, it has become one of the top manufacturers of precision metal and plastic components for a variety of sectors.
NN components can be found in automobiles and aircraft, as well as electrical, construction, industrial, and medical equipment.
The key, in all cases, is precision. The stakes are high when an ill-fitted or inadequate component can derail a project and jeopardize people's safety. NN has established itself as a trustworthy name to get the job done right the first time.
In other words, NN has made itself indispensable to its many customers across the Americas, Europe, and China.
Those customers include conglomerates such as Johnson & Johnson (NYSE: JNJ) as well as Fortune 500 medical device company Stryker Corp. (NYSE: SYK), which most recently has developed devices that could prove effective in fighting the opioid epidemic.
NN has also pulled back, from $29 near the end of 2017 to about $18.50 now. Again, this drop is unwarranted, and an opportunity for you.
NN's EPS has risen every year since 2013, and according to FactSet is projected to rise 62% in the second half of this year from a year ago. Net income in 2017 was up an impressive 219% from the year before.
On top of that, just about every relevant metric tells us that the stock is undervalued.
Its forward price-to-earnings-growth (PEG) ratio is just 70% of the industry average. Its forward PE ratio is 62% of the average. And its price-to-book value is just 44% of the average.
So this is a stock that could pop 125% just to reach its fair value.
Free Book: The secrets in this book helped one Money Morning reader make a $185,253 profit in just eight days. Learn how to claim your copy here...
No wonder analysts at KeyBanc Capital Markets, Lake Street Capital Markets, and SunTrust Robinson Humphrey all call NNBR a Buy with an average price target of $35. That would be an 89% rise from where it is now.
Buy it now and you'll also collect a 1.51% dividend, 50% better than the average for metal fabricators.
Undervalued Industrial Stock to Buy Now, No. 1
Think of any electronic device you use: smartphone, tablet, computer, smartwatch. They all have one component in common: the semiconductor chip.
The New York Times has compared the introduction of semiconductors, or integrated circuits, to the Industrial Revolution. That's how much semiconductor-powered devices have changed the economy and our lives over the last several decades.
There are a lot of manufacturers of semiconductors out there. But to get the equipment for the manufacturing process, those companies overwhelmingly turn to Applied Materials Inc. (Nasdaq: AMAT).
According to GlobeNewsire, virtually every computer chip in the world is made via AMAT's Producer platform. The 5,000-plus Producer units that have been shipped have processed 1.9 billion square meters of silicon over the last 20 years.
The Producer platform helped speed up semiconductor chips by using copper wiring instead of aluminum. And it's been able to stick around for two decades because it was built specifically to keep up with "Moore's Law," or the tendency of chips over time to store more information in less space at an exponential rate.
In addition to electronic devices, Applied Materials also services the manufacturing of photovoltaic solar energy cells and OLED displays, and produces automation software to help factories boost productivity.
These are all strong growth drivers for AMAT not just in the U.S. but also in China. And because of its near-total domination of certain segments, there's little reason to be concerned about trade threats between countries.
Despite its strength, AMAT stock has also slipped from around $61.50 in early March to $46 today. But even Wall Street experts have seen its value for what it is.
According to FactSet, 17 out of 22 analysts call AMAT a Buy, and have set an average price target of $69.36. That would be more than 50% higher than its current price.
If analyst projections hold up, AMAT will finish 2018 with an EPS 41.2% higher than last year, and 162.3% higher than 2016. Averaging those two years gives us a growth rate of 101.75% per year.
Similarly, sales doubled between 2013 and 2017, and are on pace to grow more than 20% this year.
In addition to growing sales and earnings, AMAT doubled its dividend in 2018, bringing the yield up to 1.73%.
All this adds up to one of the strongest stocks you can buy. It has a dominant position in a steadily growing industry, and it's not in any way dependent on the ups and downs any one tech manufacturer faces.
Unless you think people aren't going to be buying smartphones anymore, this is a great stock to grab right now while it's flying under the radar.
This Tiny Stock Could Turn Every $1,000 Invested into $4,719
The biggest tech breakthrough of the decade could be game-changing – and life-changing.
One tiny firm is rapidly developing the parts needed for this new technology, and it recently inked four deals with major players.
Its stock is trading for less than $10 now... but estimates show it could climb to $57.19 by 2025 – a 471.9% gain for those who get in now.
Follow Money Morning on Facebook, Twitter, and LinkedIn.
About the Author
Stephen Mack has been writing about economics and finance since 2011. He contributed material for the best-selling books Aftershock and The Aftershock Investor. He lives in Baltimore, Maryland.