Water - not gold, oil, or uranium - is the single most precious resource on the planet.
It's the one commodity that is an absolute daily necessity for every human being. And it's scarcer than you might think.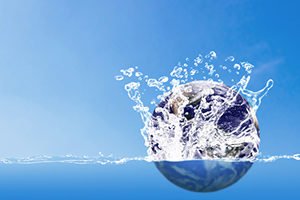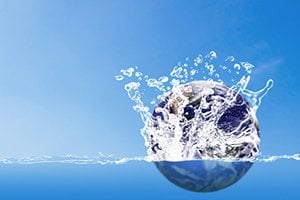 That's why the water companies helping to make it more accessible are must-have­ stocks in your portfolio. These are the companies that are actually helping us survive and overcome the global water crisis.
About 4 billion people live in conditions of extreme water scarcity. That's more than half the world's population.
Only 2.5% of all the water on earth is drinkable fresh water. And of that fresh water, only 1% is readily accessible.
[pa_button slug="stocks-to-watch"]Get the latest news and research on up-and-coming stocks delivered straight to your inbox the moment it's released.[/pa_button]
With the earth's total population rising every day, the process of delivering drinkable water to communities around the globe is only becoming more essential.
So we've got three water stocks that have developed smart solutions to make water less scarce - and therefore save lives across the globe.
That includes improving water infrastructure to prevent water loss - which amounts to 7 billion gallons a year in the United States right now.
And it includes turning the saltwater in the ocean into drinkable fresh water, as one of our picks specializes in. Desalination was once too energy-intensive to be viable in most places, but the third company we'll show you has helped to cut the energy input by more than half.
Finally, we'll tell you how you can get our favorite water stock of all - one that has already earned 136% since Money Morning Executive Editor Bill Patalon first recommended it in 2013.
So let's get right to it. Here are three top water stocks to buy now...
Top Water Stock No. 3: Mueller Water Products
In its latest report on infrastructure, the American Society of Civil Engineers gave the United States a D grade for drinking water and D+ for wastewater.
But Atlanta-based Mueller Water Products Inc. (NYSE: MWA) is helping to turn that around.
Some of Mueller's subsidiaries of go back 160 years, providing essential products for governments and utilities like fire hydrants, gate valves that make local water provision possible.
More recently, under its trademark Intelligent Water Technology (IWT) product line, Mueller has developed a number of solutions to greatly improve efficiency and safety in water management.
Powerful Investment Income Stream: The Treasury is sitting on an $11.1 billion money pool. By adding your name to a special distribution list, you could begin collecting $1,795 or more every month. Get the details...
Thanks to the suite of IWT products, utilities can account for nearly every drop of water in their systems.
Mueller's Echologics line of leak detectors, for example, are actually able to listen to pipes buried underground to detect if water is flowing where it shouldn't be. That way, repair techs can get on the problem instantly and prevent a potentially enormous amount of water loss in the system.
Products like these can literally be lifesavers when droughts strike. According to the Environmental Protection Agency, water main leaks account for 7 billion gallons of water lost in the United States every year.
IWT products also enable remote pressure monitoring, automated flushing to comply with EPA standards, and smart metering to ensure maximum efficiency.
All this is connected to the Internet of Things via Mueller's Mi.Net service. That allows virtually every aspect of a water network - from the plant itself to each individual home and everything in between - to be controlled remotely.
Mueller Water Products generates more than $1 billion in revenue. One of its clients is the state of California, the biggest and one of the most drought-prone states in the U.S.
MWA is on pace to increase its earnings per share (EPS) 20% in FY2018 and to increase it another 40% by 2020. Both its price/earnings ratio for the last 12 months and its price-to-book ratio are 30% below industry average, suggesting it could be due for a rise.
Plus, it currently offers a dividend yield of 1.73%, which is 40% better than the rest of the industry.
Next up, a company that is dramatically expanding the pool of available drinking water...
Join the conversation. Click here to jump to comments…
About the Author
Stephen Mack has been writing about economics and finance since 2011. He contributed material for the best-selling books Aftershock and The Aftershock Investor. He lives in Baltimore, Maryland.