You already know the Internet of Things (IoT) is going to be one of the most explosive growth sectors in the world over the next decade.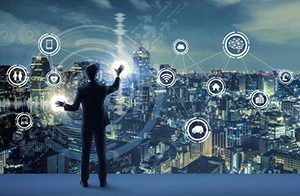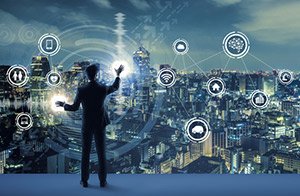 You may even already have shares in a few of the big players in the IoT market, such as Qualcomm Inc. (NASDAQ: QCOM), Apple Inc. (NASDAQ: AAPL), or Cisco Systems Inc. (NASDAQ: CSCO).
Those companies are making many of the sensors and devices that comprise the Internet of Things. And there's nothing wrong with owning them - we even recommend it.
But they're all spread too thin to be a pure play on the Internet of Things.
You can't buy any of them without also getting the many non-IoT endeavors they're engaged in, diluting your gains in the process.
So today we're giving you a stock that's a pure play on the IoT. It's been producing IoT hardware as its primary business since 2010. Plus, it's been ramping up its Software as a Service (SaaS) offerings in recent years to complete the IoT package.
This company will be one of the most direct beneficiaries of the massive growth in this industry in the coming years.
Here's a glimpse of what's ahead...
According to research by GrowthEnabler and MarketsandMarkets, the global IoT market is set to grow from $157 billion in 2016 to $457 billion in 2020. That's a compound annual growth rate (CAGR) of 28.5%.
Transparency Market Research has the Internet of Things growing to nearly $1.5 trillion by 2024.
And John Chambers of Cisco Systems Inc. (NASDAQ: CSCO) forecasts that IoT will have up to 10 times the economic impact as the Internet has had up to this point, adding $19 trillion to the global economy. That's as much as the entire U.S. GDP in 2017.
Exclusive Rebroadcast of the First-Ever American Cannabis Summit: Click here to see how to conquer America's most controversial - and lucrative - industry...
It's hard to overstate how much the Internet of Things is going to change the world as we know it. Our roads are going to be safer, our homes more efficient, our property more secure, our commutes easier, our products and commodities more affordable and more readily available.
And the difference isn't just going to be figures you can look up on a spreadsheet. It's going to be a dramatic change that you'll notice every day. As this technology spreads, changes of the same magnitude as those introduced in recent decades by innovators like Apple and Amazon.com Inc. (NASDAQ: AMZN) are going to be spread wide across all sorts of industries around the world.
Thanks in large part to this one small-cap company, the process has already begun.
If you grab these shares now, you'll be able to watch the world change before your eyes and pocket the profits along the way.
This Small-Cap Stock's Ingenious Products Are Making the World Smaller and Smarter
[mmpazkzone name="in-story" network="9794" site="307044" id="137008" type="4"]
CalAmp Corp. (NASDAQ: CAMP) was founded in 1981. It initially specialized in microwave amplifiers - hence the original name California Amplifier. But in the 2000s, CalAmp became an early mover in the promising Internet of Things market.
Today, at a market cap of only about $615 million, it is a top provider of IoT hardware and software for a wide range of industries.
It produces the LoJack SureDrive consumer mobile app, which is quickly becoming a favorite not just of drivers but of insurance companies.
Click here to see all of our top-rated stocks, and you'll automatically get free updates on our top stocks, based on our proprietary rating system, the Money Morning Stock VQScore™.
LoJack can track your speed and alert you (or a loved one) when you're getting into dangerous territory. It can discourage texting while driving and help parents keep tabs on their young drivers.
It can also track down a stolen car. And it comes with CrashBoxx, which records relevant details of an accident and transmits them directly to the insurance company.
These kinds of analytics are useful in consumer cars. But CalAmp's products really flex their muscles when they're used in commercial fleets.
The commercial product FleetOutlook allows companies to track all their vehicles in real time, monitoring everything from route efficiency to driver behavior to engine maintenance.
The V-Series ELD line of products helps heavy-duty fleet vehicles comply with a law going into effect next year. These devices log hours in operation, motion, and mileage, and store information locally in case of connectivity loss on the road.
It doesn't really matter the type of transportation, either. CalAmp products can track any mix of taxis, limos, vans, trucks, and even trains. And every product made by the company can be controlled from a central location via its cloud-based DeviceOutlook platform.
Critical: A breakthrough technology could disrupt every major industry, and one tiny company is at the center of it all. Its stock is trading for less than $10 now, but could deliver a 471.9% gain for early investors. Learn more...
On top of that, CalAmp's products are highly customizable. In fact, its application development platform understands many of the most common coding languages. So companies can use their own in-house developers to make everything work according to their specific needs.
Other companies taking advantage of CalAmp technology to streamline operations include energy and utilities companies, including solar, wind, and wastewater treatment plants.
They also include factories looking to keep their industrial equipment working at maximum efficiency.
And they include manufacturers of all sorts that want to get their products from the warehouse onto a transport vessel and into your home or office as quickly and as smoothly as possible.
In spite of the wide-ranging impact of CalAmp's products, the stock has slipped under the radar of many investors. But the excitement over this industry is only going to gain steam with time, so CAMP's share price is not likely to remain as low as it is for long.
Why Now Is the Time to Buy CAMP
CalAmp stock has slipped in price as part of the general market sell-off over the last few weeks. It's now about 19% off its late-September high.
But its fundamentals look as strong as ever.
Sales have grown every year going back to 2009 and have doubled since 2013.
CalAmp's earnings per share (EPS) has done even better. EPS has more than tripled since 2012, and according to FactSet, it's projected to rise at an increasing rate in each of the next three years.
A majority of analysts tracked by FactSet call the stock a "Buy," with two of them calling for a 66% rise from its current price.
But the analysts may be underestimating CAMP. Its price/earnings-to-growth ratio comes in at a startlingly low 0.1617. That suggests a stock price rise of 518%!
And even that's before we factor in the explosive growth of the IoT industry coming over the next decade.
Again, we don't discourage you from holding some of the big tech names that have a hand in IoT in your portfolio.
But if you're looking for a pick to add a supercharged burst both in the short term and the years to come as this industry takes off, CalAmp is an obvious choice.
Speaking of explosive growth industries, here's an opportunity that could be even bigger than the Internet of Things...
See How to Conquer America's Most Controversial - and Lucrative - Industry
Former Speaker of the House John Boehner just joined the cannabis industry's biggest players to cover everything you need to know about America's next unstoppable economic revolution.
At our live event, they explained how cannabis could become our next $1 trillion industry... every step to full legalization... how the average American can profit from this explosive phenomenon... and John Boehner's SHOCKING marijuana prediction.
To see a full rebroadcast of this extraordinary event, click here.
Follow Money Morning on Facebook, Twitter, and LinkedIn.
About the Author
Stephen Mack has been writing about economics and finance since 2011. He contributed material for the best-selling books Aftershock and The Aftershock Investor. He lives in Baltimore, Maryland.