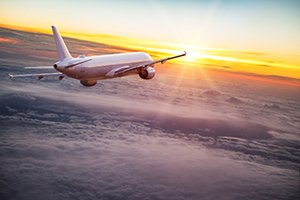 Who doesn't love Steve Martin in "Planes, Trains & Automobiles"?
The buddy travel movie from the 1980s remains a classic.
You can also make money - big money - following the major investment theme prevalent in the film that still resonates today.
The entire premise of the movie is capitalism.
The main characters begin in New York, working their various trades.
Then it's off to the airport trying to get home.
The plane is packed, and weather diverts the flight.
On and on it goes, and throughout the entire journey, we see commerce, commerce, and more commerce.
With all that commerce comes profits and higher stock prices.
Rinse, wash, and repeat.
"Federal Rent Checks": Thanks to an obscure law, over 100 government agencies are required to pay rent. By following a simple investment strategy, you could receive checks of up to $1,795 every month. Read more...
The 2018 travel season is no different. And that has made the airline stock we're bringing you today a virtual "must own."
Planes are packed, and so too are all other modes of transport.
I was on my own road trip recently, and I cannot remember a time when I saw more freight hauled by trucks.
Sign up for SMS so you never miss special events, exclusive offers, and weekly bonus trades.
It was almost as if cars did not belong on the freeway, lest we get in the way of capitalism.
Yes indeed, the economy is humming at a hot clip.
And while many investors look to the big names in the industry like Boeing Co. (NYSE: BA), that company has run into some recent troubles.
Since early November, the giant plane maker has dipped more than 10% after revelations about software glitches that may have contributed to a plane crash in Indonesia. Tragic disclosures like these have a way of lasting far longer than a 30-day sell-off followed by recovery.
The airline industry has had an impeccable track record with respect to safety. Any cracks in the system will likely result in a decay in trust that will have to be repaired.
While the current issue with Boeing will not derail future earnings, the issue may very well delay profits, and that is a big deal for the stock.
At current prices, Boeing trades for 21 times current-year estimated earnings that are now forecast to grow by 20%.
The valuation without any safety issues is on the high end, considering Boeing is an industrial company, not a technology growth stock.
It's even more expensive should earnings get pushed down the road as trust is rebuilt with Boeing stakeholders.
On the flip side of Boeing are the aircraft carriers where planes are full and fees are rising.
Those are the businesses I want to own in any market.
Recently, a discount airline bumped its forecast for a key metric in the industry - revenue per available seat mile - from 6% to 11%.
That's a near doubling of expectations.
Has there been a commensurate increase in share price?
Not quite.
While airline stocks have performed well during the recent sell-off in stocks, that performance has not mirrored actual performance of the airlines in their day-to-day business.
Thus from a valuation standpoint, investors should be licking their chops when it comes to owning airline stocks.
Even better, there were minimal if any disruptions in air travel during the vital Thanksgiving weekend.
Given that most analysts factor in some sort of weather disruption, actual revenue numbers are likely to be even higher than what many expect today.
From a PEG perspective, the airline industry is chock full of opportunity.
Some better than others.
Forget the name of the company for a minute, and just focus on the numbers.
The average price/earnings ratio for a stock, any stock, historically is about 15 times.
How would you like to pay 17 times, but for a stock that is growing earnings at a rate of 40% next year?
I suspect you would take that deal all day long. And that's exactly the case with the airline stock to buy we're bringing you today...
This Airline Stock Is an Absolute Steal This Holiday Season