Some of the most successful tech disrupters aren't cutting-edge developers, but visionaries who use existing technology to transform aging industries.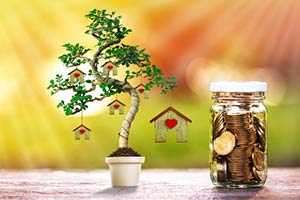 Today you can grab one of those disrupters and bank an easy 300%…
There's no shortage of success stories among these innovative companies. Amazon.com Inc. (NASDAQ: AMZN) and eBay Inc. (NASDAQ: EBAY) used the Internet to revolutionize the way people shop for goods. Since their IPOs, eBay stock has shot up 1,630%, while Amazon has gained an astounding 183,776%.
Netflix Inc. (NASDAQ: NFLX) used the Internet to make it easier to rent movies, and it's risen 50,986% since its IPO.
And Priceline, now under the parent company Booking Holdings Inc. (NASDAQ: BKNG), made it possible to book travel at bargain prices without an expensive agent. The dot-com bubble burst and the 9/11 attacks devastated the stock price just a couple years after its IPO. But it has rebounded by 34,752% since 2002.
Our pick today is a tech disrupter in the same vein as these big names. And it's had a successful run in its own right: Its market value is up 8,895% in the 19 years since its IPO.
But this stock's run is far from finished.
In fact, according to one metric, the share price is on its way to nearly quadruple in value.
Just Revealed: The Secret to Potentially Growing Incredibly Wealthy Buying Straight-Up Stocks
That value attracted the attention of our Money Morning Stock VQScore™ system, which gave this stock a top score.
This company has streamlined and simplified some of the most stressful transactions any of us will ever face.
That's a big reason why this disrupter's success story – and yours if you jump on board now – has only just begun.
This is simply one of the best tech stocks to buy now…
After Serving 100 Million Customers, This Tech Stock Could Soar 300%
Join the conversation. Click here to jump to comments…
About the Author
Stephen Mack has been writing about economics and finance since 2011. He contributed material for the best-selling books Aftershock and The Aftershock Investor. He lives in Baltimore, Maryland.