When it comes to making money from the Internet's growth, you've been bombarded with information about the American "FANG" stocks like Amazon.com Inc. (NASDAQ: AMZN) and Alphabet Inc. (NASDAQ: GOOGL).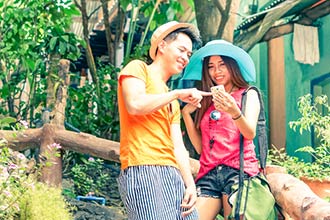 More recently, you've been saturated with stories about the Chinese "BAIT" stocks like Alibaba Group Holding Ltd. (NYSE: BABA) and Tencent Holdings Ltd. (OTCMKTS: TCEHY).
Now, those are all great Internet stocks, and we're not going to tell you otherwise.
But it's hard to get an inside edge when it comes to companies as big and well-covered as those are.
That's where today's stock comes in…
Today, we have a mid-cap company that dominates Internet infrastructure in a country you probably don't hear about very often. This country is probably bigger than you think, with a population of 105 million. And it's probably growing faster than you'd guess, at 6.7% annual GDP growth.
According to Statista, this country's Internet user base is expected to grow from 69.6 million to 93.7 million by 2023. That's 35% growth in just four years…
Breaking: Tom Gentile just recorded all of his most lucrative trading income secrets for you in America's No. 1 Pattern Trader Cash Course. It's packed with his most lucrative secrets to potentially start collecting anywhere from $1,190, $1,313, and even $2,830 in consistent income – each and every week. And today, it can be yours for only $1…
This pick is sure to get the lion's share of that growth. It already has 60 million subscribers to its home and individual phone and Internet services and is the most recognizable communications company in the country.
And because Wall Street isn't paying attention, it's now available at a substantial discount. That's why it was just given a top score by our Money Morning Stock VQScore™ system.
If you grab it quickly, you can get it for less than 60% of its fair value.
After 90 Years Keeping a Nation's Inhabitants Connected, This Company Still Finds New Profit Opportunities
Join the conversation. Click here to jump to comments…
About the Author
Stephen Mack has been writing about economics and finance since 2011. He contributed material for the best-selling books Aftershock and The Aftershock Investor. He lives in Baltimore, Maryland.