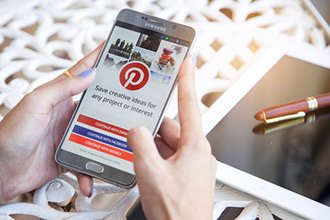 Before you even think about investing in the Pinterest IPO, there's a "backdoor" way to play the hype of the public offering while avoiding the risks.
No doubt, Pinterest is one of the most exciting IPOs of the year.
Revenue grew 60% last year to $756 million, helping the company get a valuation of roughly $12 billion.
Unfortunately, there are red flags hiding behind the growth. The biggest one: Pinterest isn't profitable yet.
No matter how much revenue has grown, the company is still losing money.
That's where the "backdoor" way to invest in the Pinterest IPO comes in...
With this play, you'll be able to profit without worrying about the volatility of new IPOs. This company helped produce software that enabled Pinterest users to search for and obtain gifts from online retail stores. So it will definitely profit from the hype Pinterest is creating.
And for an e-commerce business that's been around since the mid-2000s, the profits are looking good. If you invest in its stock now, you stand to see gains of at least 34%.
$1 Cash Course: Tom Gentile is offering a rare opportunity to learn how to amass a constant stream of extra cash - year after year. And he's going to teach you how to do it entirely on your own. Learn more...
E-commerce may not be a hot new industry, but according to Forbes, e-commerce sales are still growing 112% at unheard-of rates.
We'll talk more about how you can join in with this backdoor play on the Pinterest IPO below.
But first, here's why e-commerce stocks are still excellent investments.
E-Commerce Continues to Dominate the Global Market
Right now, Statista says global e-commerce sales are $3.5 trillion annually. They're set to increase to $4.88 trillion in 2021.
That's far from the only growth figure...
In 2018, the U.S. Department of Commerce says consumers purchased $513.6 billion worth of products online in the United States (14.2% higher than 2017's $449.88 billion).
E-commerce represented 9.7% of total sales in the United States in 2018.
51.9% of all retail sales growth was represented by e-commerce.
Right now, e-commerce accounts for 13.7% of total global retail sales.
By 2021, e-commerce will represent 17.5% of total global retail sales.
E-commerce giant Amazon.com Inc. (NASDAQ: AMZN) currently represents 41% of all online retail in the United States.
E-commerce is also successful because it's convenient. Consumers don't have to travel anywhere. In fact, the location barrier is completely removed.
Beyond that, it's typically cheaper. Many stores sell products at higher prices to account for the cost of operations. With e-commerce, merchants can sell their products at competitively lower prices.
Nowadays, it's rare to find people who don't shop online. Whether it's clothing, home decor, computer parts, or even mattresses, it all begins with a Google search.
People can't stop shopping online. And it's in large thanks to the e-commerce heavyweight champion of the world, Amazon. People can buy just about anything, and all they have to do is click a few buttons.
All it takes is a drive down the street to see just how successful e-commerce is. Well-known retail brands are disappearing.
Stores with "massive sales for a limited time only" have had the same discounts for years now. Even companies that have been around for decades, like Toys R Us, have liquidated their assets and closed down their remaining stores.
However, the e-commerce 20-year bull run is just getting started.
By 2022, e-commerce sales could account for over 58% of all global retail.
In fact, the company we're about to show you today will harness much of that growth...
This E-Commerce Stock Is Your Backdoor Play on the Pinterest IPO
Join the conversation. Click here to jump to comments…
About the Author
Daniel Smoot is a Baltimore-based editor who helps everyday investors with stock recommendations and analysis. He regularly writes about initial public offerings, technology, and more. He earned a Bachelor's degree from Towson University.