Unlike the other big tech IPOs of 2019, Slack Technologies will be holding a direct listing. While the company is generating excitement, retail investors will want to avoid the Slack stock for now…
Now, the company does show a lot of promise. It's not losing as much money as other tech firms holding IPOs this year.
In contrast to Lyft (a loss of $900 million) and Uber (a loss of $840 million), its financials are looking solid enough. It's better to compare Slack to Pinterest, which has about the same loss of $65 million this year.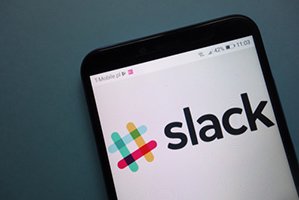 According to Techcrunch, Slack had roughly $900 million in cash on its balance sheet back in October of 2018.
Slack's communication application is available in 150 countries worldwide with 10 million active users a day. It's very popular in white-collar industries, and the company says it houses over 85,000 paid teams as well. This constitutes 65 of America's top 100 companies in terms of user revenue.
Whether you're using the tech firm's mobile app or website, you can integrate it with close to 1,500 other websites and apps that your company regularly uses.
Get Ready for 5G NOW! A single company could be about to corner the entire 5G market – and you could turn every $1,000 you stake into $10,000! Go here now to find out how.
While that sounds fantastic, retail investors should be skeptical about buying into the Slack stock when it arrives (no official time frame has been announced yet).
Before we get into all of the nitty-gritty about the Slack stock, here's a bit of background on the company…
The Accidental Success of Slack
Back in 2009, founder Stewart Butterfield started a gaming company named Tiny Speck. Between 2009 and 2013, the company had developed its own application for internal communication between individual employees.
Once its gaming plans fell through, the firm decided to commercially develop that application into what we now know as Slack (search log of all communication and knowledge).
As larger companies began using the product, they started to modify and refine the application. And by the end of 2013, it became available on iOS, desktops, and even Android devices.
By 2014, the company had raised over $180 million and had 30,000 active teams using the web application.
Slack has continued to receive improvements. With a rapidly growing user base, the company has focused on functionality. The application can now integrate with other popular software like PayPal and Dropbox.
With its rapidly expanding user base, constant refinements, and ability to integrate with 1,500 software applications, it's easy to see why Slack is a tempting option for retail investors.
But don't jump in too soon – here's how Slack makes money…
How Slack Technologies Makes Money
While Slack's basic services are free, the company makes all of its money by charging subscribers. For every new person added to a network, the cost increases by $12.50 per month for each new user on its Plus Service.
Its standard service is $6.67 per month. Beyond that, the firm offers a higher-cost Slack Enterprise Grid to power several interconnected workspaces.
According to The Information, at year-end of 2018, Slack messaging raked in roughly $221 million in revenue. Through 2019, the company's projected growth is 76% to $389 million. By the end of 2020, revenue is expected to jump 64% to $640 million. That would be a 189.6% jump in revenue.
Despite the revenue growth, Slack ultimately ended 2018 with $65 million in losses in free cash flow (FCF). But the company is hopeful that it'll reach its projected positive $14 million FCF by the end of 2019.
Sure, the company's balance sheet looks solid. It had $900 million in cash as of October 2018. Even its decision to go for a direct listing rather than a traditional IPO suggests a certain level of confidence in its financial position.
However, that still doesn't take away from the fact the company is going public while operating on negative equity.
Beyond that, the financials aren't the only things you need to worry about…
Slack Stock Faces Some Serious Competition Ahead of Its IPO
While Slack seems to have set itself up as the office-messaging platform for white-collar industries, other big companies are also making moves of their own.
In 2017, Microsoft Corp. (NASDAQ: MSFT) launched its own platform called Teams. On March 19, 2019, Microsoft said that over 500,000 organizations were using it. This includes 91% of the entire Fortune 100. This means Slack should absolutely be worried about Microsoft's newest application.
Beyond that, Microsoft has put in a huge effort to improve Teams' functionality and capabilities. This means Teams can easily integrate with all Microsoft Office products. And it's also capable of integrating with Yammer and SharePoint.
And if that weren't enough, Alphabet Inc. (NASDAQ: GOOGL) created its own platform as well.
The application is called Hangouts Chat and is fully capable of integrating with any Google Drive software (like Docs, Sheets, and Slides). And while Slack still offers more integration options, Hangouts Chat is available at no extra cost for users that already have G Suite.
It's very common for startups to face stiff competition. And while Slack shows some promise, jumping in early on any new tech listing can be a massive risk.
So, Money Morning cannot recommend investing in the Slack stock once it goes public.
However, we have the best backdoor play investors can use to get in on the Slack direct listing without worrying about all the volatility.
Avoid Slack Stock and Buy This Partner Instead
Join the conversation. Click here to jump to comments…
About the Author
Daniel Smoot is a Baltimore-based editor who helps everyday investors with stock recommendations and analysis. He regularly writes about initial public offerings, technology, and more. He earned a Bachelor's degree from Towson University.