The 5G revolution is the biggest technological innovation we've seen in over a decade. And to help you double your profits from the coming storm, these are the best 5G penny stocks to watch in 2019.
In fact, the technology's immense speed will be a historical turning point for the tech industry – rivaling the creation of the first computers and the dawn of the Internet. These two inventions changed the industry forever and minted a new age of millionaires for retail investors who got in early.
And 5G will likely do the same…
We'll see broadband-like speeds that will enable you to connect to the Internet no matter where you are. This will completely change how the Internet and cable services work around the world.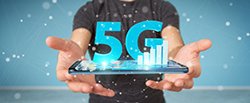 However, 5G doesn't just entail faster connection speeds. It will give you access to real-time data without any delay. You'll see everything from self-driving cars to ingestible medical devices that can monitor your health and send out alerts.
Even the Internet of things (IoT), which will allow devices to seamlessly communicate between homes and businesses, will see a massive bump in speed because of 5G.
5G Could Mint a New Wave of Millionaires: The greatest tech shift in generations could be about to create untold wealth for investors. To find out how you could capture a life-changing SIX-figure windfall, go here now.
Verizon Communications Inc. (NYSE: VZ) has already taken the plunge into 5G. In October 2018, Verizon activated the United States' first 5G network in four different cities. But it will continue to increase networks over the next two years – with 2020 looking to be the official rollout.
The 5G revolution means companies big and small stand to see their profits rocket upward. This is one of the biggest opportunities for retail investors worldwide.
And since penny stocks have very low share prices, retail investors also stand to make triple-digit returns from the 5G market.
Let's say a share is $1. An increase of $1 or $2 could double or triple your profits in just a few days.
But finding the best 5G penny stocks to stay ahead of the 5G revolution can be challenging. On top of that, they can also be risky.
If you're willing to jump in on the action, we have two 5G penny stocks to watch in 2019 that stand to double your profits with 5G's grand entrance…
Best 5G Penny Stock to Watch in 2019, No 2: Ceragon Networks Ltd.
The penny stock that has plenty of investors hyped up is Ceragon Networks Ltd. (NASDAQ: CRNT).
Ceragon Networks Ltd. is an Israel-based high-capacity communications systems manufacturer for wireless service providers with offices located throughout Europe, the Middle East, Africa, Asia, and North and South America.
With 5G expected to come to fruition in 2020, Ceragon has been rapidly developing 5G wireless backhaul technologies to handle higher capacities 100 times current cell sites. As for cell site grids, it expects them to be five times denser.
The company is focused on ultra-high capacity per end-device, integrating with the IoT, meeting the exponential growth of new devices and being able to handle augmented-reality applications.
Ceragon's customers range everything from government agencies to utility companies, public safety organizations, and wireless service providers. Back in late 2018, the company reported several multimillion-dollar-valued orders from North American mobile operators. But it didn't provide any concrete numbers.
This helped bump CRNT's total revenue to $343.9 million in 2018. That's up 3.6% from 2017.
But revenue will drop slightly to $343.3 million in 2019 as the company expands. However, by 2020, it expects it to jump to $353 million as CRNT continues to develop 5G wireless backhaul systems for mobile service providers across North America.
In CRNT's current quarter, sales were 7.5% lower than 2017's $83.3 million. In 2020, sales will jump back up for a 3% gain.
The company will also see a solid run on earnings. It's PEG ratio is 1.06. And in CRNT's most recent quarter, estimated earnings were up 9.1% to $0.24 per share. But it's expected to go up 18.18% to $0.26 by the end of the year.
CRNT shares currently trade for $3.76, and Money Morning says it could see gains of as much as 33% within the year.
With all of their 5G projects and efforts to optimize networks for 5G, Ceragon's future in the 5G industry is looking very bright.
While Ceragon shares are looking very solid, our No. 1 pick could see as much as 71% in gains over the next 12 months…
Join the conversation. Click here to jump to comments…
About the Author
Daniel Smoot is a Baltimore-based editor who helps everyday investors with stock recommendations and analysis. He regularly writes about initial public offerings, technology, and more. He earned a Bachelor's degree from Towson University.