Wearable medical devices are revolutionizing the healthcare field, with the global wearable medical device market set to go from $10.3 billion to $66 billion by 2026.
Now, Apple Inc. (NASDAQ: AAPL) might be the face of this industry, but a much smaller company could be the biggest winner.
Here's why the wearables market will grow to six times its current size in the next six years – and how you can cash in with one wearable devices stock.
The Wide World of Wearables
Wearable devices are a radical technological breakthrough that let us do everything from communicate easier to monitor biological data – all from tools small enough to wear on our bodies.
"Wearable" refers to anything in the realm of wristbands, headgear, implants, and badges containing sensors that transmit useful information continuously to the cloud and other devices.
They can measure biometrics – like the Apple Watch does – or they can deliver location data to our apps, or allow us to pay at a store without reaching into a wallet, among an endless variety of other uses.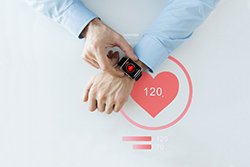 The market potential is so huge because the wearables universe will be populated by many brands with many specializations, a core component to the Internet of things. And the technology is so profound because it produces more data than the world has ever seen.
We'll have tools that fundamentally change the way we address medical concerns since we'll have the opportunity to be more proactive about health. The Apple Watch, for instance, can warn of an irregular heartbeat. Glasses from a company called Aira can guide the blind, and the iTBra is a bra that detects breast cancer.
Apple already jumped into this industry using its smart watch to spearhead its penetration of the healthcare and fitness wearables market back in 2015. In addition to a host of communication features, it's able to track heart rate, steps, and calories over time – a step in the direction of "democratizing healthcare."
Future iterations will no doubt offer more to empower users in their health monitoring. Still, there's so much variety in the wearables market, it's nearly impossible to have an all-in-one wearable device. Apple will want to sell its Apple Watch to complement its branded ecosystem, but there will still be demand for plenty of other functions outside of Apple.
They will be very different, specialized offerings no single device can aspire to alone, which is why medical wearables is set to be such a wealthy industry.
5G Is Coming: The tech breakthrough of the century could rest on this $6 stock – get all the details here.
So while Apple is the biggest name in the field, one company is poised to dominated its own wearable health niche, delivering a product that will dramatically alter the daily lives of hundreds of millions around the world.
The company's been catching fire, with a 289% increase in revenue over the last four years. It pumped almost $200 million into research and development last year, and it's not slowing down.
But this company is still flying under the radar.
That's all going to change very soon, and we'll show you exactly why…
Why This Is the Wearable Medical Device Stock to Own
Join the conversation. Click here to jump to comments…
About the Author
Mike Stenger, Associate Editor for Money Morning at Money Map Press, graduated from the Perdue School of Business at Salisbury University. He has combined his degree in Economics with an interest in emerging technologies by finding where tech and finance overlap. Today, he studies the cybersecurity sector, AI, streaming, and the Cloud.