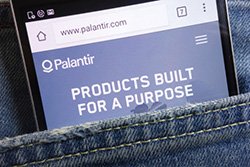 The Palantir IPO is coming soon, and it will be one of the biggest public offerings of 2019. So far, we have not received any indication from the company on what the Palantir stock price will be.
But retail investors looking to buy Palantir stock will want to pass on it once it goes public.
Instead, we have a backdoor play for you to get in on the Palantir stock without dealing with the volatility of IPOs.
Before we show you our favorite way to profit from this IPO, here's more information on the Palantir IPO...
What to Know Ahead of the Palantir IPO
Now, the company shows huge promise as one of the bigger "unicorns" of 2019. But the details on its financials are a very well-kept secret in comparison to other big tech startups like Lyft, Pinterest, Slack, and Uber.
In fact, the only figure given was the company's 2018 revenue of $1 billion by the president of Palantir Technologies Inc. France, Fabrice Bregier.
What makes this company stand out among other big tech startups is its business with the U.S. government. Palantir's software is used by as many as 12 American intelligence agencies. The firm also reportedly helped track down the infamous Osama bin Laden.
Palantir develops software that integrates, manages, and secures important data and information. It provides its platforms to banks, intelligence agencies, and aerospace and automotive manufacturers.
The firm primarily offers data mining tools that allow its customers to find new information out of the data based on visible patterns.
Here's an example of how data mining works. It's very commonly done in the video game world. Let's say a company releases a software update to a game. With the update, new files are stored on players' computers.
Players can access these files by clicking on their file folders from their file explorer. Once that's done, they sift through every single new addition - searching for hints of new features that will come down the line or even things that were originally there and got scrapped.
So those who do this for video games are really just pulling data stored in the code to find hidden or new information to predict what could come next.
Get Ready for 5G NOW! A single company could be about to corner the entire 5G market - and you could turn every $1,000 you stake into $10,000! Go here now to find out how.
Big Data is a huge and developing field, but as data mining has become more prevalent, legitimate concerns have cropped up over the privacy of individuals.
But before we jump into all of that, here's what you should know about Palantir's history.
A Look at Palantir's History
Palantir Technologies was co-founded by legendary entrepreneur Peter Thiel (PayPal), back in 2003 and is currently headed by CEO Alex Karp.
The company itself is named after an artifact in Thiel's favorite book, "The Lord of the Rings," that enabled characters in the story to watch distant areas over vast expanses of land. And Thiel said Palantir was started as a way to implement software that would track down and prevent terrorism all over the world.
The firm initially struggled to find any interested investors. CEO Alex Karp even publicly reminisced about the days when they were told the company would fail.
But eventually, In-Q-Tel, the CIA's venture capital arm, provided an early investment of $2 million to the company. Peter Thiel also invested $30 million through Founders Fund, his own venture capital firm.
By 2009, the company had progressed significantly. Its software had discovered over 1,300 computers and 103 countries had been compromised by Chinese spy networks, Shadow Network and GhostNet. Important information from the Indian security and defense network, NATO, and even the Dalai Lama's office had been stolen.
One year later, Palantir partnered with Thomson Reuters Corp. (NYSE: TRI) to sell its software called "Metropolis" through "QA Studio." The software was incredibly effective, and the Office of Management and Vice President Joe Biden credited Palantir's software as a key component in the fight against fraud.
In 2013, documents had been leaked to TechCrunch that outlined the company's government clients, some of which were West Point, the Air Force, the Marine Corps, SOCOM, the CIA, the FBI, the NSA, the DHS, and the CDC.
Three years later, Palantir signed a $222 million contract to provide logistics software to the U.S. Department of Defense's Special Operations Command (SOCOM). As head of all special operations units in the U.S. military, SOCOM used the software to find and gather intelligence.
Back in March, CNBC said Palantir overtook Raytheon and landed an $800 million contract with the U.S. Army. This made Palantir a defense program of record, a title only given to the largest projects by the Pentagon.
The contract required Palantir to develop an Army Distributed Common Ground System (DCGS-A) that could help soldiers operating in distant locations.
But Palantir doesn't just work with the U.S. government. Palantir has customers from a variety of industries, ranging from aerospace and automotive manufacturers to banks and even healthcare companies.
And while those government contracts make Palantir stock tempting, retail investors should remain skeptical...
What Is Palantir's Valuation?
The mystery surrounding Palantir is a big reason its value is controversial.
Back in 2015, shareholders and potential investors estimated Palantir's private stocks were worth around $11.38 per share at a $20 billion valuation. In 2019, the company has cut employee share prices down to about $6.
This would put Palantir's current valuation at roughly $11 billion. But there have also been other reported cases of employees being able to buy shares as low as $1 less than the already-discounted price.
In January, there were plenty of rumors of generous employee bonuses floating around. This means veteran staff could be making a very solid amount of cash. Unfortunately, newer employees are only able to buy shares at a price that investors consider too high for the stock.
Fortune says the bonuses were an attempt to boost employee morale after reports of shareholders writing down their holdings, decreasing returns for private stock transactions, and political drama.
Co-founder Peter Thiel and CEO Alex Karp couldn't be more opposite when it comes to political affiliations. Their drastically different opinions are so strong; the conflict has trickled down to the rest of the company - disrupting employee morale in its wake.
Recruiters have also said candidates rejected offers over political affiliations within the company and worries involving the possibility of misuse of the company's software by the government.
And to an extent, there are valid concerns behind the possible dangers of data mining and the privacy of U.S. citizens.
Since 2015, potential investors and shareholders reported that all seven mutual funds that own Palantir shares say the value of the stock is half of what it was just four years ago. In 2018, Morgan Stanley (NYSE: MS) said mutual funds decreased seven different times in the last three years to $2.49. Meanwhile, SP Investments Management says Palantir's shares are worth $7.87.
It's hard to pinpoint how much the company is worth based on the sheer level of discrepancies.
If you were to talk to Peter Thiel, he'd say the company was worth $20 billion. If you were talking to employees, they'd say $11 billion and maybe a fat check somewhere along the way. As for mutual funds, they'd say anywhere from $4.4 billion to as much as $14 billion.
So, Money Morning recommends retail investors watch Palantir stock with a cautious eye once the stock begins trading.
But for now, we have a backdoor play on the Palantir stock that retail investors can jump in on without fretting over the volatility that comes standard with IPOs.
Get In and Profit from Palantir Stock with This Backdoor Play
[mmpazkzone name="in-story" network="9794" site="307044" id="137008" type="4"]
The backdoor play, of course, is IHS Markit Ltd. (NASDAQ: INFO). This company is one of Palantir's biggest providers, and it primarily focuses on improving Palantir's services and assisting with operational needs.
IHS is an intelligence firm that analyzes data for a variety of governments and firms in industries like security, defense, aerospace, automotive, chemical, energy, trade, financial markets, and even maritime.
It's not a very well-known company, but it's making a profit. At the end of last year, IHS' revenue was $4.01 billion, and its adjusted EBITDA was $1.6 billion.
By the end of 2019, its expected revenue will be $4.45 billion. And by 2020, it's anticipated to reach $4.71 billion. This would result in annual growth of 11% and 6% respectively.
In the most recent quarter, IHS' sales growth increased by 14% in comparison to the same quarter in 2018.
IHS is expected to see bullish earnings as well in the near future. Just this quarter alone, earnings increased 6.6% to $0.65. By the end of 2019, earnings are predicted to jump by 292% to $2.55. Once 2020 rolls around, it's expected to reach $2.88. That's 343% growth in a two-year period.
Shares currently trade for $56.39, but it could increase as much as 24.14% to $70 per share, according to analysts' estimates.
Get Ready for 5G NOW (Huge Tenfold Opportunity!)
A single company could be about to corner the entire 5G market!
Its patented technology is essential to an epic, global rollout that could create $12 trillion in new wealth, right here in America.
And you could turn every $1,000 you stake into $10,000! Go here now to find out how.
Follow Money Morning on Facebook and Twitter.
About the Author
Daniel Smoot is a Baltimore-based editor who helps everyday investors with stock recommendations and analysis. He regularly writes about initial public offerings, technology, and more. He earned a Bachelor's degree from Towson University.