Uber Inc. (NYSE: UBER) launched its long-awaited IPO last week, bringing an end to months of fanfare and constant press coverage.
Uber's arrival on Wall Street caps years of investor hysteria over the company's profit potential and seemingly endless ability to innovate. However, while Uber is today's stock market darling, its future success – and profits – are anything but certain.
While everyone wants to own the next Amazon.com Inc. (NASDAQ: AMZN) or Apple Inc. (NASDAQ: AAPL), it's easy to forget about the investors who sunk money into overhyped clunkers.
You see, even the most promising companies can run out of steam over time, burning overconfident shareholders and leaving investors holding the bill.
We don't have to dig through the history books to find top firms losing their Midas touch…
Today's Wall Street Darling Could Be Tomorrow's Billion-Dollar Loser
Just last year, Sears Holdings Corp. (OTCMKTS: SHLDQ) announced it would file chapter 11 bankruptcy after 119 years of retail service.
The sorry financial state of Sears is a devastating fall for a company once considered an integral part of the American economy.
Brace Yourself: The 5G revolution is unleashing your next potential TRILLION-DOLLAR opportunity – go here now.
In the middle of the 20th century, Sears' annual domestic revenue sat around 1% of the nation's entire gross domestic product.
That's equal to $180 billion in today's money. And that's no small amount.
To put it in perspective, retail juggernaut Amazon.com Inc. (NASDAQ: AMZN) only managed to lock in $80 billion in North American revenue in 2016.
With this kind of revenue and apparently endless room for expansion, it seemed impossible for Sears to do any wrong.
And yet the company found itself on the auction block in early 2019, selling the remainder of its assets to ESL Investments, a little-known hedge fund based in Connecticut.
This kind of fall from grace is staggering. But it's not rare. Over the last half century, some of the biggest names in their industries have gone from indispensable to unbuyable at the drop of a hat.
Just look at Digital Equipment Corp.
While the name may not ring a bell, DEC was one of the leading computer makers in the 1970s and 80s. If you bought any computing equipment during this era, it likely had materials from DEC in it.
Despite being a key player in what would become one of the most explosive industries, DEC lost its way in the 1990s. It ended up being scooped up by Hewlett-Packard Inc. (NYSE: HPQ) in 2002 for a song.
It's the same story for Commodore International. In the 1980s, Commodore was the world's leading personal computer provider, locking in quarterly sales for as much as $49 million in 1983.
That's $106 million in 2018 dollars.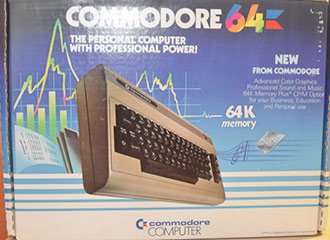 In the 1990s, Commodore sold $858 million worth of personal computers, outpacing rivals like Apple Inc. (NASDAQ: AAPL) and Dell Technologies Inc. (NYSE: DELL). If you wanted to get in early on the personal computing space, Commodore would've been a prime target.
And yet today, Commodore computers are better known as a key attraction in technology museums – the company went belly up in the late 90s as consumers flocked to the kinds of products that Commodore couldn't get close to building.
And Commodore isn't the only cutting-edge tech giant to fall from grace.
Dumont Television Network was a pioneering TV broadcaster during the 1940s and 50s, setting the standard for the first generation of mass entertainment and paving the way for networks like NBC and CBS.
In the 1940s, Dumont was considered an indispensable pioneer of television broadcast, even selling the first home television sets. And yet by 1956, the company was forced to dissolve in the face of mounting pressure from rivals.
These companies are an eternal reminder for investors that just because a company is breaking ground in a growing industry doesn't mean it'll be around forever. Companies like Uber and even Facebook Inc. (NASDAQ: FB) could end up being relics of history in a few decades.
Just because a company is flashy or seems to be an innovator doesn't mean it's going to reward investors.
Instead of chasing the next flash in the pan, investors should look for companies that have stood the test of time, have shown a consistent ability to turn profits, and whose management is leading them to the forefront of their industries.
That's why we've identified a firm that has the potential to stand the test of time no matter what Wall Street fads come next.
It's an international tech firm that's sailed through the last 50 years thanks to its ability to constantly adapt to changing consumer demand and outpace competitors.
It's a stock that belongs in your portfolio – not just today, but for the long run…
This Tech Stock Stands the Test of Time