If you've been reading along with Money Morning, you know just how bullish we are on 5G stocks. And with 5G's popularity growing each day, we're bringing you the best 5G investments to buy for the long term.
The coming 5G technology stands to be as big as the invention of the first computer or the dawn of the Internet. In fact, MarketWatch says the current 5G services market alone is worth $21.53 billion. By the end of 2023, they say it'll be worth a whopping $85.84 billion. That's over 300% growth in just under four years.
Early retail investors who got in on both of these inventions have now built incredible fortunes. They essentially minted a new generation of millionaires. And the top 5G companies to invest in stand to make the investors of today that same level of crazy wealth.
This is because 5G won't just redefine one industry, but a multitude of them.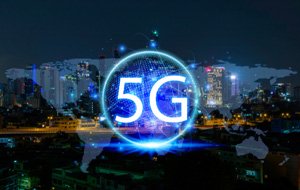 5G will produce unheard-of speeds that are up to 100 times faster than what we currently have with 4G. But the speed in itself isn't what makes 5G a complete game changer.
It's the fact that everything will be in real time with little to no latency - meaning there won't be delays when using applications or sending messages.
With the ability to send and receive data in real time, self-driving cars will become a reality. In fact, companies like Tesla Inc. (NASDAQ: TSLA) already have implemented this technology.
But 5G tech will revolutionize industries like healthcare too. We could see remote surgeries, an increase in telemedicine, reliable real-time monitoring of health using wearable IoT devices, and even AI diagnosis.
5G Is Coming: The tech breakthrough of the century could rest on this $6 stock - get all the details here.
But these are only just a few examples.
This means investors who know where to look stand to become part the next wave of millionaires.
Fortunately, we've already done the heavy lifting to find the top 5G companies to invest in...
The Best 5G Investments, No. 4: Cisco
The first 5G stock to buy on our list is Cisco Systems Inc. (NASDAQ: CSCO).
Cisco is a digital network hardware company that mainly specializes in the Internet of Things (IoT), energy management, and domain security. These will help form the backbone of 5G once the industry begins to grow in earnest.
CSCO shares currently trade for $52.30, but shares are anticipated to go as high as $65. That's a potential 24% increase over the next year.
The Best 5G Investments, No. 3: Qualcomm
Our next 5G stock to buy is Qualcomm Inc. (NASDAQ: QCOM).
QCOM designs and creates telecommunications products and services for major companies - the latest of which is Apple Inc. (NASDAQ: AAPL).
This company makes the majority of its profits from chip making and patent licensing of 5G technology. And as you already know, 5G's high speeds will rely on data chips. So, as it has patented unique 5G technology and is creating chips for one of the only three American companies to be worth $1 trillion, it stands to net retail investors double- or even triple-digit profits.
QCOM shares currently trade for $86.10 on the Nasdaq. But it's anticipated to go as high as $115. That's a potential 34% increase over the next 12 months.
The Best 5G investments, No. 2: Xilinx
Coming next, Xilinx Inc. (NASDAQ: XLNX) is another great 5G stock to buy.
This is an American supplier of programmable logic devices, which are components that tell circuits what to do.
For example, when you hit the power button on the side of your phone to turn it on, it tells component A to send a message to component B to power the device on. And each button on your phone has a different path that helps circuits know what they should do - like turning the volume up or hitting the home button.
But what makes this company truly shine is its chips' easily customizable format. Xilinx invented a special computer circuit that lets users create their own processor tailored to their needs. This is used in everything from speech recognition software to virtual reality - both of which will benefit greatly with 5G's real-time speed.
Semiconductor companies like Xilinx are already playing a pivotal role in the implementation of 5G across the globe. And once we've fully converted to 5G, their components will continue to be used as demand skyrockets.
This is because 5G's high-speed and real-time connectivity rely on the latest and greatest data chips out there. So, as we inch ever closer to the 5G revolution, semiconductors and other hardware and software will see massive growth.
In fact, XLNX's products will be used in just about any technology industry you can think of that will rely on 5G in the near future.
Shares currently trade for $112.77 on the Nasdaq, but some anticipate it could reach $160. That's a 42% increase in just 12 months.
But our top 5G investment offers investors the chance to more than double their money over the next year...
The Best 5G Investment to Make Right Now
Join the conversation. Click here to jump to comments…
About the Author
Daniel Smoot is a Baltimore-based editor who helps everyday investors with stock recommendations and analysis. He regularly writes about initial public offerings, technology, and more. He earned a Bachelor's degree from Towson University.