One of our favorite growth stocks owns nearly 40% of a streaming market that could be worth over $120 billion by 2025. And the crazy thing is, the more competitive the industry gets, the more this streaming stock grows.
That's how this stock got another bump last Tuesday, when Comcast Corp. (NASDAQ: CMCSA) announced plans to sell its remaining stake in Hulu to Disney Co. (NYSE: DIS).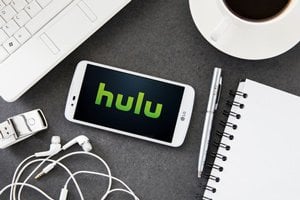 That's right - this latest chapter in an increasingly hot streaming market war between Disney and Netflix Inc. (NASDAQ: NFLX) is actually feeding the pockets of another company.
To give you an idea of how this happens, let's first a look at what Disney's full acquisition of Hulu means for the streaming industry. Then, we'll show you a streaming stock that just beat earnings expectations by more than 60% - and will continue to thrive, no matter who wins the streaming war.
Why the Streaming War Is a Facade
Just a few years ago, Hulu was a joint venture supported by several companies, including 21st Century Fox, Time Warner, Comcast's NBCUniversal and Disney. But now that Disney owns Fox and has upped its stake in Hulu, the company looks poised to usurp Netflix's dominant position in the market.
According to reports, Comcast has also struck an agreement with Disney for Hulu to continue carrying some of its most popular NBCUniversal network television content until at least 2024.
This content from NBC will be in addition to the original content Disney is developing for its exclusive streaming platform, Disney+, as well as its astounding library of Marvel and Fox Studios productions.
That's a huge war chest for Disney. And it's one its built at lightning pace.
But that's no reason to count Netflix out.
Brace Yourself: The 5G revolution is unleashing your next potential TRILLION-DOLLAR opportunity - go here now.
While Disney may be hot on Netflix's tail, the nation's most popular streaming platform has plenty reason to stay confident.
In just the last five months, Netflix stock has risen 54% on strong earnings and stellar guidance, largely due to the company's relentless efforts to produce new content.
In 2018 alone, Netflix is rumored to have invested roughly $8 billion in the production of original content. That bought Netflix 700 potential new shows and over 80 new films for its platform.
That kind of production gives Netflix a significant edge over its competitors.
The numbers show the company might also have just the right competitive moats to stop any further market penetration. According to a report from Piper Jaffray, only 7% of Netflix subscribers are currently planning to cancel their Netflix subscription in favor of Disney's offerings.
But Netflix and Disney even have other heavy hitters to contend with. Amazon has widely been considered a leader in content quality, with a 75% average score for its library on Rotten Tomatoes and Alpha House. And Apple recently announced its own exclusive streaming service, backed by a host of media giants, including Stephen Spielberg and Oprah Winfrey.
For now, Disney's acquisition of Hulu is the latest shot in what's to be a long, drawn-out battle between streaming stocks.
Thankfully, we don't have to choose a winner. In fact, we can profit from the streaming boom no matter who takes the lion's share...
The Streaming War's Real "Big Winner"
[mmpazkzone name="in-story" network="9794" site="307044" id="137008" type="4"]
Regardless of who comes out on time, Roku Inc. (NASDAQ: ROKU) is on track to make early investors a killing in the streaming market. The company beat earnings expectations by 64% in the Q1 2019.
But we were talking about this company long before.
We last wrote about it in early April, after Apple announced it would make Apple TV+ available on Roku. We said this was a huge catalyst for the Roku stock. And less than two months later, it's up 36%.
Our Executive Editor and Research Analyst Bill Patalon told his subscribers about Roku as early as February 2018, when it sold for just $40.77. The subscribers that heeded his advice booked profits of 130%.
If you read Bill's predictions, you've watched the markets, and still haven't made a move, we can't pity you - but we can assure you that 130% is a small drop in the bucket compared to what today's investor will book with Roku over the next five years.
We predicted the Apple TV+ catalyst, we told you about the Disney catalyst, and now we're telling you there's no end in sight to the catalysts for Roku's growth in today's streaming wars.
The more content hits the market, the more money Roku makes. It's that simple.
That's because Roku has carved out a unique niche in the streaming industry. It's what's known as an over-the-top (OTT) media provider. The company doesn't own any entertainment content; it just gives users the ability to stream content from any of the streaming industry's content providers - that includes both Netflix and Disney.
In fact, the company already has a hold on 37% of the streaming device market. And we should be glad it already has such a large position.
According to Grand View Research Inc., the streaming device industry is on track to reach $124.57 billion in value by 2025.
And while Roku stock just went public a little over a year and a half ago, it's managed to continually outperform the market.
In fact, in just 2017 alone, the company's gross profits rose 66%, from $199,833 to $332,148.
These figures are likely to grow as the company continues to undercut competitors in the streaming device industry like Apple Inc. (NASDAQ: AAPL).
For example, Roku devices start at $29.99, while Apple's starts at $149 - that gives Roku a huge cost advantage over its largest competitor.
Roku expects to break $1 billion in yearly sales for 2019 and then see a 30% increase in 2020.
Over the last six months, Roku stock has shot up an astounding 288%. But at the rate the OTT streaming market is growing, this company has plenty of room to run.
Get Ready for 5G NOW (Huge Tenfold Opportunity!)
A single company could be about to corner the entire 5G market!
Its patented technology is essential to an epic, global rollout that could create $12 trillion in new wealth, right here in America.
And you could turn every $1,000 you stake into $10,000! Go here now to find out how.