Perhaps the most important advantage of big business is economy of scale. The more units you can move, the cheaper each unit becomes to produce.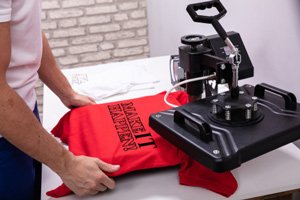 That's why Budweiser will always be cheaper than a local craft beer. And a dining table from Pottery Barn will always be cheaper than one you commission from a local artisan.
The problem, though, is that many people like local craft beers, and they like unique furniture.
They just don't always like the price tag associated with products that aren't mass-produced.
Sign up for SMS so you never miss special events, exclusive offers, and weekly bonus trades.
Our stock pick today has solved this problem. It's essentially invented a new industry called "mass customization."
From printing products to signage, apparel, glassware, and other products, this company enables customers to make small orders to their exact specifications. And because customization is the product, the company can deliver it quickly at an affordable price point.
As a result, small businesses now have access to the same quality custom products that large corporations do without having to pay a premium for placing small orders.
Brace Yourself: The 5G revolution is unleashing your next potential TRILLION-DOLLAR opportunity - go here now.
And the orders are rolling in. The company's sales are projected to hit $2.7 billion this fiscal year and more than $2.9 billion in the 2020 calendar year.
More than that, earnings per share (EPS) is projected to more than triple between 2018 and 2022.
Best of all, it just got a top score from our Money Morning Stock VQScore™ system.
With projections on the rise, this company's biggest growth phase yet has just begun.
From a One-Man Operation to $3 Billion in Sales in 25 years
Join the conversation. Click here to jump to comments…
About the Author
Stephen Mack has been writing about economics and finance since 2011. He contributed material for the best-selling books Aftershock and The Aftershock Investor. He lives in Baltimore, Maryland.