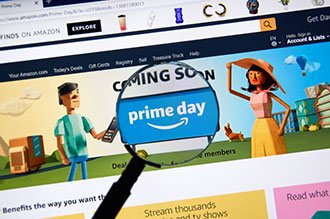 Constantly on the search for value, I want to own stocks that will double in value (or more) in a short period of time.
Doing so requires discipline, in terms of identifying opportunities for growth at the lowest price possible.
By sticking to the formula, I win significantly more than I lose.
That said, there are exceptions and circumstances that require adjusting the successful process for finding winning stock selections for your portfolio.
For those times, we merge the worlds of stock picking with the concepts of basic financial planning.
Some of these financial planning concepts include portfolio diversification and dollar cost averaging.
These can be powerful tools to help lower risk and improve portfolio performance.
Dollar cost averaging in particular can be helpful when finding a potential core holding stock like Amazon.com Inc. (NASDAQ: AMZN), which would not be considered an "undervalued" stock by most metrics.
It might seem like a no-brainer.
Watch Now: Serial entrepreneur Neil Patel reveals how to achieve the American Dream… for as little as $50. Click here…
Amazon is a game-changing company that dominates numerous industries.
It is the beast that keeps on growing, and innovation is its key to success.
Time and time again, the company enters an industry and takes over.
No matter what is happening in the overall economy or market, it's safe to say that Amazon is here to stay.
There simply aren't many companies that you know that will be bigger 10 years from now than today.
For Amazon, that's a near guarantee.
That's what makes it a core-holding candidate.
The problem, of course, is valuation.
Amazon trades for 80 times earnings with no dividend.
That's a lot to swallow. And it's also why many investors worry about buying into Amazon at the wrong time.
The pure thought of loss can keep you away from the stock, even when your analysis outside of fundamental valuation screams "buy."
That is especially true when there is a coming catalyst like Amazon "Prime Day."
Amazon Stock Is a Great Buy Ahead of Prime Day
Every year, this annual feast of retail buries the Internet with unbelievable traffic.
In 2018, Amazon had more than 100 million products purchased.
And the increase in sales has been mind-blowing since it first launched in 2015.
Of course, it's impossible to tell how Amazon stock will react to Prime Day.
I'm taking a big risk with my capital putting my stake in all at once.
So how does one avoid that risk of potential loss?
That's where dollar-cost averaging can be a lifesaver.
We know we want to own Amazon in front of a potential catalyst like Prime Day, but we don't want to lose our shirt if the stock should tumble after we buy.
The solution is to spread out our purchases over time.
Since we are not looking for a big score in a short period of time with Amazon, we can be patient.
Go ahead and buy a few shares here and a few shares there.
In so doing, our cost of owning this "must-have" stock is an average of every purchase we make.
We can buy a few shares today at $2,000 per share and next month buy more when the stock is either higher or lower.
It just doesn't matter with this long-term strategy.
If there is a short-term shock to the price of Amazon, we take a minimal hit.
Even better, our next purchase happens at the much lower price.
My suggestion if you want to own Amazon is to spread out your buying over the course of one full year.
Take the capital you are allocating to the total position and divide into 12 equal installments that will be deployed once a month.
At the end of the year, when the buying is complete, you will have protected yourself from buying all-in at one particular moment in time.
Chances are it won't matter much.
Amazon is such a great company it is hard to envision anything but good things to come.
That said, just in case, dollar-cost averaging can protect you from an unexpected shock in the share price.
So when a stock doesn't necessarily fit your parameters for buying, you can still safely get in on the action.
Anyone Can Become an Angel Investor with as Little as $50