I love the cannabis story.
From a growth perspective, you won't find one more attractive.
While stocks in the sector have soared, we are still in the early stages of what will surely be an explosive expansion.
Arcview Market Research predicts a market of more than $40 billion by 2024, and that number is likely quite low.
The number of applications for cannabis is mind-boggling.
Everything from pain relief for humans to anxiety control for pets can be treated with marijuana.
It's the next great growth frontier for investors.
THREE STOCKS: Any one of these cannabis companies could potentially deliver a 1,000% windfall. Click here to learn more…
But growth is never easy, and it certainly never comes in a straight line. There will be blips along the way to all the riches.
My favorite cannabis stock, Canopy Growth Corp. (NYSE: CGC), is a case in point.
The company is at the forefront of the cannabis movement, having grown to a valuation that exceeded $20 billion at its peak earlier this year.
That's when little problems began taking bites out of the stock. The stock is still up about 27% on the year, but it's down around 30% from April's highs.
But, we still think this is one of the best cannabis companies on the planet and a massive opportunity for investors.
Even better, there are three different ways you can play the stock to maximize your gains.
Below, we'll show you why we're not worried about the recent pullback, plus we'll reveal the three ways you can turn this stock into a moneymaking machine…
Why Canopy Growth Stock Dipped
Most recently, the company announced a management shake-up.
Guidance for sales and profits are coming in short and Canopy's biggest benefactor – Constellation Brands Inc. (NYSE: STZ) – is losing patience.
It's an old story.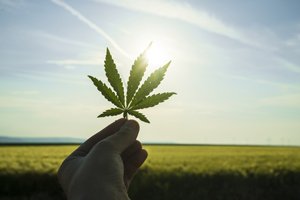 Founders of companies in explosive growth industries may or may not be the best managers of the business to maximize value.
Constellation made a big investment in Canopy, and it wants a return on that investment.
If the founders can deliver, fine, but if they can't, it's time to cut the cord. The latter happened here.
With shares of Canopy already under pressure, the changes at the top resulted in further profit taking.
None of this story changes the opportunity in cannabis.
It is very company specific.
Any selling in shares of Canopy or any other cannabis stock should be viewed as an opportunity to open or expand a position in the space.
Here are three ways to profit today…
3 Different Ways to Profit from Canopy Growth Stock Today, No. 3
Clearly Constellation is driving the bus at Canopy Growth. Thus, the most obvious way to profit from Canopy Growth is to buy one of the biggest owners of the company – Constellation Brands.
Constellation Brands is a behemoth in the beverage and spirits industry.
Fully legalizing cannabis across the globe will be a massive catalyst for future growth.
While owning individual cannabis stocks can be quite volatile, Constellation Brands' diversity offers some stability to go along with its upside.
The beta of Constellation Brands is just over 1. That means the stock trades in line with the market.
No need to worry about the huge swings that can come with individual cannabis shares.
In the near term, Constellation is expected to grow profits by 12%, but going forward with cannabis leading the charge, growth should be higher.
That's why any weakness in the short term at Canopy is a problem for Constellation and investors in Constellation.
Those investors have bid up shares of Constellation to more than 20 times current-year expected earnings.
Part of that premium relates to the low beta and dependability of profits at the company, but another chunk is due to the expectation for cannabis.
If you are looking to profit from Canopy Growth without the volatility, Constellation is the way to go.
3 Different Ways to Profit from Canopy Growth Stock Today, No. 2
Investing 101 says buy more shares when your position is down.
If you believe in the long-term story of the company and the industry – all true with Canopy Growth – then one should acquire more when the stock is down.
It doesn't matter the reason for the selling, unless there is something that is fundamentally wrong with the company or the industry.
With Canopy Growth, there are many reasons for the stock to be lower.
Most of the selling is day trading and profit taking.
Canopy is a leader in the cannabis space and still has a $12 billion valuation post sell-off.
There is nothing to see here in terms of the executive suite changes at Canopy.
Any selling that comes as a result of short-term worries should be used as an opportunity to profit from the Canopy Growth story today.
Currently, analysts are giving Canopy a high price target of $75 a share, which is a potential 114% gain from today's price. But if you bought in at the April high of $52, your gains would be closer to 44%. That's not bad at all, but it shows what a great opportunity it is to buy into Canopy at a discount right now.
And now, here's our No.1 strategy to profit from Canopy Growth…
3 Different Ways to Profit from Canopy Growth Stock Today, No. 1