Wall Street was once the No. 1 place where people got rich.
Back in the day, investors could regularly find companies that showed explosive growth and were rewarded with share price appreciation that minted millionaires.
Today, it's much harder to find those diamonds in the rough.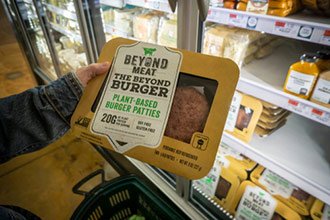 Passive investment strategies have resulted in max returns of 6% to 8% for most investors.
The worst part is those passive strategies do little to avoid the big hits that come in a market dislocation like the financial crisis in 2008.
Many portfolios back then dropped 50% or more.
In my book, that risk/reward equation is completely out of balance.
It most certainly is not a formula for making millions.
BREAKING: Serial entrepreneur Neil Patel reveals what it takes to become the world's next angel investor. Click here to watch...
But every once in a while, Wall Street can surprise - as it is doing seemingly on a daily basis with millionaire-making stock Beyond Meat Inc. (NASDAQ: BYND).
Beyond Meat started trading on Wall Street a few short months ago.
Since that time, the stock has doubled multiple times with no end in sight. BYND has pulled back about 15% from its high following its first earnings report this week, but the stock is still up more than 230% from its debut.
The company is on a mission to change the food market with its plant-based alternative to meat.
Millennials love the product.
Beyond Meat cuts out the middle man - the cow - in providing nutrients to humans.
Cows release high levels of methane gas, a huge contributor to global warming.
It took some time from initial development to becoming the hottest product in the market today, but all of the ingredients for millionaire-making were there from the start.
Imagine being a founding investor in Beyond Meat.
Angel investors that helped Beyond Meat jump-start its business from just an idea to being one of the most searched phrases on Google today did so by acquiring equity shares at a cost of $1 per share.
It's standard practice in the venture space to start things off raising capital at such a price.
Sure, founders were diluted, but that early equity was needed for the company to get off the ground.
In return, those early angel investors in Beyond Meat have made millions.
A $10,000 investment at the $1 offering price in the early stages of the company's development is now worth over $2 million.