Back in early July, I told my readers that one of the "safer" ways to invest in Canopy Growth Corp. (NYSE: CGC) was through buying shares of Constellation Brands Inc. (NYSE: STZ).
Constellation owns a 38% stake in Canopy, so it has skin in the game and exposure to the cannabis market.
But that's just scratching the surface...
Outside of its stake in Canopy, which is already a huge deal, Constellation is also the maker of Corona and owns whiskey, vodka, and tequila brands. This gives it yet another source of revenue and a defensive moat.
Bottom line, it's truly a force to be reckoned with in the cannabis sector!
Sign up for SMS so you never miss special events, exclusive offers, and weekly bonus trades.
However, Constellation is already looking ahead to the future. It has sold off some of its wine brands that retail for under $11 so that management can focus on selling more lucrative adult beverages.
Overall, I believe that this is a stock you can retire on. Why? Constellation is a powerhouse company you'll want to keep in your portfolio on a very long-term basis - because it's only going to grow every year.
With that kind of growth and profit potential, you'll be living a very comfortable retirement.
As you can see from the chart below, the stock price took a bit of a dip in January, but it's been rebounding ever since.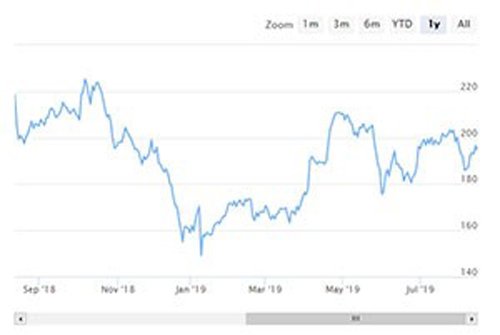 And you shouldn't be listening to those newer investors who like to focus on the share price and say it's expensive. If you focus on accumulating shares of a quality company, it will add up over time.
Plus, Constellation offers something that other cannabis companies can't right now, which only doubles the firm's already enormous profit potential...
This Is What Makes Constellation Brands a Winner
Join the conversation. Click here to jump to comments…
About the Author
Greg Miller started working on Wall Street in September, 1987, just a month before the "Black Monday" stock market crash.
During his career there, he became an expert in just about every kind of publicly traded security - from blue-chip and small-cap stocks to municipals, junk bonds, and derivatives. As a portfolio manager, Greg was responsible for over $500 million of assets in mutual funds and insurance company accounts.
After leaving the Street, he designed a successful options trading strategy and made lucrative tech investments for a financial publication. He has also helped develop new products and worked with other editors to hone their strategies.  He's always been dedicated to deep, fundamental research - and he always will be - because he believes buying the very best companies at the right price is the best way to amass wealth in the stock market.