August has been a volatile month for the market. The Dow dropped more than 850 points in three days to start the month before rebounding 650 points in the following three days.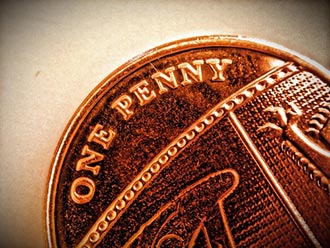 But this turbulence offers a chance to profit. And today, we'll show you the best penny stocks to buy this week that will help you do just that.
And there's one sector in particular that's poised to profit from all the volatility we've been seeing: energy.
While Wall Street is in a complete panic following the latest yield curve inversion, we're not worried.
Since 1965, the S&P 500 energy sector has outperformed the broader market 80% of the time in the 12 months following a yield curve inversion.
Bonus:
Want to know how to find penny stocks with the most profit potential? Download our quick tutorial, 5 Steps to Penny Stock Trading Success – it's free! click here now.
That's why we're targeting energy penny stocks today. Penny stocks are some of the fastest-moving stocks on the market. The penny stocks we have today are poised for huge returns in a short period of time.
But because there are so many penny stocks to pick through - even in the energy sector - we've used our Money Morning Stock VQScore™ system to find the best penny stocks to buy this week.
In fact, these three penny stocks have all received our highest score - meaning they're poised for breakout growth.
And one even has gains projected as high as 650% over the next 12 months...
The Best Penny Stocks to Buy This Week, No. 3
One of our best penny stock to buy this week is Antero Resources Corp. (NYSE: AR).
Antero is a Colorado-based oil and gas company that seeks out, develops, and produces oil and natural gas products across the United States.
The firm's oil and gas reserves are in the Appalachian Basin. The company is going all in on American fossil fuels as the United States becomes a dominant figure in energy worldwide. And as of right now, it's a pretty good bet for the company.
According to the U.S. Energy Information Administration, U.S. oil products are expected to soar to 1.5 million barrels a day by 2020.
Watch Now: Serial entrepreneur Neil Patel reveals how to achieve the American Dream... for as little as $50. Click here...
And American oil production isn't just forecast to skyrocket to new heights. In fact, it's anticipated to outpace both Russia and Saudi Arabia.
Because Antero is primarily focused on finding and producing oil in the United States, it's perfectly positioned to profit from the world's rising oil and gas demands.
Antero stock currently trades for $3.44. But it has a target high price of $15, according to analyst estimates. This means it could rocket by as much as 336% over the next year.
And with a VQScore of 4.9, we think it has even greater breakout potential.
The Best Penny Stocks to Buy This Week, No. 2
Our second best penny stock to buy this week is Encana Corp. (NYSE: ECA).
Encana was founded in 2002, and it's a Canada-based natural gas and oil explorer. Last year, it made Forbes Global 2000 List as one of the top North American Energy firms.
Back in 2018, the firm produced almost 90 billion barrels of oil and 1.16 billion cubic feet of natural gas. This makes it one of the biggest North American producers as well.
Across the North America, Encana has 1.7 million acres in Canada and 1.9 million acres in the United States. And the sheer size of its holdings is a big reason it's able to produce so much.
So, the company's production capacity and size make it one of the best suppliers for the increasing demand for global natural gas.
In fact, in the last three years, its sales have jumped over 73%. And last year alone, its profits grew a solid 29%.
Right now, this penny stock trades at 6.25 times its current earnings. That's in comparison to the industry average of 32.47 times earnings. So, the stock is in a prime position for immense growth.
Encana shares are currently $4.37 per share. But with a high target price of $21, it could shoot as high as 380.5% over the next 12 months.
Plus, it also has a VQScore of 4.9. This means we think it could soar even higher...
But our No. 1 best penny stock to buy this week blows the rest out of the water. In fact, it could shoot up into the stratosphere by 650%.
The Best Penny Stock to Buy This Week
[mmpazkzone name="in-story" network="9794" site="307044" id="137008" type="4"]
Our top penny stock to buy this week is Gulfport Energy Corp. (NASDAQ: GPOR).
Founded in 1997, Gulfport is another oil and gas company focused on exploring, acquiring, and producing natural gas and oil products across North America.
Gulfport has holdings across 241,000 gross acres in Eastern Ohio's Utica Shale. And it also has 66,000 gross acres in Oklahoma's SCOOP Woodford and SCOOP Springer concerns. Plus, the firm has control over 25% of Canada's Alberta oil sands project through its Grizzly Oil Sands ULC as well as property in Louisiana's Gulf Coast.
At the end of 2018, Gulfport had reserves of 4.7 trillion feet of natural gas and 11,480 MBls of oil in its reserves. Beyond that, it had 2.3 million cubic feet of natural gas and 39.7 million cubic feet of NGLs.
Plus, over the last four years, the firm's gross profits have shot up 254%.
Gulfport is in a prime position to capitalize on increased oil demand worldwide. And in the short term, demand could go up by as much as 7% in the United States alone, according to the U.S. Energy Information Administration.
So, with its massive holdings, growth potential, and a VQScore of 4.9, this penny stock is poised to produce massive gains for investors.
In fact, Gulfport currently trades for $2.80 per share. And with a high target price of $21 from analysts, this stock could skyrocket as high as 650% over the next year.
Anyone Can Become an Angel Investor with as Little as $50
Angel investing used to be off-limits to the average American... but Shark Tank's Robert Herjavec said it best during this live broadcast: "The walls have finally come down. You no longer have to be rich, famous, or powerful to become an angel investor!"
Congress has now made it possible for you to take advantage of these life-changing deals.
By becoming an angel investor, you can be right there - one of the first to invest in the next Steve Jobs, the next Bill Gates, or the next Elon Musk.
And because you're there at the beginning, the upside is infinitely greater.
For so long, regular folks have been locked out... but not anymore. Click here for details...
Follow Money Morning on Facebook and Twitter.
About the Author
Daniel Smoot is a Baltimore-based editor who helps everyday investors with stock recommendations and analysis. He regularly writes about initial public offerings, technology, and more. He earned a Bachelor's degree from Towson University.