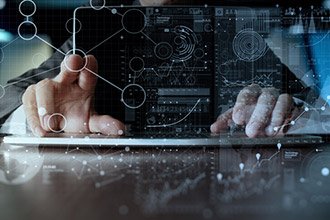 You might already know how profitable "Big Data" is.
According to the International Data Corp., Big Data and analytics are set to reach $189.1 billion in revenue this year. And that revenue is expected to jump 45% to $274.3 billion in the next three years.
What you might not know is that Big Data isn't just for industries like marketing, manufacturing, and healthcare.
The Big Data stock to buy we're bring you today, in fact, is using Big Data and analytics to transform five major sectors that affect your life on a daily basis...
Construction: Our pick provides solutions that unite hardware, software, and services to guide builders from start to finish. That includes tools for architecture, machine control, project management, and even HR and payroll.
Agriculture: Just like there are smart homes now, there are smart farms too. And this company helps agricultural companies monitor and map their entire operations, with extensive analytics to ensure maximum efficiency and production.
Transportation: In the transportation sector, this company's solutions manage the tracking, dispatch, scheduling, and analytics for over 1 million vehicles across the globe. We're not just talking about managing trucking fleets here, but also rail projects and off-highway vehicles for large civil projects.
Geospatial: You might not think about this sector much, but our pick's geospatial solutions aid in mapping and GIS, land surveying, and land administration. These processes are critical for those "invisible" but essential industries like forestry, mining, drilling, and waste management.
Natural Resources, Utilities, and Government: Whether it's the water in people's taps, land management, forensics, or the management of military fleets, this company has myriad solutions to keep governments national and local running smoothly.
In addition to five strong reasons to buy this stock, we've got another one: This stock just received a top score from our Money Morning Stock VQScore™ system.
Watch Now: Serial entrepreneur Neil Patel reveals how to achieve the American Dream... for as little as $50. Click here...
That might have something to do with its net income more than doubling last year, or its projected earnings per share (EPS) growth for the next three years.
But the "buy" indicators don't stop there. The truth is that the market has let this gem slip through the cracks. And that means you can grab it now at a great price - and possibly score a 164% gain.
With More Than 2,000 Patents, This Company Makes the Whole World Run More Smoothly
Join the conversation. Click here to jump to comments…
About the Author
Stephen Mack has been writing about economics and finance since 2011. He contributed material for the best-selling books Aftershock and The Aftershock Investor. He lives in Baltimore, Maryland.