Between the trade war, Twitter politics, and three yield curve inversions, 2019's market has been in choppy waters. It's been the kind of year where the Dow nosediving 350 points, as it did on Sept. 3, only to rally back 400 points one day later has become normal.
But that's actually good news for the best tech stocks...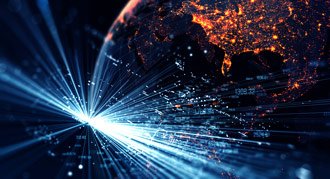 Tech stocks actually beat the broader market once recession red flags start waving. And many investors may not even know that tech stocks have done this for 54 years straight.
Even prior to the "Great Recession" between 2005 and 2008, the best tech stocks outpaced the S&P 500 by almost 11%.
Plus, even amidst the noise and panic echoing across the market every other day, the top tech stocks are having a solid year. Really, the Technology Sector SPDR Fund (NYSEArca: XLK) is up 32%, while the S&P 500 is up 19%.
This $6 Stock could make you billions. But when the tech moguls find it, you may never see these shares at this price again... Click here to act before it potentially takes off.
Based on this historic trend, we expect tech stocks to continue outpacing the broader market until the next downturn, which could be years away.
And we're using our Money Morning Stock VQScore™ to find the best tech stocks for you to buy right now to cash in on this growth potential. The VQScore algorithm analyzes thousands of stocks to rank them on breakout potential. Today, it's uncovered three of the top tech stocks to buy that could see explosive growth.
And our top tech stock to buy could nearly double your money in the next 12 months...
Best Tech Stocks to Buy This Week, No. 3
Our third best tech stock this week is Allscripts Healthcare Solutions Inc. (NASDAQ: MDRX).
Allscripts is a Chicago-based software company that develops digital tools for medical providers to manage and record information.
And its latest deal with Apple Inc. (NASDAQ: AAPL) to tie in its system with Apple Health Records certainly helps boost confidence. The deal makes it so Allscripts, hospitals, and clinics can help patients access all of their medical records in one place with the help of Apple Health's app.
This means any clients of Allscripts can see anything from conditions, allergies, lab results, immunizations, procedures, medications, and even current vitals. And all of which are securely encrypted and protected using either an iPhone's touch ID, face ID, or passcode.
This is a big deal that could spell massive profits for MDRX. Allied Market Research says the global healthcare information technology market was already worth $141 billion in 2016.
By 2022, it's forecast to rocket up 110% to $297 billion. So with Allscripts expanding medical software offerings and partnerships with companies like Apple, the company is poised to continue growing.
Right now, you can buy this tech stock for $9.15 per share. And analysts forecast it could go as high as $15 over the next 12 months.
That's a potential 64% upside thanks to the firm not only beating its last two earnings but also growing its earnings estimates.
And it has even higher upside than that. With a perfect VQScore of 4.9, it's poised for breakout growth with plenty of room to run higher.
This tech stock currently trades 8.61 times its current earnings, while the software industry average has a price/earnings (P/E) ratio of 36.21. The stock price could triple, and it would still be undervalued compared to the broader industry.
Best Tech Stocks to Buy This Week, No. 2
Our second best tech stock to buy this week is Digi International Inc. (NASDAQ: DGII).
DGII is a Minnesota-based computer communications equipment company developing parts for 5G networks.
DGII's products are specialized to securely handle large amounts of information at great speeds for everything from oil tank monitoring, medical device monitoring, gaming, and even public transit machinery. DGII primarily develops routers for several industries like energy, infrastructure, medical, industrial, retail, and transportation.
And what makes this company stand out is that it has several products geared towards 5G and the "Internet of Things."
5G is a wireless system with speeds upwards of 100 times faster than what we currently have. This level of speed will create completely new industries with technologies like self-driving cars, remote robotic surgeries, and more.
With DGII creating hardware specifically for this new wireless technology, it's in a prime position to profit from 5G's insane potential.
But, its routers' capabilities and flexibility aren't the only things making this company unique. In fact, DGII is a great tech stock to buy because of its financials.
Between 2017 and 2018, its revenue grew 26% from $181.6 million to $228.4 million. And its net profit was $1.3 million. By 2020, its revenue is forecast to go as high as $275.6 million. That's another 21% jump in sales.
This tech stock currently trades for $12.97, with a high target price of $21 over the next year. That's a potential 62% upside.
Plus, with a VQScore of 4.9, our rating system says this stock is a definite "Buy."
Yet, our best tech stock to buy this week could rocket even higher. In fact, it could soar 92% over the next 12 months...
The Best Tech Stocks to Buy This Week, No. 1
[mmpazkzone name="in-story" network="9794" site="307044" id="137008" type="4"]
Our top tech stock to buy this week is LiveRamp Holdings Inc. (NYSE: RAMP).
RAMP is a San Francisco-based information technology services company that specializes in subscription-based enterprise management software. It provides firms in industries like retail, telecommunications, automotive, healthcare, and more an all-in-one place to communicate with customers and keep track of important information.
Plus, through its big-name partners, RAMP's products can integrate with other company's software. In fact, it works with Google, Twitter, Facebook, Instagram, Adobe, Spotify, Snap, Pinterest, Microsoft, eBay, MasterCard, Amazon, AT&T, and more.
As a result of these partnerships, RAMP has managed to grow its revenue by 63.4% between 2017 and now. But it's not done growing yet. In fact, analysts expect its revenue between now and 2021 to rocket up another 79% to as high as $511.3 million.
On top of that, RAMP's P/E ratio is 3.08 - that's crazy low when you compare it to Internet services' P/E ratio of 26.09. And it's especially low compared to the software sector's P/E ratio of 36.21.
Right now, RAMP's stock trades for $41.92 per share. But with a target high price of $80, it's forecast to soar another 92% over the next 12 months. Plus, with a VQScore of 4.9, we think it could go even higher.
Time Is Running Out to Claim Your Stake in This Projected $12 Trillion Opportunity
This major tech breakthrough is only just starting to catch on. But hear us when we say that when it takes off, it will change the world as you know it.
We have been talking about this wireless network since it was barely more than an idea. But now that it's making headlines, it's preparing for the largest - and what could be the most profitable - breakout in our lifetime.
It's currently being picked up by the largest mobile phone providers in the game, including Verizon, AT&T, and Sprint...
You can still take advantage of it for under $6 a share, but trust us, you won't see this price much longer.
Follow Money Morning on Facebook and Twitter.
About the Author
Daniel Smoot is a Baltimore-based editor who helps everyday investors with stock recommendations and analysis. He regularly writes about initial public offerings, technology, and more. He earned a Bachelor's degree from Towson University.