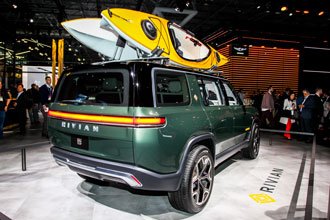 On September 19, Amazon.com Inc. (NASDAQ: AMZN) announced its plans to buy 100,000 electric delivery trucks from Rivian. It's part of an effort to cut the company's carbon footprint.
This trend could be a lucrative opportunity for investors looking to buy electric vehicle stocks. Unfortunately, even with Rivian's explosive potential, you can't buy Rivian stock yet since it's not a public company.
But Rivian stock will certainly be one to watch if the company ever holds an IPO.
BONUS: We're giving away a stock pick we usually reserve for premium subscribers ONLY – but today it's yours for FREE. Click here to get it.
And because this industry has such explosive potential, we have another electric vehicle stock you can buy. We'll show you in just a moment.
The industry is getting a boost after Amazon said it aims to be carbon-neutral within the next 21 years. That's 10 years earlier than the UN Paris Agreement's goal of 2050. And Amazon won't be the only company speeding up its push towards renewable energy.
Auto companies like Ford Motor Co. (NYSE: F) and Cox Automotive are diving into the electric vehicle market, too. Ford invested $500 million in Rivian, while Cox Automotive invested $350 million.
For Rivian, Amazon's order is its largest yet. Rivian is only gaining in popularity, as the company already has plans to develop all-electric trucks and SUVs for consumers by 2020.
And this trend goes beyond Rivian…
In fact, we have another electric vehicle stock that's developing consumer-focused electric vehicles. And our Money Morning VQScore ™ system just gave it its highest score.
Did You Catch This? Serial entrepreneur Neil Patel reveals what it takes to become the world's next angel investor. Click here to watch…
Plus, it's making billions every quarter. And it even has a 62% upside over the next 12 months…
The Best Electric Vehicle Stock to Buy Now