For the last 30 years, Macro Risk Advisors says October has been the most volatile month of the year. In fact, since 1989, the CBOE Volatility Index has climbed 21 points every October.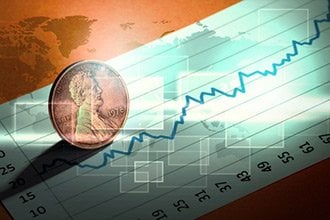 But this kind of market is great for the best penny stocks to buy.
You see, while blue-chip stocks struggle in volatility, penny stocks thrive when the market is choppy.
Since penny stocks have low share prices, the smallest movements could create double- or even triple-digit gains. The more volatile the market, the more opportunities there are for penny stocks to soar.
To help our readers find the best penny stocks to buy, we've utilized our Money Morning Stock VQScore™ system. It's screened hundreds of penny stocks to find the ones with the highest breakout potential.
You Could Cash In on the next Alibaba, the next Uber, the next Google. We're talking life-changing IPOs here. And it'll only cost you as little as $50. Click here for the full details...
(We've also put together a quick tutorial to help you find penny stocks with the most profit potential. You can download it for free here.)
Now, we have three of the best penny stocks to buy that could see double- or even triple-digit returns. And our top penny stock could soar as much as 515%.
Best Penny Stocks to Buy Today, No. 3: Partner Communications Co. Ltd.
Our third best penny stock to buy today is Partner Communications Co. Ltd. (NASDAQ: PTNR). PTNR is an Israel-based mobile network, Internet, and telephone provider.
Founded in 1999, PTNR operated under French telecom company Orange for 17 years. Now that the firm runs itself, it's aggressively expanding operations. And it's working.
Since the firm went solo in 2016, it gained 29,000 Internet subscribers and 79,000 mobile customers. And the gains it made were over double that of its previous year.
Profits dipped slightly in 2018. Fortunately, the company's net income was still $15.9 million.
This is thanks to a series of lucrative deals the firm has made. Just look at its 2016 deal with Netflix Inc. (NASDAQ: NFLX). PTNR's deal with NFLX offers its customers a free Netflix subscription through its Internet services.
Back in December 2017, the firm also partnered with Apple Inc. (NASDAQ: AAPL). Similar to the NFLX deal, PTNR's services now include Apple music subscription packages with its services.
Plus, PTNR also upgraded to fiber-optic services across Israel. And it introduced its own television subscription service as well.
The company isn't slowing down either. In fact, in the last week of September, it partnered with Amazon.com Inc. (NASDAQ: AMZN).
Now, PTNR subscribers also have access to Amazon Prime Video content. This move will only increase its number of subscribers.
And that's exactly why analysts have given this penny stock a high price target of $22 per share. At $4.55 per share, that's a potential 384% spike in price over the next 12 months.
Best Penny Stock to Buy Today, No. 2: Encana Corp.
Our second top penny stock to buy today is Encana Corp. (NYSE: ECA).
Founded in 2002, ECA is a Canadian natural gas and oil firm. Despite being a penny stock, the company made its way onto the Forbes Global 2000 List.
Since then, ECA has become a big player in the North American energy sector.
Back in 2018, it produced 1.58 billion cubic feet of natural gas. On top of that, it produced 89,900 barrels of oil per day. The company also has 1.9 million net acres of land in the United States and 1.7 million net acres in Canada.
That makes it one of the biggest North American producers.
And the firm's huge size puts it in a prime position to capitalize on increasing demand for natural gas.
In fact, the U.S. Energy Information Administration says natural gas consumption will grow by 7% within the next few years. And ECA has a big enough war chest to take full advantage of the growth.
In the last three years, ECA's gross profits have rocketed 100%.
That's exactly why analysts forecast the stock will grow to $21. And at $4.18 per share, that would be a whopping 402% upside over the next 12 months...
Best Penny Stock to Buy Today
Join the conversation. Click here to jump to comments…
About the Author
Daniel Smoot is a Baltimore-based editor who helps everyday investors with stock recommendations and analysis. He regularly writes about initial public offerings, technology, and more. He earned a Bachelor's degree from Towson University.