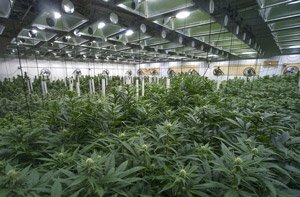 Marijuana stocks have been absolutely crushed in 2019.
In the last month alone, some pot stocks have lost 10% of their value or more.
Many are down more than 50% since peaking earlier in the year. Just look at the ETFMG Alternative Harvest ETF (NYSE: MJ). This ETF represents a large swatch of the cannabis industry. Since peaking in mid-March, MJ has dropped nearly 52%.
The bloodbath is enough to shake the confidence of even die-hard believers in pot stocks.
But not me.
I will never be shaken from my belief in the long-term prospects of cannabis stocks.
The size of the market combined with the transformative nature and multiple applications of cannabis make pot stocks a must-own for any portfolio.
But I understand if the short-term volatility is too much.
For some, owning pot stocks might be a wild ride not worth taking.
Still, if you are a believer in the global growth explosion of cannabis, there is a reasonable way to invest without the crazy swings in share price.
While pot stocks sank over the last 30 days, one name in the cannabis industry soared nearly 10%.
How could that be?
The answer is diversification of risk.
A typical pot stock has a one-track business model. It's usually either manufacturing cannabis or selling it on a retail basis.
That puts a company at risk to the volatility you see in pot stocks today.
As an alternative, I found a stock in the sector that makes money by renting industrial facilities to a wide variety of companies in the cannabis industry.
Ever better, this stock takes those profits and distributes them to owners in the form of a healthy dividend.
I'm talking about a REIT obviously, a pot REIT.
This Marijuana REIT Is the Key to Crushing the Markets
[mmpazkzone name="in-story" network="9794" site="307044" id="137008" type="4"]My favorite cannabis REIT is Innovative Industrial Properties Inc. (NYSE: IIPR).
Innovative is a U.S. company that owns and manages specialized properties including medical cannabis facilities.
The company saw its shares jump nearly 10% during the last month while other pot stocks sank.
Currently, Innovative pays a dividend of almost 4%. And that number is likely to increase.
Analysts expect Innovative to make a profit of $1.80 per share in 2019. That's expected to more than double to $3.85 per share in 2020.
With the REIT structure, those profits will be distributed to those that own the stock.
All things being equal and share price staying the same, we could be looking at a dividend of 8% or more in 2020.
And that number is just scratching the surface.
Pot stocks rebounded sharply this week as the federal government moved to legalize marijuana across the country.
The House Judiciary Committee passed the Marijuana Opportunity, Reinvestment, and Expungement (MORE) Act. The bill would decriminalize and expunge some cannabis-related offenses from the past.
The decriminalization of the drug is a massive game changer.
In one day of trading, many of those volatile pot stocks gained nearly 20%.
Wall Street firms are jumping on board, too.
Bank of America upgraded one of the bigger pot names, Canopy Growth Corp. (NYSE: CGC), based on the stock having a more reasonable valuation today.
That is certainly true, but the tone for pot stocks remains fairly negative.
It will take more than a few days of trading to erase the memory of the 2019 collapse.
Given the historically low interest rate environment, shares of Innovative Properties are positioned perfectly.
Image the demand for a stock with huge profits that are poised to double, resulting in a dividend that is close to 10%.
I would think every portfolio, retail or institutional, will want to own this stock.
When compared to a government treasury security paying 2%, there really is no comparison.
That rate of return puts a solid floor on the share price of Innovative and explains why shares held up so well during the last round of cannabis stock selling in the market.
I'm convinced marijuana stocks represent some of the biggest moneymaking opportunities in the market today.
But if you are worried about volatility, Innovative Properties offers just as much upside without the downside risk.
That 4% dividend makes Innovative a must-own stock for any portfolio today!
Illinois Becomes the 11th State to Legalize Cannabis (Making More People Rich)
Cannabis laws are being reformed en masse: Illinois has not only become the 11th - and second largest - state to legalize marijuana, but the first to do so by way of state legislation.
That means the medical, personal, and economic benefits of "America's Green Gold Rush" are appealing to Republicans and Democrats alike.
One cannabis research executive is hailing Illinois the "Marijuana Mecca of the Midwest," a hallmark of the rising uncapped profit potential ahead.
Once the feds end cannabis prohibition nationwide, all bets will be off - demand will boost share prices through the roof. But you can still get in on the ground floor, just in time for what could be the windfall of the century.
Illinois is already housing some of our top picks in the industry, so a few of our favorite stocks could get yet another boost.
Just click here to see how you can get them - and to potentially profit from this "unstoppable economic revolution"...