When it comes to legalizing cannabis, really moving the needle toward full federal legalization comes down to one thing.
Yes, it's true that seeing more conservative states legalize cannabis would help. Bringing more states into the legal fold cuts down on black market sales and brings that money to companies operating within the law.
In 2020, we have 19 states that could potentially pass some form of cannabis legalization. The economic impact of that would be staggering.
But you have to crawl before you walk, and everything starts with medical cannabis.
According to Pew Research Center, nine in 10 adults in the United States are in favor of legalizing medical cannabis.
It's no wonder support for medical cannabis is sky-high. Countless researchers have demonstrated the health and wellness benefits of cannabis for everything from cancer to migraines.
Additionally, medical cannabis plays a huge role in the fight against the opioid epidemic, replacing those harsh chemical drugs with a much healthier, safer alternative.
The benefits speak to people across party lines. Broken down by political affiliation, Republican support for medical cannabis clocks in at 87%, while Democratic support is all the way at 96%.
Should all this support translate to actual reform, a lot of profit potential will be put into play.
Let's break it down...
[mmpazkzone name="in-story" network="9794" site="307044" id="137008" type="4"]
The Staggering Economic Impact of Legalization
According to projections by New Frontier Data, should all 19 states considering cannabis reform be successful...
90% of the U.S. population would have access to a legal weed market.
$3.5 billion could be generated in sales just during the first year.
$11.5 billion could be generated in sales by the fourth year.
By 2025, the size of the legal cannabis industry could grow to $41.6 billion.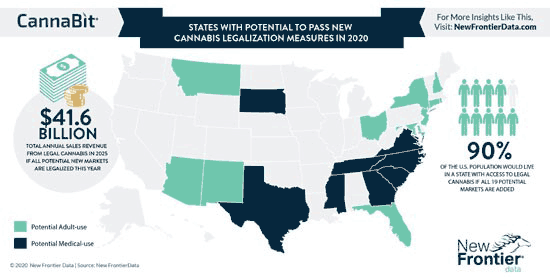 Even if only a fraction of those 19 states pass legalization measures this year, the point is that millions of people would still gain access to legal cannabis, millions of dollars would still be collected in tax revenue, and billions of dollars would still pour into the legal cannabis industry.
And conservative states eyeing the medical market are playing the biggest role in making that happen this year.
Conservative States Look to Enter the Medical Market
Increasing access to medical cannabis for patients in need plays a huge role in shifting money from illegal to legal markets.
Some black market sales are from people who are sick and who also want to avoid using opioids. They would gladly purchase medical cannabis if their state allowed it or had less stringent qualifying conditions.
Eventually, the federal ban on cannabis in the United States will end, but again, everything starts with legalizing medical use first.
Of the 19 states that are actively considering cannabis reform in 2020, eight of those are looking to enter the medical market: Virginia, North Carolina, South Carolina, Mississippi, Georgia, Tennessee, Texas, and South Dakota.
By our estimates, Idaho, Nebraska, Montana, Alabama, and Kentucky could also possibly get their acts together to legalize medical cannabis, but most likely not this year.
Collectively, these states could give over 1.3 million medical patients legal access to cannabis. Here it is broken down by state: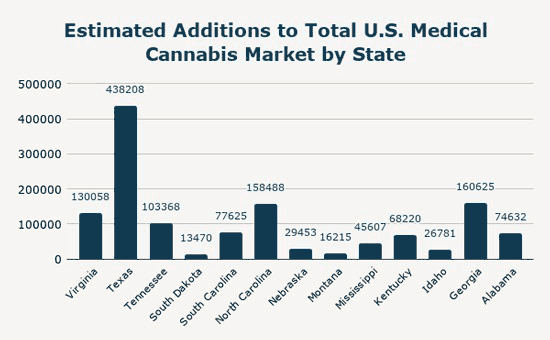 Even with the majority of these states leaning Republican, the data tells us that the demand for medical legalization is not a partisan issue but instead a priority.
As the great cannabis advocate Steve DeAngelo once said, all cannabis use is medical. Cannabis legalization - both medical and recreational - is inevitable.
Now just make sure you're in a position to profit when and if the U.S. cannabis market reaches its $1 trillion potential.
Follow along with us, and we'll be sure to guide you on the path toward the highest potential profits in this ever-growing sector. Click here, and you'll automatically be signed up to get Cannabis Profits Daily research delivered to your inbox, absolutely free.
We've Got Your Guide to Mastering Every Single Aspect of the Cannabis Industry
If you're new to cannabis, our "2020 Pot Profits Roadmap" has all the information you'll need on the budding industry.
It's the ONLY resource that walks you through the state and federal legal minefield... the ONLY roadmap to what could be the next billion-dollar cannabis brands... and the ONLY manual that spells out the Institute's cannabis-specific wealth-building strategies. Grab your free copy now.
Follow Money Morning on Facebook and Twitter.
About the Author
Millions of Americans are hungry for information on cannabis investing. And for good reason…
Cannabis is the fastest-growing investment opportunity of all time. It represents a turning point for investors.
That's what inspired the launch of The National Institute for Cannabis Investors – The Institute, or NICI, for short.
The Institute brings together the brightest minds in cannabis investing and research, all to give investors the information and guidance needed to make a fortune.
NICI is the most powerful cannabis-investing tool available to investors who want to achieve their dreams of financial freedom. You can learn more about how to get free access to their cannabis profit research here.