Your $1,200 coronavirus check from the government could be the first step you take to reaching the retirement of your dreams.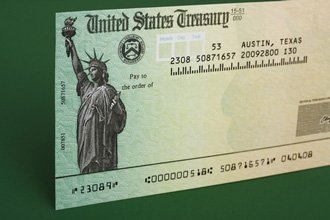 While $1,200 might not sound like a lot, it can add up in a hurry. A $1,200 investment in Amazon.com Inc. (NASDAQ: AMZN) in December 2008 would be worth $42,530 today.
As Money Morning Chief Investment Strategist Keith Fitz-Gerald puts it, "Picking the 'right' companies could set you up for once-in-a-lifetime wealth at prices you won't see again for a generation."
Keith says his favorites are "those making 'must have' products and services the world cannot live without and which will continue to function at a time when the world is highly stressed."
That's why we're going to show you exactly which stocks to buy to start building a retirement portfolio with just $1,200.
The Right Portfolio Strategy for the Coronavirus
Let's get an important caveat out of the way before we get started: This plan isn't for everyone. You need to make sure your savings are built up and you don't need the $1,200 right away. Making sure you can meet your current expenses and avoid debt during this crisis is the top priority right now.
But if you can afford to put money in the market, this $1,200 check could go a long way for you.
Here's how we're creating this coronavirus portfolio strategy.
First, use a no-fee brokerage like Robinhood or E-Trade. You don't want brokerage fees limiting how much of the $1,200 you can put into stocks.
Second, we're going to look for stocks trading under $100 a share. This way we can buy more than one stock and add some diversity to our portfolio.
Just Released: "Three Ways to 'Immunize' Your Portfolio Against Coronavirus Market Chaos." Get this special report now, for free. Click here...
Third, we're using Keith's proprietary 50-40-10 portfolio model as a guide for where to put your money.
This strategy diversifies by growth opportunity instead of by industry or company size. This distributes your risk more effectively than Wall Street's traditional strategy.
It works like this. Fifty percent of your portfolio goes into "base builders." These are strong, defensive companies that will hold their value over time while giving you some upside too. Forty percent of your portfolio goes to "global income and growth" positions. These are globally recognized brands with massive cash flow, big dividends, and real growth potential. Lastly, 10% goes to "rocket riders." These are swing-for-the-fences plays.
Using your $1,200, we'll build a simple 50-40-10 portfolio using just three stocks. We've tried to get as close to the 50-40-10 allocation as possible, but as share prices fluctuate, you may have to adjust slightly.
And as your portfolio's value changes, you'll want to rebalance it at least once a year. If your growth stock suddenly takes up 60% of your portfolio, it's time to sell a few shares and put the money back into your base builder.
With that out of the way, here's the perfect stock to start building your portfolio...
The Base Builder for Your $1,200 Portfolio
We'll build our portfolio's base with Alliant Energy Corp. (NASDAQ: LNT). Trading around $39 a share, you can buy 15 shares for about $585, just about 50% of your portfolio.
Alliant is an energy company that primarily supplies electrical power to Wisconsin and Iowa.
A midwestern power company might not have been your first thought when building your portfolio, but that's what makes it the perfect base builder. Because energy is always in demand, no matter what's going on in the rest of the markets, we can count on Alliant bringing in steady cash.
The company's annual revenue is over $3.5 billion, which helps it pay a whopping $1.42 dividend per share. At today's share price, that's a yield just below 4%. That's income in your pocket right away. With 15 shares, you're making $21 on your investment in the first year.
But the company's management knows how to grow too. The company's five-year cumulative return outpaces the S&P 500 and nearly doubles that of other electric utility companies. We expect that growth to continue too.
"The company's latest fact book projects $5.2 billion in rate base growth over the next four years, which translates to a 10% compound annual growth rate," Keith says. "At the same time, the board of directors has already approved a 7% dividend increase."
That dividend growth might be slowed by the current crisis, but this is a great building block for your portfolio, and we expect it to more than spring back from the recent dip.
Our Growth Stock Adds Some Major Upside
We call Alibaba Group Holding Ltd. (NYSE: BABA) your "single-stock wealth machine," and it's our growth stock for this portfolio.
The Chinese e-commerce giant's upside is simply staggering. It's often called the Amazon of China because of its dominance over their e-commerce sector. While that's meant to be a compliment, it totally undersells the potential here.
The number of Chinese middle-class consumers is nearly four times larger than that of the United States.
Just look at last year's Singles Day, China's retail holiday similar to Black Friday in the United States. Alibaba alone made $38 billion in just one day. That's more than was spent in the United States on Black Friday and Cyber Monday combined.
But there's still room for Alibaba to grow. China's middle class will be 780 million strong by the mid-2020s, nearly doubling in size from today. Plus, Alibaba is expanding across Asia. Ant Financial, an affiliate of Alibaba, aspires to be the Visa Inc. (NYSE: V) of Southeast Asia.
Analysts expect shares could reach as high as $310 by next year, a 75% gain from today's bargain price near $180 a share. But don't let that fool you. This is a stock you can potentially retire on.
It's currently trading around $180 a share, so we can add two shares to our portfolio to get us near our 40% allocation.
But our last stock is the one with the most upside. That's why it only makes up 10% of this portfolio.
And if things go right, it could make you 100% profits by next year...
The Extreme Upside Stock