Even while legislators discuss measures to relieve the economy in the coronavirus market crash, volatility runs high. It's uncertain where the market is going day-to-day.
The CBOE Volatility Index (VIX) is above 60. It never went higher than 30 in 2019.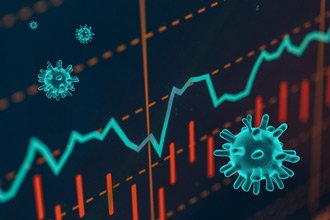 That's making it hard for investors to know what's coming next. That's why we want to talk about how long the coronavirus market crash will last.
Here's what we know about that so far. Whether or not the answer becomes clear, there's only one thing you need to worry about...
How the Coronavirus Is Changing the Market
Congress reached a $2 trillion stimulus agreement with the White House this week. But it was after two had already been blocked.
All the while, coronavirus infections and deaths have mounted.
Sadly, if you can't count on lawmakers to make laws in this critical time, the jury is still out on "how long this bear market will last."
The coronavirus is a novel virus. No one is immune to it. It's projected to infect half the world over the next few months. So far, we are nearing 50,000 infected in the United States and more than 600 dead from COVID-19.
There's talk of shutting down entire economies. Some say many months; U.S. President Donald Trump says a matter of weeks. There's no telling what will move the market or how long the market will fall.
Take Action: Market volatility has everyone on edge, but we have three steps you can take to protect your money and even set yourself up to profit. Click here...
The size and swiftness of a market drop will depend on how much global supply chains are affected. This week, we've started to see restaurants and gyms close with new executive orders. That's the latest ripple after watching airlines and oil companies slide into the pits.
As cities across America brace for the virus, they're also afraid of what might happen when workers continue to be displaced.
With congressional relief funds and Federal Reserve stimulus (QE4), there could be some abatement, but it won't last long in an economy that runs on debt.
While the question of "how long" is on most of our minds, it's a red herring for investors. No matter how long the markets wings up and down in a panic, there is something you can do.
According to Money Morning Capital Wave Strategist Shah Gilani, that's the driver of all economic turmoil today: fear of the unknown. Other bear markets have lasted years. And while this one is widely predicted to recover quickly once the outbreak is over, that's not for certain.
But something easily forgotten during these times is the few remaining knowns. There is something you can do to protect your portfolio - and possibly even profit down the road...
The Only Thing You Should Worry About
Join the conversation. Click here to jump to comments…
About the Author
Mike Stenger, Associate Editor for Money Morning at Money Map Press, graduated from the Perdue School of Business at Salisbury University. He has combined his degree in Economics with an interest in emerging technologies by finding where tech and finance overlap. Today, he studies the cybersecurity sector, AI, streaming, and the Cloud.