Biotech companies are racing to develop a coronavirus vaccine. And investors are racing to profit from it. In fact, CBS News reported on May 28 that the rush injected $200 billion into pharma stocks.
Many flocked to Gilead Sciences Inc. (NASDAQ: GLD) after the company announced its "Remdesivir" treatment for COVID-19.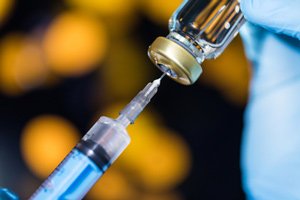 But you don't have to follow the crowd. And you don't have to cast a mindless net over just any biotech stocks you find in the COVID-19 crisis. We're going to share with you some of the best pharma stocks to buy right now. These could be some of the most promising pharmaceuticals for coronavirus vaccine and treatment hopes.
Experts say we could have a vaccine by 2021. And one of these could see big upside next year when that happens.
Either way, some of these are dividend-paying pharma stocks with more revenue streams. Others are smaller or mid-sized pharma stocks with the potential to jump on other biotech news at we go through the year. Some of these will simply pop as the economy recovers from the coronavirus crash.
Now, here are the best pharmaceutical stocks you should be watching today, plus our top biotech stock to buy right now.
It's a pick and shovel play on the drug-making sector, which means you get the upside of all these pharma stocks with one purchase...
No. 7: Pfizer Inc.
Pfizer Inc. (NYSE: PFE) is one of the bigger, more recognizable pharma stocks on the market. The company plans to develop and distribute a COVID-19 vaccine from BioNTech SE (NASDAQ: BNTX). It's an mRNA vaccine, which "codes" cells in the body to produce antigens. It's an alternative to conventional vaccines, which simply inject an inactive version of the disease. Since the company is a big, steady grower, it's a great long-term play. You can scoop up shares for $36. The stock pays a nice 4% dividend yield as well.
No. 6: GlaxoSmithKline Plc.
GlaxoSmithKline Plc. (NYSE: GSK) is another big pharma company working on a more typical vaccine. It is working to combine Sanofi's S-protein COVID-19 antigen with its patented technology for administering the vaccine. Clinical trials are expected later this year. This is also one to hold onto for the long term. Lots of revenue streams and partnerships. Shares of GSK can be purchased for $41. It's also another great dividend stock, paying a 4% yield.
No. 5: Regeneron Pharmaceuticals Inc.
Regeneron Pharmaceuticals Inc. (NASDAQ: REGN) is more focused on the treatment side of COVID-19 medicine. This company is working on creating antibodies for treatment. In its studies, it's used genetically engineered mice with "humanized immune systems" for testing. Its VP of infectious disease R&D said it expects "hundreds of thousands" of doses ready by August. Shares of REGN go for a hefty $583 right now. But it's also a steady grower. Some analysts give it a 25% growth target to $734.
No. 4: Sanofi SA
Sanofi SA (NASDAQ: SNY) is another pharma stock producing more conventional vaccines and therapies. Its work with several partners like Regeneron and our top pharma stock today could elevate it in the COVID-19 vaccine race. The company says it could begin clinical trials as early as March 2021. The stock has good momentum, gaining 31% since the coronavirus crash. SNY shares are available for $49.98. The stock pays a 3.39% dividend yield.
Just Released: Our new Premium Stock Pick not only held its ground against the COVID-19 market sell-off; it actually gained in value. And it's going to keep climbing on a major new catalyst. Get the pick for free here...
No. 3: Moderna Inc.
Moderna Inc. (NASDAQ: MRNA) is a smaller company developing an mRNA vaccine. It was one of the first companies to receive a grant from the Coalition of Epidemic Preparedness Innovation (CEPI) after the outbreak. It started clinical trials in March and is entering phase 2. The trial is expected to complete in June of next year. You can buy MRNA for $56. There's decent upside here, too. Analysts give it a high target of $112, a 100% growth target for 12 months.
No. 2: Inovio Pharmaceuticals Inc.
We recommended Inovio Pharmaceuticals Inc. (NASDAQ: INO) earlier this year, right before it popped 172%. This company also received a grant from CEPI earlier in the year. It's currently in phase 1 clinical trials for a DNA-based vaccine. This was one of the more exciting profit opportunities for readers a few months ago. Right now, INO trades at $11.26. It has tremendous upside potential, with a high target of $28. That's a whopping 48% potential return.
While all these pharmaceuitcals are strong options and give you the chance to profit from a vaccine, we have an even better play.
This is the best pharma stock right now, and it's likely you haven't even heard of it yet.
But you will soon...
The Best Pharma Stock to Buy Now