The rise of cloud-based medicine makes the Doximity IPO one of the hottest of 2021.
Doximity stock will go public this week at $4 billion valuation. Whether or not you've heard of the company, it meets a highly relevant need in its field today.
Think about how necessary it was for medical workers during the pandemic to stay connected while hospitals were being overrun.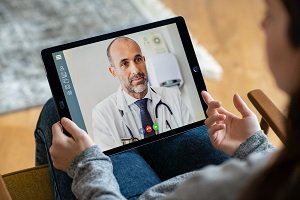 Even on a regular day, success in medicine requires seamless logistics. And that starts with better, faster communication among medical professionals.
Doximity helps make that happen. And it results in patients getting the treatment they need, faster.
The company will offer 23,300,000 shares at a price range of $20 to $23. It's only a short time before shares of "DOCS" hits the New York Stock Exchange.
Here's how you should play the Doximity IPO.
What
Is
Doximity
?
Doximity provides software-as-a-service (SaaS) that is essentially a social media platform for healthcare providers. It was founded in 2011 and is used by 80% physicians and 90% medical students in the United States.
In total, the company serves about 1.8 million members. An account is free to all verified physicians, nurse practitioners, and physician assistants. A paid "Pro" subscription is also offered to unlock more features.
Doximity is known as "LinkedIn for doctors," intended to streamline communication between medical professionals. But given its niche, this is also much more than social media.
The company thinks of its service more as a productivity tool. It aids medical workers in their collaboration and coordination of patient care. The platform even allows for virtual patient visits – again, consider how necessary this was during the pandemic, as people still had aches and pains unrelated to COVID-19.
Doximity's telehealth solution came about right at that time. It counted 63 million telehealth visits in 2020.
For convenience and sanitary purposes, telehealth will likely continue to grow as a trend beyond COVID-19.
Meanwhile, doctors and nurses can use Doximity to stay up to date on the latest news and research in their respective medical fields. In its SEC filing, the company said it wants to address the "information overload" and the "ever-increasing sub-specialization of medical expertise" by giving users a personalized experience on the platform.
Here's how that is working out…
Is
Doximity
Profitable?
Doximity is profitable. And that is a great sign for such a young company. Its revenue is increasing quickly.
Last quarter, the company reported 12-month revenue of $206.9 million, a 78% increase from the last year's $116.4 million.
Atop that revenue, Doximity grew its net income by 69%, from $29.7 million to $50.2 million, over the same period.
Note that these numbers are due to adoption by key industry players. Pharmaceutical manufacturers use Doximity to advertise and educate medical professionals on their products. And the top 20 manufacturers by revenue all subscribe to Doximity.
In addition, Doximity provides telehealth services to six of the top 10 hospitals in the United States.
On one hand, losing any one of these customers would be a sizable revenue hit. On the other, establishing roots in the top tiers of the medical industry could lead to even bigger revenue increases down the line.
Right now, 200 of Doximity's 600 telehealth subscriptions pay annual revenue of $100,000 or more.
The company's latest report also shows it can upsell customers, with a 153% net revenue retention rate. That means it has not lost customers in terms of revenue – instead, existing customers have added 53% more to Doximity's revenue.
This could make a strong case for Doximity stock.
Should You Buy
Doximity
Stock
on the IPO Date
?
Doximity stock offers access to a profitable company with revenue on the incline and a strong customer base.
If this was about the telehealth industry alone, you might compare Doximity to Teladoc Health Inc. (NYSE: TDOC). Teladoc delivered outstanding performance in 2020 as well, with 151% year-over-year revenue growth and a 56% increase in telehealth visits.
But given Doximity's strong command over big pharma and the top hospitals in the world, Doximity wins that battle.
That's not even accounting for Doximity's highly interactive social network.
So far, this company looks like the closest thing imaginable to a fully online hospital. Imagine what that could look like in the future as it fine-tunes its algorithm and its educational media.
As much as Doximity has already been adopted by the cream of the crop in its target industry, the company shows no slowing down in the future.
IPO investing can be risky business with how shares can inflate early on. But if there ever was a stock to get into early, Doximity is it.
The Complete List of Best (and Worst) Stocks for 2021
Wall Street insider Shah Gilani says 2021 could be a gold mine for Americans.
He's showing his subscribers exactly which stocks to buy and which to sell.
But you're getting it all for free – no sign-up or credit card required.
Prices, tickers, and company names will be coming your way fast.
Follow Money Morning on Facebook and Twitter.
About the Author
Mike Stenger, Associate Editor for Money Morning at Money Map Press, graduated from the Perdue School of Business at Salisbury University. He has combined his degree in Economics with an interest in emerging technologies by finding where tech and finance overlap. Today, he studies the cybersecurity sector, AI, streaming, and the Cloud.