It was fun while it lasted, but access to cheap capital has now disappeared for all but the highest-quality companies.
Investors no longer tolerate the kind of "profitless growth" that, because of record low interest rates, defined the 2010s. For proof, just look at the tech sector; some of these stocks, which were at all-time highs as recently as early 2022, are down more than 90%.
As bad as this market has been for these companies, the carnage isn't finished yet. Dozens of these firms are essentially "drawing dead," to borrow a phrase from poker, and they'll soon be dead – bankrupt, at zero - if they can't raise more debt or equity, very tough things to do in this market.
Refinancing and recapitalizing is a tall order right now because, as the Fed continues to keep rates high and all while removing liquidity from the market through quantitative tightening, capital costs five and six times what it did during the freewheeling, easy-money 2010s. All the while, these companies face declining margins; they may be forced to default on interest payments without the possibility of refinancing.
As these "zombie" companies run out of the cash needed to stay afloat, risk premiums will rise across the market, which could further squeeze liquidity and create an escalating, expanding series of corporate defaults.
Think of it as a "zombie plague," only this isn't sci-fi, but cold, hard reality. We're already seeing the fallout. Bed Bath & Beyond Inc. (NASDAQ: BBBY) just alerted shareholders to the risk of insolvency; the stock is down more than 87% since August. Party City Holdco Inc. (NYSE: PRTY) had its "debt doomsday" in late January 2023 when it declared bankruptcy – its shares are off more than 93% over the past year.
That "performance" is noteworthy, and fundamental traders will know why. That's because, if you focused on fundamentals, you could have made a fortune on these stocks as they hurtled lower.
Just take a look at the results of our "Zombie Hunt"…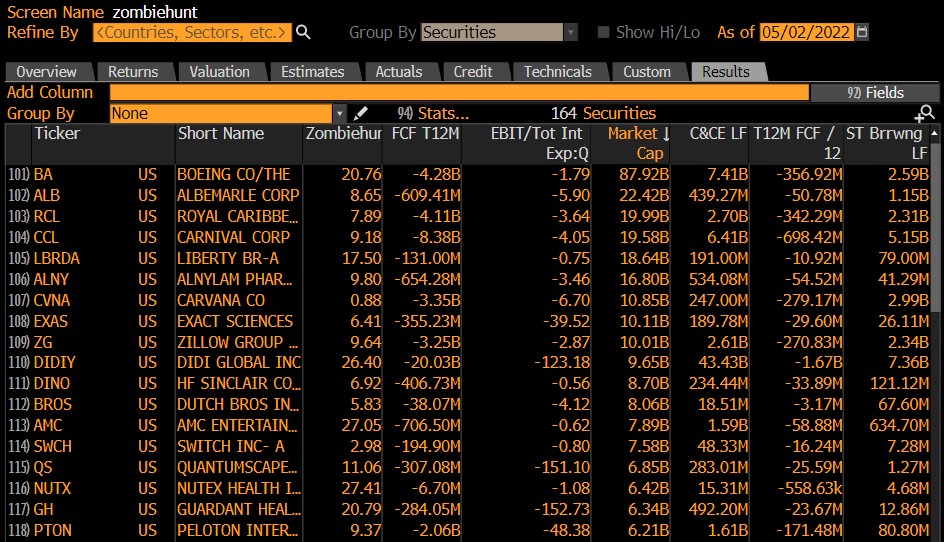 Just look at the names that came up on our screen in May of 2022. Some of these stocks were down 50%, and many dropped another 50% over the next few months – that's a huge profit opportunity.
And we've found lots of them – here's how…
How Our "Zombie Detector" Works
Our method of finding these opportunities uses dozens of inputs, but two of them are key:
Negative free cash flow (FCF) over the past 12-month period
Negative interest coverage ratio (earnings before interest and taxes [EBIT]/interest expense) or unmanageable debt
A negative interest coverage ratio tells us the company's existing revenues are inadequate to repay its existing debt. This is very important in rising or high interest rate environments since refinancing becomes less of an option.
Negative free cash flow is also very telling. Simply put, when a business has more outgoing than incoming, expenses cannot be covered from sales alone. That business needs money from investments and financing to make up the difference.
Not surprisingly, the companies most at risk of seeing their stock price drop to $0 are the ones with a poor underlying business model. Importantly, this was massively overlooked – ignored, even – by investors during the 2020-2021 meme stock-driven market frenzy. Companies such as Carvana Co. (CVNA) and Peloton Interactive Inc. (PTON) saw their share prices surge even though they were burning cash with profitability nowhere in sight. These stocks have a real risk of dropping to zero and have already fallen more than 90% from their pandemic-era highs.
Now, stocks like PTON and CVNA are terrible, but, believe it or not, it can be even worse for stocks when you take another fundamental metric into account: valuation.
That's right. There are zombie companies, and then there are overvalued zombie companies.
Overvalued Zombie Stocks Are the Riskiest
Stock valuations that embed high expectations for future profit growth add even more risk to owning shares of zombie companies with just a few months' worth of cash left. For the riskiest zombie companies, not only does the stock price not reflect the short-term distress facing the company, but it also reflects unrealistically optimistic assumptions about the long-term profitability of the company.
Naturally, with these stocks, overvaluation risk is stacked on top of short-term cash flow risk – a zombie with two sets of teeth!
And here's the thing. There are still millions of speculators out there rolling the dice on these stocks every day. Maybe they're wild-eyed optimists, maybe they spend too much time on Reddit, but these stocks are in a shockingly high number of portfolios. In early January, BBBY shares popped 180%... before falling again.
That is why here at Money Morning, we've developed a framework for identifying these companies and sharing them with out readers so they know what stocks to stay away from or, aggressively, how to profit from them on the way down.
Drop your email in the box to get the tickers of the Zombie Stocks currently in our crosshairs – you'll get recommendations on how to profit from them, too.